Tesla reports record loss in fourth quarter; Model 3 production still lagging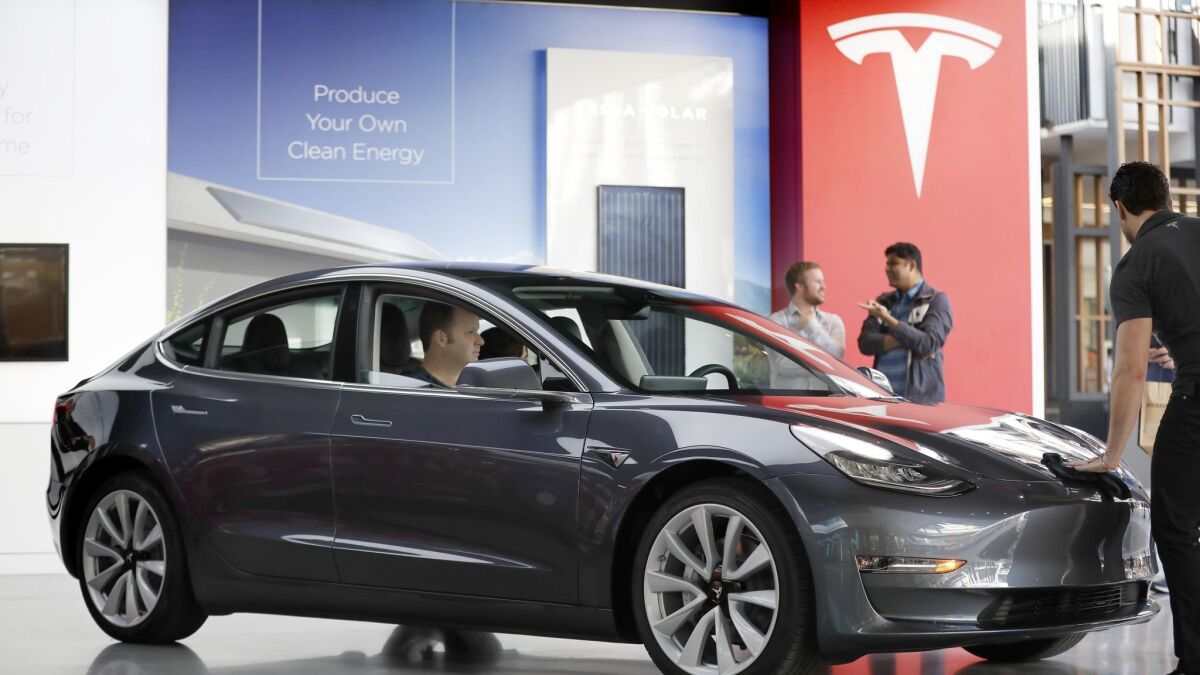 Another quarter, another question mark.
Tesla Inc. reported a fourth-quarter loss of $675.4 million, or $4.01 a share, on revenue of $3.29 billion, marking the Palo Alto car company's biggest quarterly loss ever.
The company partly blamed the figure, which was significantly worse than the $121 million it lost in the same quarter last year, on high costs related to the production of its long-awaited Model 3 electric sedan.
In reporting earnings Wednesday afternoon, Tesla said revenue was up 36% over the same period in 2016, largely because of growth in deliveries of the luxury electric Model S sedan and Model X crossover.
Revenue from automotive products rose to $ 2.7 billion for the final quarter of 2017, up from $1.99 billion in the year-earlier quarter.
At the same time, Tesla reported that revenue from its energy storage products — batteries and home electric storage systems — had risen by 6%. So called ZEV credits — credits the company earns for building zero-emissions vehicles, which it can then sell to companies that produce too few such cars — rose to $179 million for the quarter from $20 million during the same period in 2016.
Tesla stock, which has risen over the last year from $257 a share to as high as $383, rose $11.03, or 3.3%, to $345 on Wednesday. The stock rose slightly in after-hours trading following the earnings release.
"This was yet another awful quarter from Tesla," said analyst Mark B. Spiegel of Stanphyl Capital, expressing concern that the company's revenue is too dependent on non-sustainable ZEV credits, and on vehicle production and delivery rates that leave it vulnerable to competition from other car companies. "Tesla lost more money this quarter than any time in its history."
Other analysts were less concerned. Noting that the losses were the result of production costs on the Model 3, Efraim Levy of CFRA said, "The Model 3 production is the key to getting on a sustainable cash flow level. Once they get to correct levels, they will turn profitable."
It might be awhile.
In a shareholder letter signed by Chief Executive Elon Musk and Chief Financial Officer Deepak Ahuja, Tesla also once again applied the brakes to delivery expectations for the Model 3, the company's heralded lower-cost electric car.
The new Model 3 — see our recent review of the car here — has been touted as an affordable battery electric vehicle, with a base MSRP of $35,000. More than 450,000 hopeful consumers placed refundable $1,000 deposits to claim them when Tesla first began taking orders in early 2016.
Crucial to the company's success, the car has suffered significant delays in getting up to production speed and in getting to consumers.
Tesla on Wednesday advised that production rates of the Model 3 could be 2,500 cars a week by the end of March and 5,000 cars a week at the end of June. Last fall, the company had said it would be producing 5,000 cars a week by the end of 2017.
Analysts expressed skepticism about Tesla's ability to meet those numbers.
"Production forecasts are a moving target," said Jessica Caldwell, executive director of industry analysis at Edmunds. "They could very well change their position in a week or month from now."
"I think they'll be lucky to get 150,000 units out the door in 2018, and even that would be an incredibly impressive feat, requiring an average weekly rate of over 3,000 units for every single week left in 2018 with no breaks," said Rebecca Lindland, executive analyst at Kelley Blue Book's KBB.com. "Elon Musk needs a team of forecasters that he'll listen to so he can finally provide Wall Street and depositors with achievable targets."
Musk, for his part, doesn't seem too concerned about the delays. In an earnings call with analysts Wednesday, the co-founder pointed to his success sending a Tesla Roadster into space as a test payload for SpaceX's new Falcon Heavy rocket the day before.
"If we can send a Roadster to the asteroid belt, we can probably solve Model 3 production," said Musk, who is also CEO of SpaceX. "It's just a matter of time."
The production backlog is an increasingly urgent matter for the automaker, as more competing car companies come to market with more compelling battery electric vehicles with similar MSRPs, driving ranges and recharge times.
Chevrolet's Bolt EV and Nissan's Leaf have already stolen sales that might have gone to the Model 3. Current or proposed BEVs from other American, Japanese, Korean and European car companies are also gaining market share.
Musk also made some grand, long-term production promises on the call. The CEO said he could easily imagine a day when his Fremont, Calif., factory is producing up to 700,000 vehicles a year: 500,000 units of Model 3, a combined 100,000 units of Models S and X, and 100,000 units of the planned Model Y, a crossover vehicle to be built on the Model 3 platform.
That would just be a beginning for the Model Y, he said.
"We might aim for something like maybe 1 million units a year, just for the Model Y alone," Musk said while cautioning that ramping up to production on that car, in late 2018, would mean new capital expenditures.
Despite that, Musk repeated a promise from the shareholder letter that he believed the company could begin generating "positive quarterly income on a sustained basis" relatively soon.
He also said that the company would be able to produce something like 100,000 units a year of its Semi, the promised electric long-haul truck that the company unveiled in December.
Musk and his various companies have had a busy year already. On Tuesday, the native South African's SpaceX launched its largest Falcon Heavy rocket into space, and successfully returned rocket parts to landing pads on Earth.
It was also recently revealed that his Boring Co. is among the companies vying for the contract to build an express train linking Chicago with its O'Hare airport.
Last month Tesla reported it had reached a new salary agreement with its leader. Under the new plan, Musk's compensation will be linked to Tesla stock performance. If it rises, he is paid accordingly. If it crashes, he is paid nothing.
"Elon will receive no guaranteed compensation of any kind — no salary, no cash bonuses, and no equity that vests simply by the passage of time," Tesla announced, if the stock does not rise. "He will be compensated only if Tesla and all of its shareholders do extraordinarily well."
The pay plan posited the idea that Tesla's market value, currently at about $59 billion, could rise to as much as $650 billion over the next decade.
---
UPDATES:
4:12 p.m. This article was updated with additional remarks from Elon Musk.
This article was originally published at 3:45 p.m.
---