In a letter to colleagues, NBC News veteran Tom Brokaw slams allegations of sexual misconduct made by Linda Vester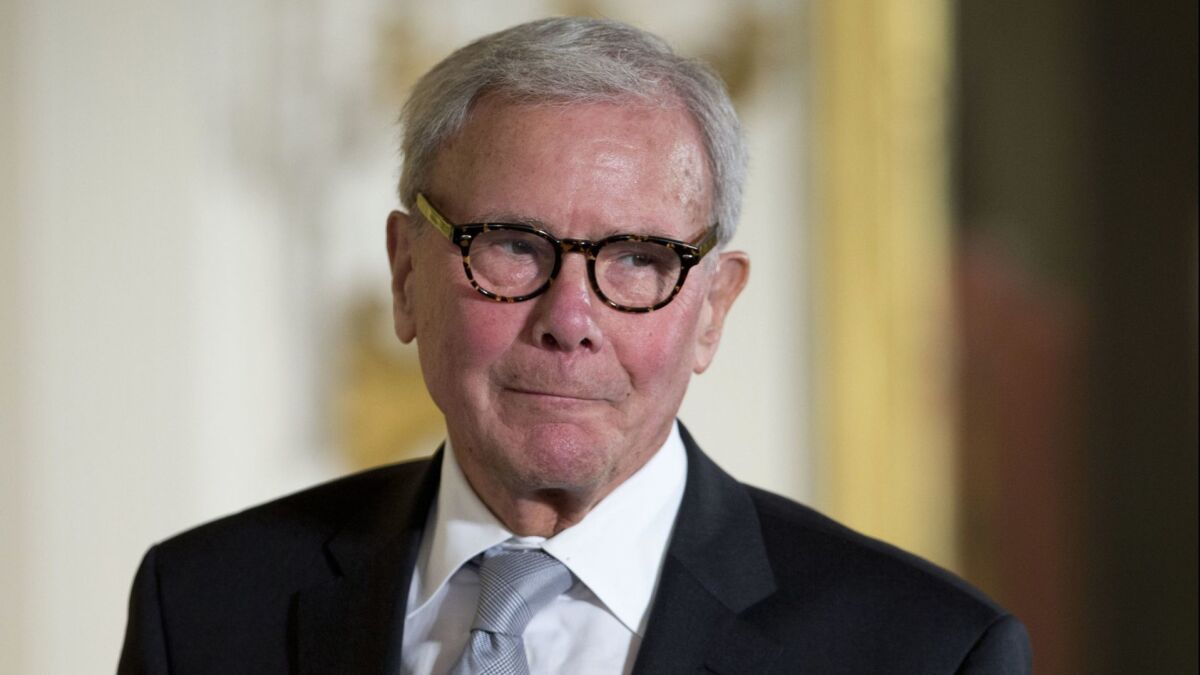 Longtime NBC News journalist Tom Brokaw is pushing back hard at allegations by Linda Vester, a former network correspondent who said he sexually harassed her in the mid-1990s.
Brokaw sent a lengthy letter to colleagues Friday that disputes the accounts of Vester, 54, who told Variety and the Washington Post in stories published Thursday night that the former "NBC Nightly News" anchor made unwanted sexual advances toward her when they worked together at NBC in the 1990s.
Read Tom Brokaw's letter to colleagues »
In his letter, obtained by the Los Angeles Times, Brokaw described the stories as a "drive by shooting" by Vester, who had a grudge against NBC News because her career stalled at the division.
Vester alleged that Brokaw forcefully tried to kiss her in 1994 when she was staying at the Essex House Hotel in New York, where he showed up uninvited. A similar incident occurred in May 1995, she alleged, when Brokaw appeared unannounced at her flat in London when she was assigned to the network's bureau there.
Vester alleged that in both instances, Brokaw pressured her to have a sexual relationship with him. She said she feared that reporting the incidents would hurt her career.
The allegations against Brokaw are another blow to the image of NBC News and join a wave of complaints against powerful men in media and entertainment. NBC News in November fired its biggest star, longtime "Today" co-anchor Matt Lauer, for sexually inappropriate behavior after executives heard a formal complaint from a female network employee. The same month CBS ousted venerable newsman Charlie Rose over allegations of sexual misconduct.
Vester told the Post she decided to come forward with the allegations out of her belief that NBC News has failed to effectively investigate harassment issues at the company following Lauer's firing.
"NBC has failed to hire outside counsel to investigate a genuine long-standing problem of sexual misconduct in the news division," she said in the Washington Post's account.
Since Lauer's firing, the news division has been undergoing what it calls a "culture assessment" and that all employees are receiving workplace behavioral training. An internal review is being conducted by counsel at NBCUniversal.
Late Friday, NBC News chairman Andy Lack said in a memo that the review "is nearing its conclusion" and that the findings will be shared as early as next week.
As for Vester's accusations against Brokaw, Lack said, "As we've shown, we take allegations such as these very seriously, and act on them quickly and decisively when the facts dictate."
Brokaw issued a brief statement Thursday saying the incidents Vester described in her accounts did not happen, and on Friday, he issued the letter to colleagues that slammed her account — and her career at NBC.
"Linda Vester was given the run of the Washington Post and Variety to vent her grievances, to complain that I tickled her without permission (you read that right) that I invaded her hotel room, accepted an invitation to her apartment under false pretenses and in general was given a free hand to try to destroy all that I have achieved with my family, my NBC career, my writing and my citizenship," Brokaw wrote. "My family and friends are stunned and supportive. My NBC colleagues are bewildered that Vester, who had limited success at NBC News, a modest career at Fox and a reputation as a colleague who had trouble with the truth was suddenly the keeper of the flame of journalistic integrity."
Brokaw maintains that Vester initiated the New York hotel room meeting she described in the Post and Variety interviews.
"I should not have gone but I emphatically did not verbally and physically attack her and suggest an affair in language right out of pulp fiction," Brokaw said. "She was coy, not frightened, filled with office gossip … she often reminded me she was a Catholic and that she was uncomfortable with my presence. So I left, 23 years later to be stunned by her melodramatic description of the meeting."
Brokaw said it was Vester's suggestion to meet at her London flat late at night in 1995 after they ran into each other at the network's London bureau.
"Again, her hospitality was straight forward with lots of pride in her reporting in the Congo and more questions about NY opportunities," Brokaw said. "As I remember, she was at one end of a sofa, I was at the other. It was late and I had been up for 24 hours. As I got up to leave I may have leaned over for a perfunctory goodnight kiss but my memory is that it happened at the door — on the cheek. No clenching her neck. That move she so vividly describes is NOT WHO I AM. Not in high school, college or thereafter."
Brokaw said after Vester's contract was not renewed at NBC News in 1999, he made a call on her behalf to then-Fox News Chief Executive Roger Ailes, who hired her as an anchor.
Vester worked at Fox News until 2005 and was known to have a happy working relationship with Ailes, who in 2016 became embroiled in his own sexual harassment scandal at the network that led to his downfall.
Brokaw expresses anguish in the letter that Vester did not contact him to discuss the events of 23 years ago before going to the press.
"She couldn't pick up the phone and say, 'I'd like to talk. I have issues from those two meetings 20 years ago'? Brokaw wrote. "Instead she became a character assassin. Strip away all of the hyperbole and what has she achieved? What was her goal? Hard to believe it wasn't much more Look At Me than Me:Too."
Asked to respond to the letter, Vester's attorney, Ari Wilkenfeld, said, "My client stands by the allegations, which speak for themselves."
Vester told Variety she never discussed the incidents with management at NBC News at the time they were alleged to have happened because she believed the corporate culture was one in which "women who raise questions about misconduct get labeled as troublemakers. It can torpedo your career."
Brokaw, 78, was in the middle of his 22-year tenure as anchor of the "NBC Nightly News" during the period that Vester describes in her accounts. Since 2004, he has been a special correspondent contributing to special-event coverage and appearing in documentaries and specials. He also appears regularly on the MSNBC program "Morning Joe."
Brokaw joined NBC News in 1966 as an anchor at the network's Los Angeles TV station, KNBC. He has been married since 1962.
In 2013, Brokaw was diagnosed with multiple myeloma, an incurable form of blood cancer, but has continued to work.
While Brokaw no longer has a regular program on the network, he is a revered figure internally who provides a link to the news division's history.
A group of female anchors, reporters, executives and technical staff who worked with Brokaw at NBC signed and circulated a letter of support.
"Tom has treated each of us with fairness and respect," the letter said. "He has given each of us opportunities for advancement and championed throughout our careers."
The signees include MSNBC's Rachel Maddow and longtime Washington correspondent Andrea Mitchell.
Twitter: @SteveBattaglio
---
UPDATES:
4:15 p.m.: This article was updated with a letter of support for Brokaw from his colleagues.
1:38 p.m.: This article was updated with NBC News chairman Andy Lack's memo to staff.
11:15 a.m.: This article was updated with a comment from Linda Vester's attorney.
10:15 a.m.: This article was updated with a letter Tom Brokaw sent to colleagues.
This article was originally published at 7:15 a.m.
---
Inside the business of entertainment
The Wide Shot brings you news, analysis and insights on everything from streaming wars to production — and what it all means for the future.
You may occasionally receive promotional content from the Los Angeles Times.