Patrick Soon-Shiong plans to move Los Angeles Times to new campus in El Segundo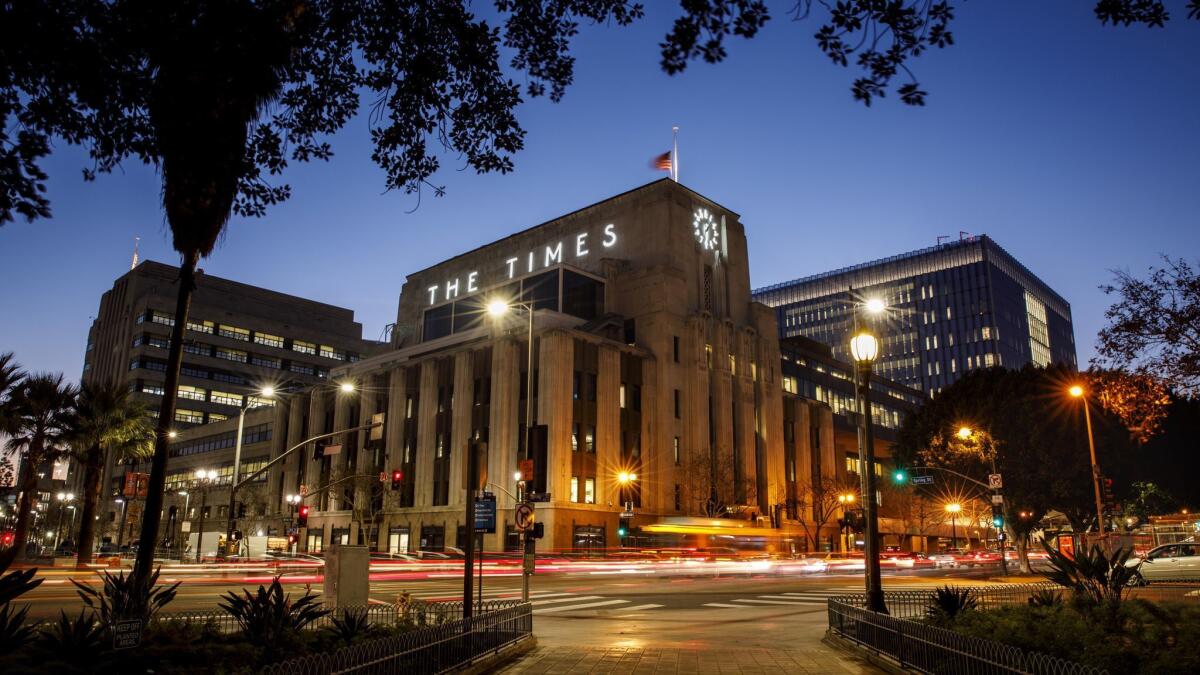 The Los Angeles Times this summer will move from its historic Art Deco headquarters in downtown Los Angeles to a campus currently under construction in El Segundo.
Dr. Patrick Soon-Shiong — soon to be the new owner of the newspaper — broke the news Friday during his first town hall meeting with the staff, explaining that he wants to create a newsroom for the future.
The Times' lease for its newsroom and business administration expires June 30. The previous owners of The Times had sold the iconic building where the newspaper has operated since 1935 to a Canadian developer, Onni Group.
Soon-Shiong said Onni has demanded a $1-million-a-month rent increase to keep the paper's staff at the building across from City Hall. Onni did not respond to requests for comment Friday.
"There's not much time for me to find accommodation for 800 people," he told more than 300 employees who jammed into the Chandler Auditorium in the Times building to get their first glimpse of Soon-Shiong. "We decided that we needed to create the most modern newsroom … one that respects the work and the lifestyle of the people who work in the newsroom."
"We need to build a campus that is there for the next 100 years, not to lease a building," he said.
There were audible gasps in the auditorium when Soon-Shiong announced the move. Some staff members have worked decades at the worn facility and were stunned to learn that they would leave their longtime home. For many, their commutes would grow, although others would have shorter commutes.
"We're glad to hear from Dr. Soon-Shiong and are heartened by his plans for investment in the newsroom. However, many of our staff members expressed concerns about unfeasible commutes and about not being close to the downtown institutions we cover," said Times data journalist and L.A. Times Guild co-Chair Anthony Pesce. "We raised our concerns with Patrick during the town hall and would like to propose ways we can mitigate the impacts on many of our journalists."
The Times also plans to keep some office space downtown, perhaps at its Olympic Boulevard printing plant, for reporters and others whose assignments require them to be downtown.
But instead of spending an extra $12 million a year on rent, Soon-Shiong said he wants to invest in hiring more journalists, improving technology in the newsroom and fashioning a modern campus with amenities and free parking.
The new campus, on roughly 4.5 acres, would include an eight-floor building with 120,000 square feet of space. A museum gallery of The Times' 136-year history would be housed on the first floor, along with event and retail space.
Teams of construction workers and architects are on the site trying to get the building completed in time, "working 24/7, literally through the night," Soon-Shiong said in an interview after the town hall.
Soon-Shiong's wife, Michele, is leading the design of the space, and he made several references to her interest in The Times' noted Test Kitchen. Two local architecture firms — Tichenor and Thorp in Century City and CO Architects in the Mid-Wilshire neighborhood — have been hired to do the buildout.
Soon-Shiong has been snapping up properties in El Segundo, including one that houses the Chan Soon-Shiong Institute for Medicine, a center that offers diagnostics and personalized treatment for cancer patients.
"Everything he does is first class," said Suzanne Fuentes, the mayor of El Segundo, adding that she was delighted by the news of the paper's relocation.
"The Los Angeles Times is the paper of record not only for California but for the entire West Coast, and this points to how vibrant our community is," she said. "El Segundo's motto is 'Where big ideas take off,' and bringing the paper here means that this is the perfect place for big ideas."
Soon-Shiong is in the process of finalizing his $500-million purchase of The Times and the San Diego Union-Tribune from Chicago newspaper company Tronc. The deal, first announced on Feb. 7, will return The Times to local ownership after 18 years under control by entities based in Chicago. The sale is expected to be finalized later this month.
Friday morning's town hall meeting was the staff's first opportunity to meet the former UCLA surgeon who amassed a fortune building, then selling two pharmaceutical companies. Soon-Shiong, 65, is one of Los Angeles' richest residents, with a fortune estimated at $7.6 billion by Forbes. He holds a small ownership stake in the Lakers, runs a cluster of healthcare companies and, last year, purchased a small California chain of hospitals that were struggling financially.
During his chat, Soon-Shiong talked about the role of journalism as a public service, especially in an era of fake news. After his speech, he fielded questions from Times staff. Several reporters raised concerns about a pay report that was released by the union earlier in the week that showed significant disparities in pay. Minorities and women earned less than their white male counterparts, something that Soon-Shiong said he would investigate.
But the headline out of the meeting was the looming move. Soon-Shiong said he sees El Segundo as a gateway city, given its proximity to Los Angeles International Airport and, in turn, to the Pacific Rim. He explained that The Times should not see its scope as serving Los Angeles, but the entire region, the western United States as well as Asia, Mexico and beyond.
The move is a boost to El Segundo, which has benefited from the spillover of Silicon Beach. The beach community has emerged in the last decade as a destination for businesses in creative fields such as biotechnology and entertainment. Many warehouses and office buildings dating to the middle of the last century that were used to serve the aerospace industry have been converted to campus-style offices.
"There is a lot of investment going on here — there are a lot of start-ups here," said El Segundo Council Member Don Brann. "It is less expensive to come here than go to Santa Monica, Playa Vista or Manhattan Beach."
The city has practice facilities for the Lakers and the Kings and it is home to major corporations such as Mattel, AT&T's DirecTV, defense contractors Raytheon and Northrop Grumman, advertising agencies, a Chevron oil refinery and the Los Angeles Air Force Base.
"We are like a small town for big business," Brann said, adding there are about 17,000 full-time residents but during the day, the population soars to more than 60,000 due to the growing business district. "There are more Fortune 500 companies here than anywhere else in California — other than San Francisco."
Last year, Soon-Shiong opened the Chan Soon-Shiong Institute for Medicine, down Mariposa Avenue from the Lakers' training facility. Kite Pharma opened a manufacturing plant in the community in 2016. Other businesses moving in include professional services firms such as architects and advertising agencies, and new-media entertainment companies such as video game makers and web designers.
The town's name, in Spanish, means "The Second"; it was so named because it was the second Standard Oil refinery on the West Coast.
Soon-Shiong acknowledged that it will be difficult to leave the Times building, which takes up nearly an entire city block and has great architectural significance. Gordon B. Kaufmann designed the building, which won a gold medal at the 1937 Paris Exposition for its Moderne architectural style. Kaufmann's other works include the Hoover Dam on the Arizona-Nevada border as well as the Santa Anita Park in Arcadia and the Athenaeum at Caltech in Pasadena.
The Globe Lobby is an aesthetic highlight, with 10-foot-high murals painted in 1934 by Hugo Ballin, who also painted the Griffith Observatory rotunda.
Staff writer Roger Vincent contributed to this report.
Twitter: @MegJamesLAT
Twitter: @byandreachang
---
UPDATES:
4:20 p.m. This story was updated with additional details from the town hall and quotes.
1:52 p.m.: This story was updated with comment from the L.A. Times Guild.
This story was originally published at 1:20 p.m.
Inside the business of entertainment
The Wide Shot brings you news, analysis and insights on everything from streaming wars to production — and what it all means for the future.
You may occasionally receive promotional content from the Los Angeles Times.