Another program change could bring conservative commentator Laura Ingraham to Fox News in prime time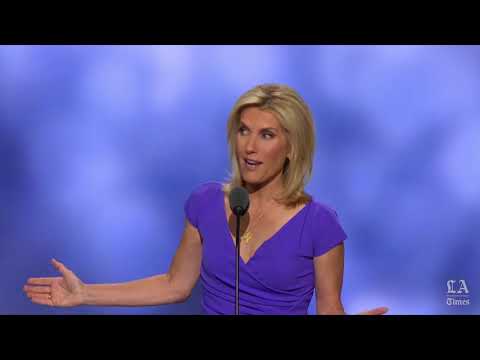 Laura Ingraham, conservative commentator, speaks at the Republican National Convention.
The sexual harassment scandal that has roiled Fox News for a year could lead to another change in its prime-time lineup.
With the future of suspended "Fox News Specialists" host Eric Bolling in doubt, the 21st Century Fox-owned news outlet has entered discussions with conservative commentator Laura Ingraham about hosting her own daily prime-time program.
Fox News is not commenting, but people familiar with the talks who were not authorized to discuss the matter publicly said Ingraham is seen as a compatible fit between the network's conservative prime-time hosts Tucker Carlson and Sean Hannity. Under that scenario, the roundtable show "The Five" -- which moved to 9 p.m. Eastern time when the network had to shuffle its program line-up after Bill O'Reilly exited in April -- would move back to its original time slot of 5 p.m. Eastern to make room for Ingraham.
Fox News parent 21st Century Fox has aggressively moved to clean up a sexual harassment problem that surfaced publicly last year with former anchor Gretchen Carlson's lawsuit against the network's late top executive, Roger Ailes. But the talks with Ingraham indicate that the scandal continues to have a lasting effect.
Ingraham's arrival could result in Hannity — the network's most strident Trump defender -- moving an hour earlier to 9 p.m. Eastern. That would put him in a head-to-head showdown against MSNBC's Rachel Maddow, the progressive prime-time star who has driven her network to record ratings, as viewers alarmed by the activities of the Trump White House seek comfort from her commentaries.
The possible programming shake-up would be the third this year on the top-rated cable news network, which has long been known for its stability.
Tucker Carlson moved to prime time in January after Megyn Kelly announced she was leaving Fox News to join NBC News. In April, O'Reilly was forced out following advertiser defections in reaction to revelations that he and Fox News have paid out millions to settle sexual harassment claims that he denied. The popular discussion program "The Five" was moved to prime time to replace O'Reilly.
Fox News counted on Bolling to carry the 5 p.m. hour with a new program, "Fox News Specialists," which replaced "The Five," where he had been a co-host.
But Bolling, 54, has been suspended and kept off the air since Aug. 5 following a HuffPost report that he sent pictures of male genitalia to female colleagues at Fox News several years ago. The allegations, which Bolling has denied through his attorney, are being investigated by Paul, Weiss, Rifkind, Wharton & Garrision, the law firm enlisted by 21st Century Fox that has handled other harassment claims made against the network.
There is no timetable for a decision on Bolling, but history is not on his side. Since Paul, Weiss was brought in to handle harassment claims at Fox News a year ago, none of the subjects investigated have remained in their jobs.
The possible loss of Bolling is forcing the network to consider alternatives. Ingraham is considered a logical choice because she is familiar to the Fox News audience through her years as a staunch conservative TV commentator and syndicated radio host. She has long been under contract as a contributor to Fox News and for several years served as a substitute host for O'Reilly, one of the handful of names he personally approved to fill in for him.
"She's always been a go-to solution for Fox News," said one person who has worked with Ingraham in the past who spoke on the condition of anonymity.
Ingraham's viewpoints will appeal to the conservative viewers who come to Fox News in prime time to hear a defense of Trump's policies. She was an unequivocal early believer in the president's candidacy when he was still a long shot for the Republican party nomination. She spoke fervidly in support of Trump at the Republican National Convention.
The hiring of a female prime-time host would also go further to heal the damage the harassment scandal has done to Fox News, which keeps resurfacing. On Monday, a filing with the Securities and Exchange Commission showed that 21st Century Fox has spent $50 million in settlements and litigation costs related to harassment claims made against Fox News in the last fiscal year.
But Fox News ratings have been resilient throughout the turbulent period as its loyal audience still looks to the channel for what it sees as a counterbalance to liberal bias on other news outlets. While MSNBC has made major audience gains this year, Fox News remains the No. 1 network in cable in 2017 and in July topped MSNBC and CNN in total viewers and the 25 to 54 age group advertisers target with news programming.
Twitter: @SteveBattaglio
ALSO
ESPN apologizes for fantasy football segment that auctioned off players, including African Americans
Protests against Google are postponed as culture wars roil Silicon Valley
Trump defender Jeffrey Lord cut from CNN over Nazi salute tweet
Next up as Trump's communications director: 28-year-old loyalist Hope Hicks
Inside the business of entertainment
The Wide Shot brings you news, analysis and insights on everything from streaming wars to production — and what it all means for the future.
You may occasionally receive promotional content from the Los Angeles Times.