Discount grocery chain Aldi opens first eight Southern California stores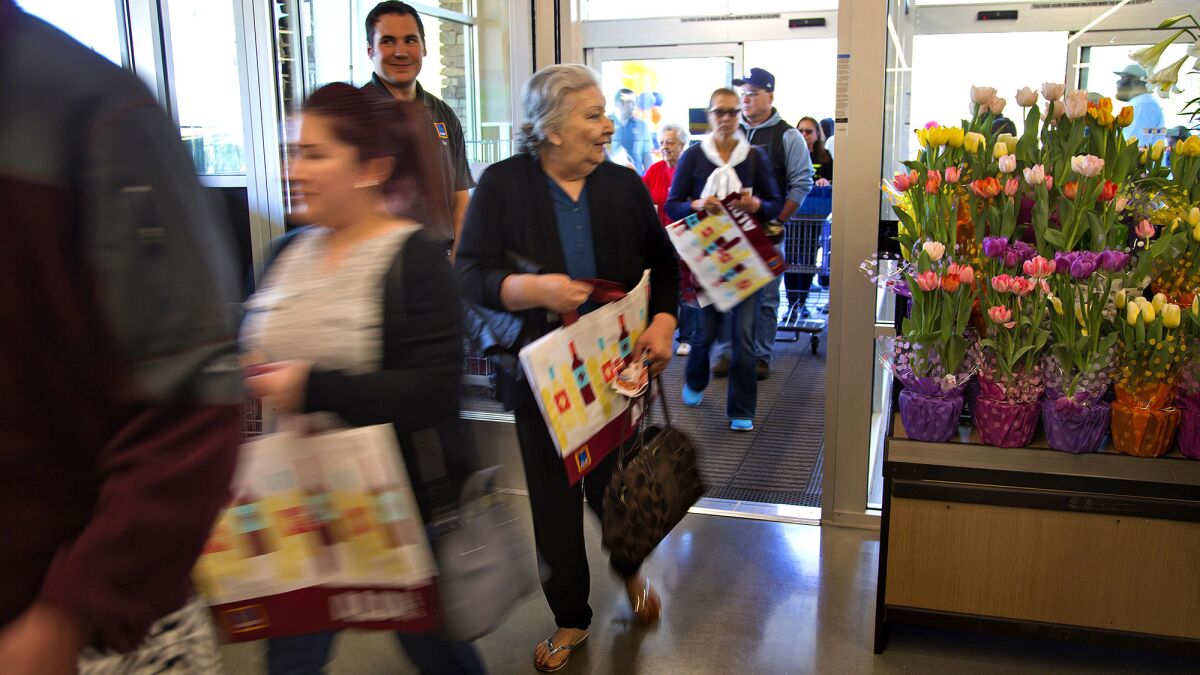 Southern California is littered with the ghosts of supermarkets that tried and failed to conquer the region. Fresh & Easy came and went, as did Haggen.
Now it's Aldi's turn to try.
The German discount grocer opened eight Southland stores Thursday, the first of 45 locations set to open in the region this year. The initial wave is clustered around Aldi's regional distribution center in Moreno Valley.
In coming to Southern California, Aldi is venturing into one of the most ferociously competitive grocery markets in the country. Gelson's, Bristol Farms and Trader Joe's are local favorites. Dozens of farmers markets dot the region. Retail giants Wal-Mart Stores Inc. and Target Corp. have bulked up their grocery options, while huge online players Google and Amazon.com are expanding grocery delivery.
"The Southern California region is far and away the biggest market in the U.S.," said Burt Flickinger III, managing director of consulting firm Strategic Resource Group. Which also means, he said, it's "by far the most important."
Many grocers have underestimated the challenge of wooing Southland shoppers. Last year, Haggen closed its 83 stores in California mere months after they opened. That was followed by Fresh & Easy, the brainchild of British supermarket giant Tesco, which closed after losing $2 billion.
Those chains lacked a defining quality that set them apart and were also plagued with operational problems. Haggen, which was undertaking a huge expansion, alienated shoppers by erroneously overpricing products in some Southland stores. Fresh & Easy had long struggled with sending the right products in the right quantities to stores.
Known for quality products at deep discounts, Aldi's entrance into Southern California will raise the stakes for every nearby supermarket, with chains likely to drop prices in an aggressive attempt to either steal customers or hold onto their existing ones, analysts said. They expect that heightened competition to last for years.
Gordon Nesbit, vice president for Aldi's Moreno Valley division, said the chain has already been successful in such states as Texas and Florida. He's confident that shoppers here will also be won over.
"There's no doubt that Southern California is a competitive market, but it's also very competitive in pricing," Nesbit said. That is where Aldi plans to stand out — by offering goods of "impossibly high quality at impossibly low prices," he said.
After landing in the U.S. in 1976, the chain grew slowly for decades. In 2014, Aldi began expanding more aggressively, opening about 130 new locations a year, a pace it expects to continue until 2018. The company has about 1,500 U.S. stores, nearly all of them are in the eastern half of the country.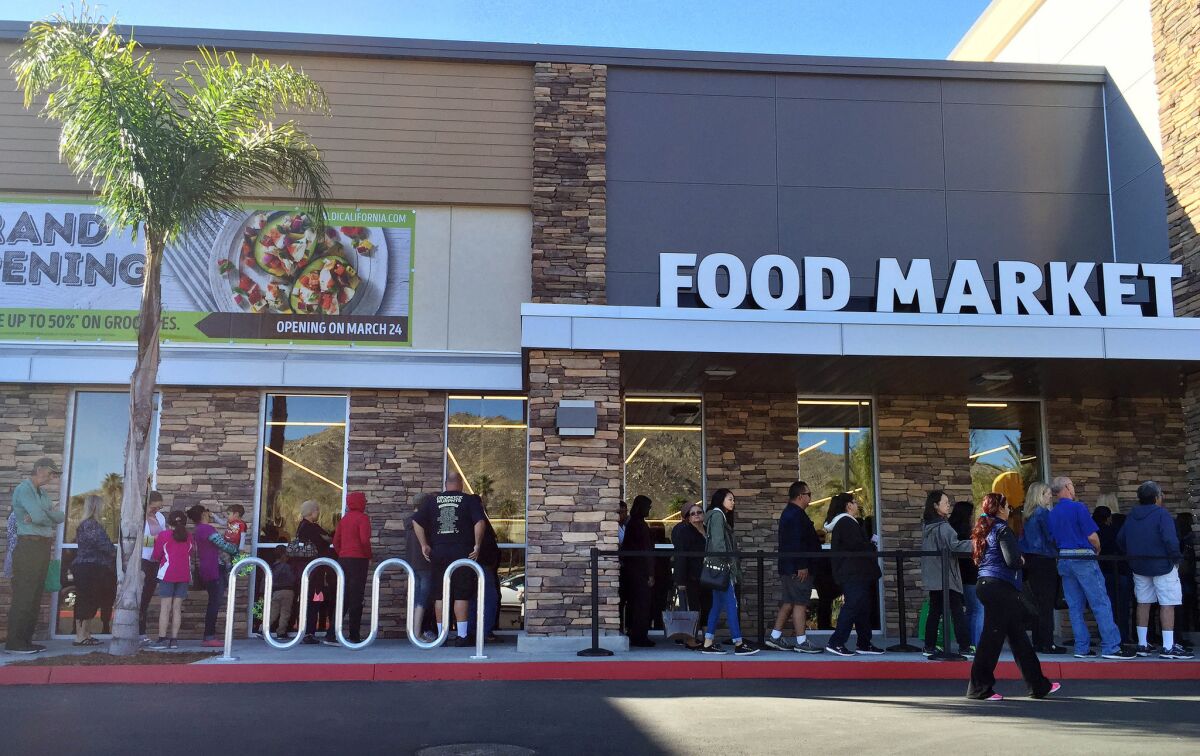 Although Aldi is a newcomer to the area, the family behind the chain already has grocery ties to Southern California: Aldi is controlled by the Albrecht family in Germany; through a family trust, the Albrechts also own Monrovia-based Trader Joe's.
By building up a strong business on the East Coast before turning to the notoriously difficult-to-crack Southland market, Aldi has the money to withstand some initial bumps as it gets settled here.
"If national players have good markets in Boston and Texas, they can make money there and put pressure on local retailers in Southern California while they build market share," said Jim Prevor, founder of PerishablePundit.com.
Other grocers say they aren't worried. Carlos Illingworth, a spokesman for Albertsons, Vons and Pavilions in Southern California, said there are plans to open 14 stores in the region this year. The company's assortment of organic produce has been beefed up, as well as local wine and beer selections.
"Our goal is to be the favorite local supermarket," Illingworth wrote in an email. "We are confident we'll achieve that."
As for Whole Foods, the chain is "always evolving and innovating to stay competitive," said Patrick Bradley, president of its southern Pacific region. That includes "lowering prices, particularly in produce and grocery," he added, especially in its new 365 stores, which offer lower prices.
In a landscape overflowing with grocery options, Aldi has carved out a niche shopping experience and product lineup that stands out from stalwarts like Ralphs and Albertsons.
Its stores are around 15,000 square feet, compared with supermarkets that can be five times bigger. More than 90% of its products are private label, and each location carries a limited assortment of products, offering only one or two options for eggs or peanut butter.
To save on labor costs, customers also have to bag their own groceries (each store employs about 19 workers, on average, compared with dozens at a big supermarket). Using a shopping cart requires a 25-cent deposit, which is given back when the cart is returned; the system cuts down on stolen carts and reduces clutter in the parking lots. Bestselling products are often displayed on shipping pallets, instead of stacked on shelves.
Those kinds of savings translate into lower prices: Many of Aldi's products cost 20% to 50% less than rivals.
Aldi, which is non-union, said it offers a starting wage of $13 an hour for California store employees. In comparison, Whole Foods pays $11 an hour. Safeway and Albertsons, which merged last year, pay a starting wage of $10.10 an hour; the company's pay and benefits are governed by an agreement with its union.
On Thursday, the Aldi store in Moreno Valley attracted a line of about 200 people eager to check out the newest grocer in town. Inside, shoppers stood elbow-to-elbow in the aisles. The white walls were dotted overhead by large photographs of food, including close-ups of a bowl of granola and a slice of bread thickly spread with peanut butter.
Maria Fields, who was born in Germany, said she was thrilled when the grocer from her homeland finally opened near her house.
"I've been waiting for it for a long time," she said, toting a red shopping basket she bought at a German Aldi eight years ago. Her husband, James, joked that it was "the event of the year" for the couple.
Fields said she typically frequents places like Costco, Food 4 Less and 99 Cents Only. But she expects that to change now that Aldi is in town. "The prices are excellent and they have everything," she said.
Not everybody was impressed. Bent over the bagging area near checkout, Laurie Campbell, 63, said she didn't like packing up her own groceries nor did she like the lack of name brands. "I won't be back," the Moreno Valley resident said. "They're so disorganized."
Aldi will face the challenge of convincing customers that its private brand is as good as name brands and that the savings outweigh any inconveniences. Shoppers can be scared off by change; Fresh & Easy, for example, packaged produce under cellophane wrap, a practice intended to keep perishables fresh but instead made shoppers suspicious about quality.
The first shoppers to convert tend to be those who are very price-conscious and millennials who aren't loyal to a particular supermarket, experts said.
Aldi has been trying to improve its image as a deep discounter with spartan-looking stores by enhancing its shopping experience. In the U.S., that means opening bigger stores with a more modern look; in California, it has expanded the selection of organic produce and local wines. The chain has started accepting credit cards.
But Aldi has to work to ensure that the cost of upgrading stores to attract more affluent shoppers doesn't drive prices up. Right now, its main competitors are other discount chains like dollar stores and Wal-Mart.
shan.li@latimes.com
---
Sign up for the California Politics newsletter to get exclusive analysis from our reporters.
You may occasionally receive promotional content from the Los Angeles Times.