Trump-appointed panel wants Postal Service to raise shipping rates. That would hit Amazon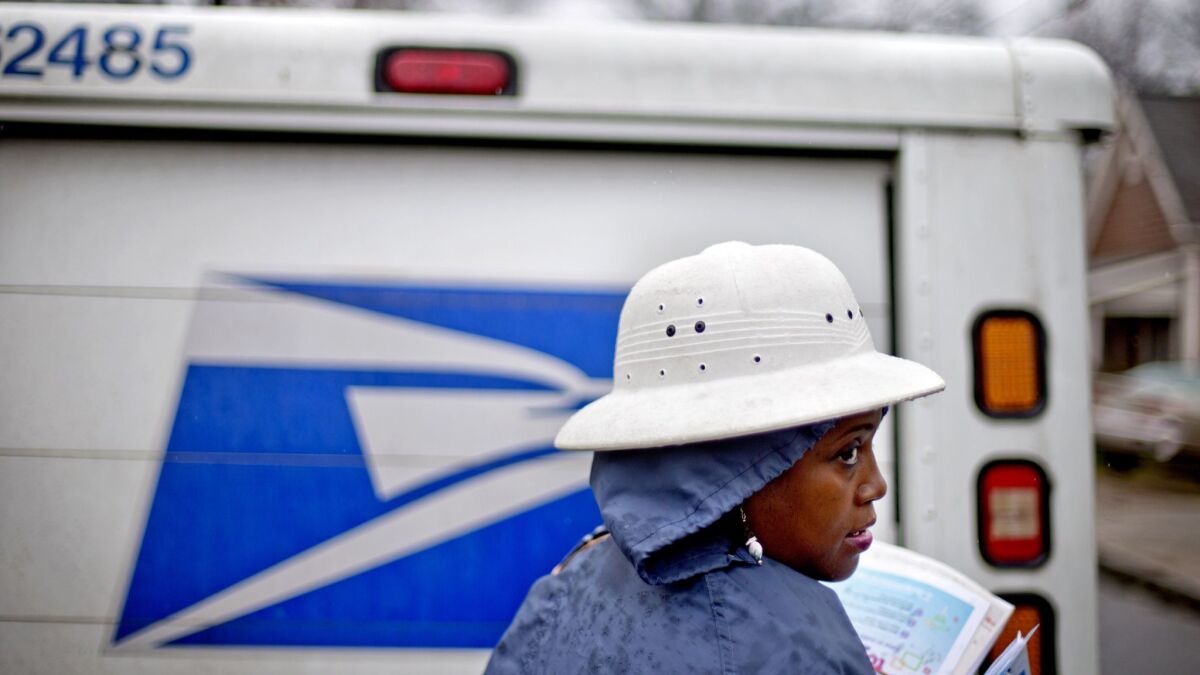 President Trump's administration is recommending the U.S. Postal Service raise prices for shipping packages, a move that would hit online retailers such as Amazon.com Inc.
A Trump-appointed commission on Tuesday released recommendations for the rate increase, which an administration official said would affect most commercial shippers. The report didn't say how much the Postal Service should increase its prices.
Amazon shares fell about 1% on the news to close at $1,668.40, down nearly 6% for the day amid a broader market downturn. Stamps.com Inc., which enables people to buy and print postage online, also dropped on the news.
Trump created the panel after repeatedly criticizing Amazon, which he has accused of contributing to the Postal Service's financial losses through shipping deals the president claims are unprofitable. Postal Service representatives have said their confidential shipping agreement with Amazon is profitable.
The Postal Service "is on an unsustainable financial path which poses significant financial risk to American taxpayers," Treasury Secretary Steven Mnuchin, who chaired the panel, said in a statement. "Today's report contains achievable recommendations that fulfill the president's goal of placing the USPS on a path to sustainability, while protecting taxpayers from undue financial burdens and providing them with necessary mail services."
Trump appointed the commission after months of intermittent threats and insults against Amazon and the Washington Post, which is owned by Jeff Bezos, the retail giant's founder and chief executive.
Although the Postal Service can't legally deliver packages for less than its delivery costs, Trump has claimed that Amazon was "costing the United States Post Office massive amounts of money for being their Delivery Boy," a situation that he said puts "many thousands of retailers out of business."
Amazon uses the Postal Service to complete what's called the last mile of delivery. The company didn't immediately respond to a request for comment.
A key recommendation would alter the Postal Service's "universal service obligation," a mandate to provide affordable service to all customers. The administration wants most commercial shippers, including companies such as Amazon and other retailers, to pay more to mail packages. The report said packages "have not been priced with profitability in mind" despite the Postal Service's leeway to set competitive prices in the segment.
The panel's members believe the Postal Service's board of governors and U.S. Postal Regulatory Commission can make the changes without congressional legislation, an administration official said.
The White House has floated the possible privatization of the Postal Service, a longtime conservative goal.
And in October, Trump announced plans to pull out of a 192-nation treaty governing international mail. His announcement came amid complaints the agreement gives Chinese companies discounted shipping rates for small packages sent to American consumers.
The U.S. Postal Service has lost more than $65 billion over the last decade as Americans increasingly transmit messages online, according to the White House order. Postal analysts largely lay blame for the financial woes on the email-era decline in letters and on the rare requirement that the Postal Service pre-fund health benefits for future retirees.
---
UPDATES:
4:10 p.m.: This article was updated with Amazon and Stamps.com stock movement.
This article was originally published at 1:20 p.m.
---
Sign up for the California Politics newsletter to get exclusive analysis from our reporters.
You may occasionally receive promotional content from the Los Angeles Times.