U.S. is way behind other nations on workers' readiness for jobs of the future, report says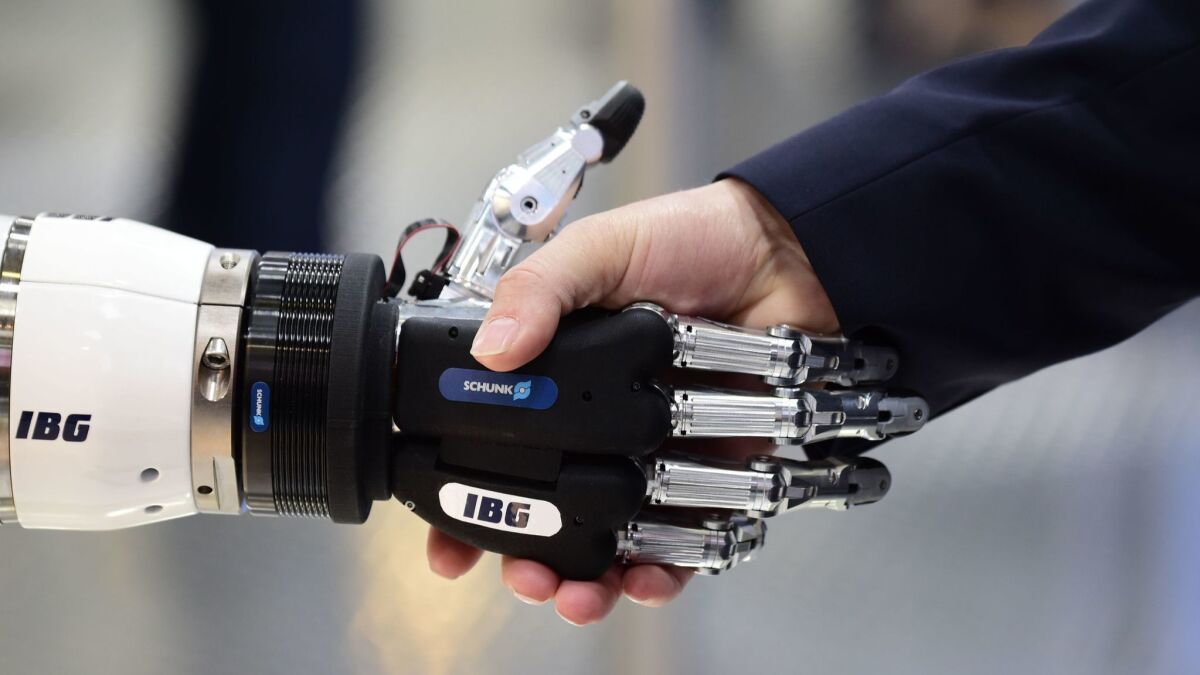 The United States lags behind other countries in readiness for an increasingly automated world, placing ninth on a ranking of 25 advanced economies, according to a new report from Swiss technology giant ABB.
South Korea, Singapore, Germany and Canada are better prepared for the rise of machines, thanks largely to their education systems and labor policies, the authors of the Automation Readiness Index concluded.
Researchers graded the nations on three main categories: their innovation environment, which included money spent on research and development; school policies, from early curricula to lifelong learning programs; and public workforce development, such as government-led efforts to retrain workers.
No country is "genuinely ready" for the technological shift that is expected to displace millions of workers worldwide in the next three decades, they found — but the United States is especially underprepared for the jobs of the future.
Guido Jouret, ABB's chief digital officer, singled out the U.S. education system, which pushes students toward two- or four-year degrees. Colleges tend to be less nimble when it comes to keeping up with technological changes, and companies will seek workers who can adapt to cutting-edge developments.
Germany, in contrast, encourages technical training, which is generally more reactive to immediate employer needs. In that country, 60% of young adults train as apprentices in manufacturing, IT, banking, construction and other fields, compared with 5% in the United States.
"We lack this vocational training track," said Jouret, who works in San Francisco.
Susan Lund, a labor economist at the global consulting firm McKinsey, said U.S. students tend to feel more pressure to take the university route, even if it's outside their budget.
"Not everyone needs a four-year college degree," she said. "We could do a lot to build more career pathways. Even just skill-credentialing to enable people to get a basic, entry-level job."
In China, meanwhile, the government is updating public education to prioritize creativity, rather than acing standardized tests. One 2015 public policy experiment in Shanghai gave students another chance to take a college admission exam, which was meant to curb stress and reduce the focus on memorization.
"They are considering relaxing exam pressure," Harry Patrinos, practice manager for education, East Asia and Pacific at the World Bank, is quoted as saying in the ABB report.
Economists say such efforts are aimed at training children and young adults to value independent thinking over regurgitation — a trait robots can't yet replicate.
"Take the Southwest Airlines pilot — she did a phenomenal job landing that plane," Jouret said, referring to Tammie Jo Shults, who stayed calm under pressure during an engine explosion that grabbed international attention this month. "This is the thing we need people to be good at: How to cope with the unexpected."
U.S. leaders have vowed to prepare workers for the next industrial revolution, lauding the merits of apprenticeships, but haven't expanded funding for them.
But economists say the nation would benefit from more creative solutions to what future jobs will demand: continuous learning.
One example comes from Singapore, which ranks second on the readiness index. In 2016, the Asian nation gave its citizens cash in "individual learning accounts," which they may tap to cover job training courses at any stage in their careers.
German lawmakers have proposed a similar model called "employment insurance," which would help workers pay for upgrading their skills throughout their lives.
The United States scores higher on research-and-development spending, the dollars that fund the next advancements. The country devotes 2.79% of gross domestic product to the effort, behind only South Korea (4.23%), Japan (3.28%) and Germany (2.88%).