Black Friday shoppers hit the stores to do their economic heavy lifting
Marisa Balderas, 32, arrived at a Best Buy in Montclair at 2:30 a.m. Friday with one goal in mind — getting a 55-inch Sharp television for her father, whose eyesight is declining.
"I figured a nice, big TV would be easier on the eyes for him," the Ontario resident said.
The chances were good that Balderas would score her TV, which was on sale for $249.99, a savings of $200. Balderas was first in a line that at 7:45 a.m., about 15 minutes before the store opened, curled around the building. (Spoiler: She got it.)
Although 2018 brought visions of retail bankruptcy and empty mall storefronts, shoppers will spend with enthusiasm this holiday season with the help of low unemployment, rising incomes and a greater sense of job security, analysts predict.
Holiday shopping is crucial for retailers, who can reap up to 40% of their annual revenue during the final few months of the year. And it's no slouch for the economy either because consumer spending accounts for about two-thirds of U.S. economic activity.
Greater consumer confidence in the economy is expected to lead to retail sales totaling $1 trillion this holiday season, up 5.8% compared with last year, according to market research firm eMarketer. Online sales could hit $123.73 billion, a 16.6% jump from last year.
It's important for retailers to get shoppers into stores on the first holiday shopping weekend to ensure momentum for the rest of the season, said C. Britt Beemer, chief executive of America's Research Group, which studies consumer behavior. If shoppers are in stores early on, they might see additional items and make return visits.
"Getting that customer in the door on Thursday and Friday is a big deal," he said.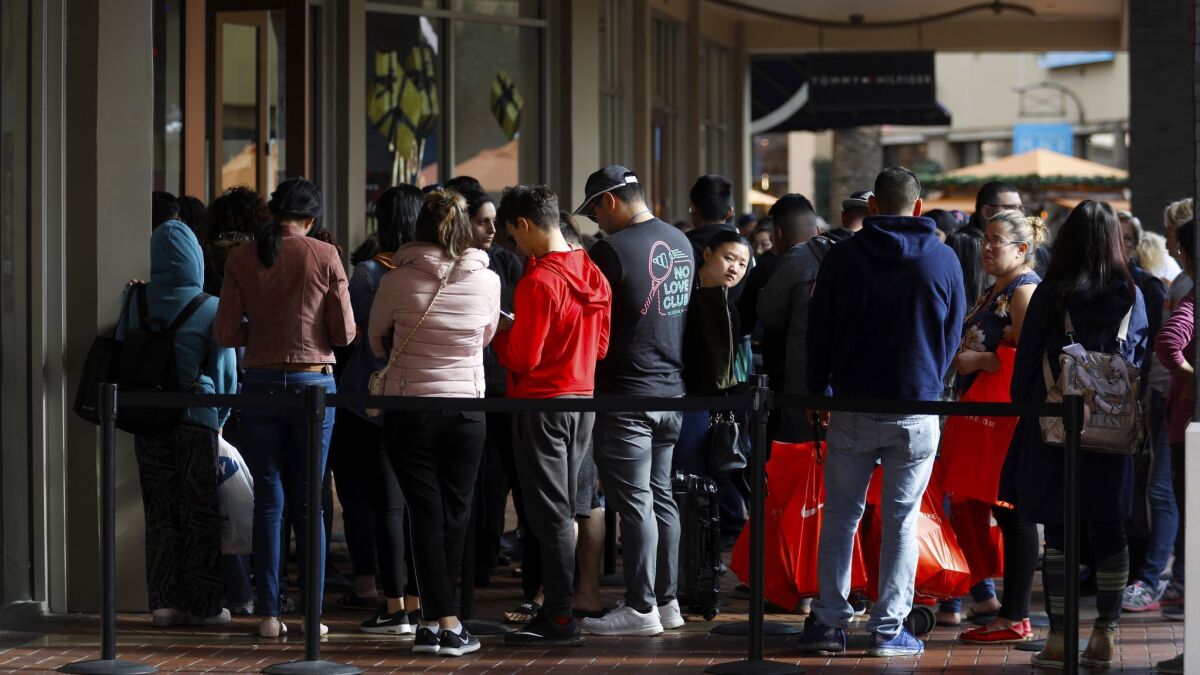 The National Retail Federation trade group expects 164 million people to shop in stores and online from Thanksgiving through Cyber Monday, a prediction similar to the group's estimates last year. Even though some retailers started offering bargains in early November, Black Friday should still be the busiest shopping day of the weekend, with about 71% of customers planning to shop, according to the group.
"It's the experience of going out and shopping and trying to find a deal," said James Bohnaker, economist with research firm IHS Markit. "There's definitely still a big place for the in-store shopping experience."
Alma Andrade, 49, had already grabbed a 55-inch TV for $499 at a Sam's Club on Tuesday, during an early Black Friday sale, but that didn't stop the Lakewood resident from visiting the Citadel Outlets in Commerce with her son on Friday.
"It's a tradition I've had with my son for a long time," she said. "Sometimes we don't shop much. It's bonding time."
Citadel Outlets expected that about 100,000 shoppers will visit its stores from 8 p.m. Thursday to 11 p.m. Friday. Shopping traffic is expected to be up 7% to 10% compared with last year, spokeswoman Chelsea Hartnett said.
By 9:30 a.m. Friday, long lines of shoppers queued outside of retailers, including Kate Spade and Michael Kors on the high end, and Levis and Gap on the more affordable side.
Black Friday online sales through 5 p.m. Pacific time had reached $4.1 billion, up 23% from a year earlier, according to Adobe Analytics. On Thanksgiving, online sales hit $3.7 billion, a 28% increase from last Thanksgiving. Top products were the Nintendo Switch gaming console, Beats headphones and Hot Wheels toys, Adobe said.
In Los Angeles, 42% of shoppers are planning to make holiday purchases in a brick-and-mortar store, higher than the national average of 36%, according to a survey conducted by Deloitte. L.A. shoppers are expected to spend $1,882 per household this holiday season, an 18% increase over the national average, according to the survey.
Friends Ramsey Wahhab and Tim Young, both 23, had already been shopping for four or five hours by the time they got to a Target store in Montclair to purchase Wahhab's birthday present for Young — a PS4 controller. The controller was only about $20 off for Black Friday, but Wahhab figured some discount was better than none.
This year, he said he planned to spend more than last year, mostly because he recently was hired full time as a lab technician for a biotech firm.
"I've upgraded from ramen to ravioli," he joked.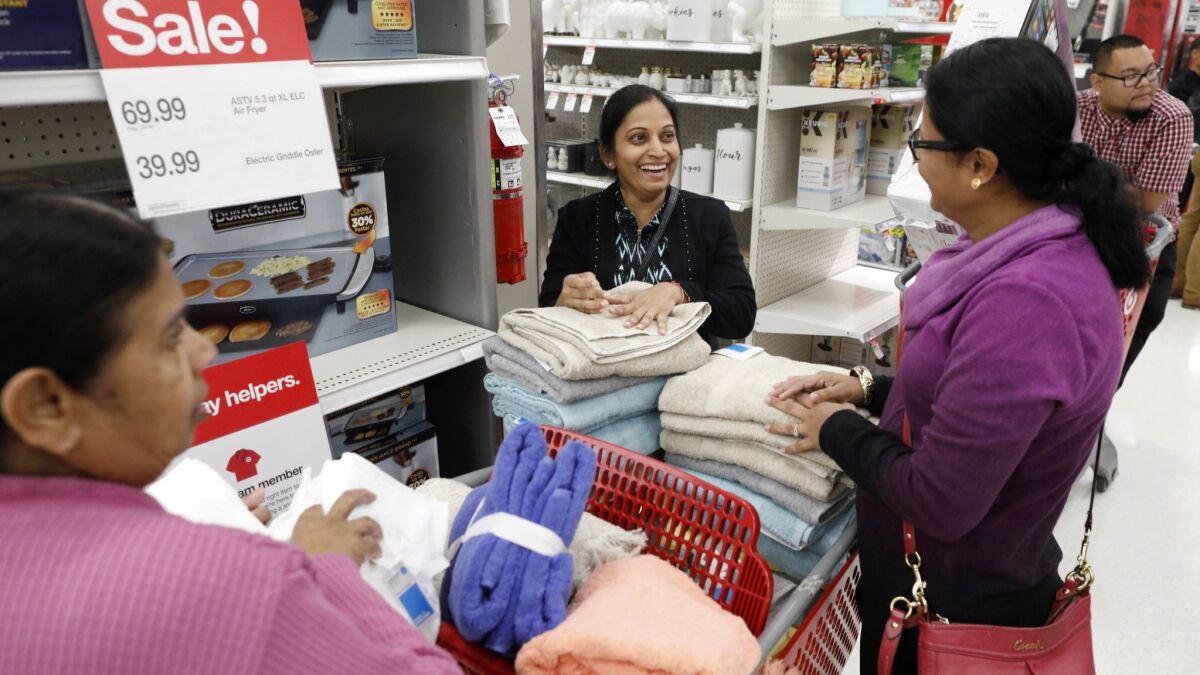 Mayra Murillo, 30, sat with her mother, Isidra, on a bench at Citadel Outlets surrounded by several large shopping bags that contained Disney toys for her nieces and nephews and workout clothes from Under Armour that were 50% off.
She said she planned to spend more than $300 on Friday and expected to dole out a little more overall on holiday shopping this year, largely because she had decided to give her nieces Disneyland tickets. Murillo said one of her nieces is now at the age when she knows who the Disney characters are.
"I want her to experience that," said Murillo, a Bell Gardens resident who is a program manager at a nonprofit organization. "This year, I want to do something special."
Economic optimism has been a key driver for the increase in planned holiday spending both locally and across the nation, said Brent Schoenbaum, a partner in Deloitte's retail practice.
"Nationally, there's strong optimism around whether the economy improved," he said. "Strong performance in consumer confidence, real wage growth and job security has continued to build upon itself from a year ago."
Last month, California's unemployment rate remained steady at 4.1%, the lowest rate in more than four decades, and employers added tens of thousands of positions.
Gasoline prices have been falling, which helps Americans feel a little richer.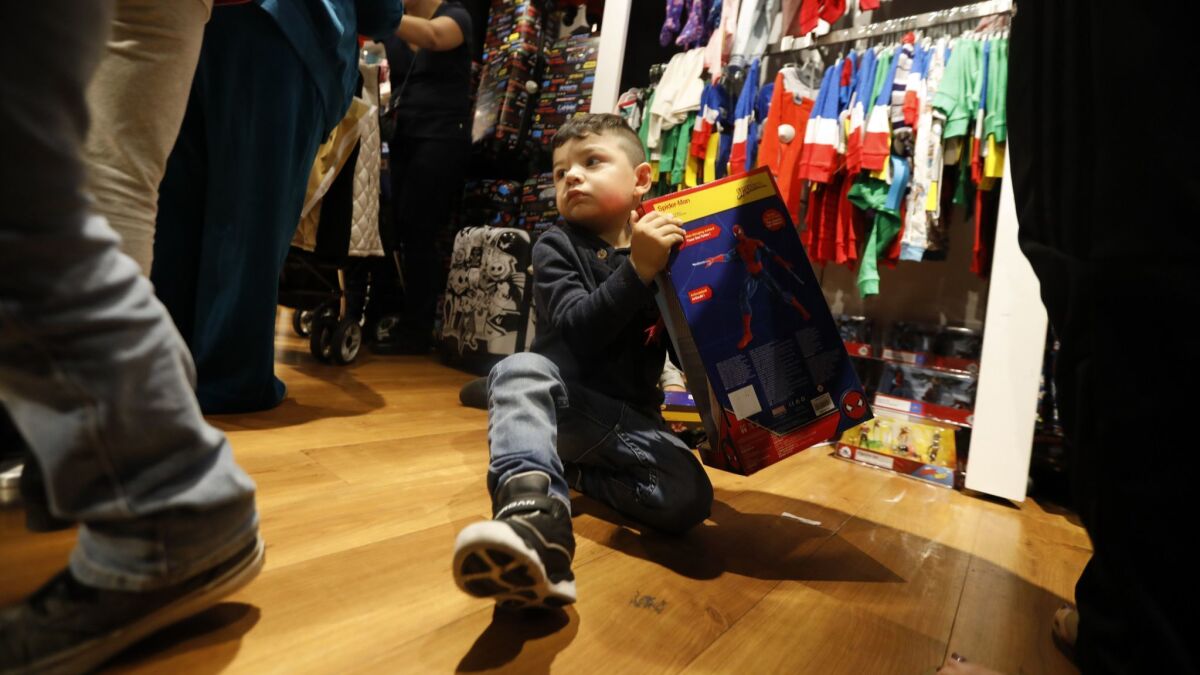 But recent volatility in the financial markets and a slowdown in the housing market could make some shoppers rethink large or luxury purchases, said Bohnaker of IHS Markit. The research firm forecast that holiday sales would increase 4.4% compared with last year, which is higher than the average over the last five years but lower than the 5.3% year-over-year growth seen in 2017.
Last year's high rate of growth was due in part to the anticipation of tax cuts, even though those didn't go into effect until after the holiday season, he said.
"I think you saw consumers get a little bit ahead of themselves," Bohnaker said.
By early afternoon, Beatrice Calderon, 38, had been shopping at the Glendale Galleria for about three hours after finding a few bargains — $7 sweaters at J.C. Penney and clothes for her children at Target that ranged in price from $4 to $10 a piece.
Overall, she said she'd be spending a little less this holiday season.
"It feels like there's less and less deals you can find, especially on clothing and jackets," the Los Angeles resident said.
Despite the looming threat of additional tariffs on goods imported from China, store inventory is likely to be unaffected because many retailers already received most of their holiday goods by the end of summer, said Beemer of America's Research Group. Retailers also stockpiled inventory in anticipation of the tariffs, allowing them to keep prices relatively low for the holiday season, according to Bohnaker.
In Montclair, Balderas loaded her father's TV into her car and then rushed off to tackle the rest of her shopping list. Next up: clothing for the kids.
Twitter: @smasunaga
---
UPDATES:
5:30 p.m.: This article was updated to reflect online sales as of 5 p.m. Pacific time.
2:55 p.m.: This article was updated with comments from a shopper at the Glendale Galleria.
11:20 a.m.: This article was updated with comments from shoppers at the Citadel Outlets in Commerce.
This article was originally published at 8:45 a.m.
Sign up for the California Politics newsletter to get exclusive analysis from our reporters.
You may occasionally receive promotional content from the Los Angeles Times.