California gains jobs, and unemployment stays at a record low 4.1%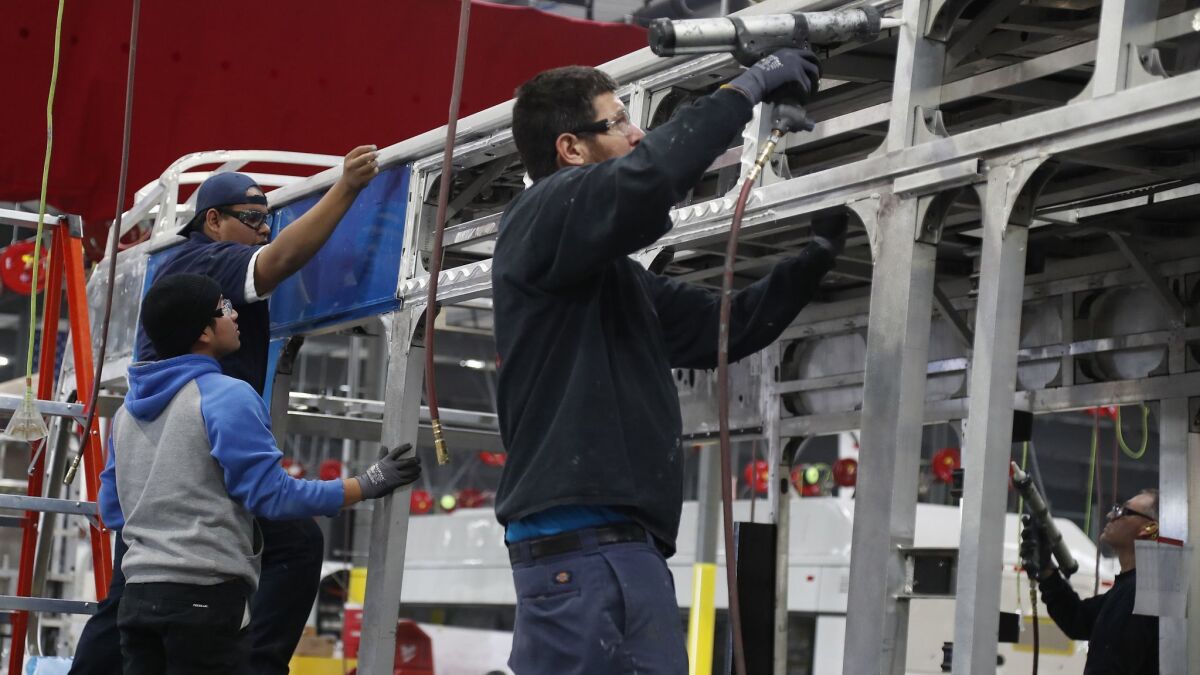 California's unemployment rate held steady in October at 4.1% — the lowest rate in more than four decades — as payrolls grew, according to data the state Employment Development Department released Friday.
Employers added 36,400 net positions last month, more than making up for a downward revision that took 2,700 jobs off September's growth.
October's payrolls rose to 17.2 million jobs, up 1.8% compared with a year earlier. Joblessness in October 2017 stood at 4.5%.
The data reveal a Golden State economy that continues to thrive over an eight-year stretch despite the U.S.-China trade war, labor shortages and a housing deficit that has exacerbated homelessness in cities and suburbs.
"We've now had 103 months of employment expansion — the second-longest post-World War II expansion after the 113-month expansion in the late 1960s," said Michael Bernick, a former EDD director who specializes in workforce issues.
More Californians are finding positions, and more are entering the workforce. The number of job holders rose by 55,000 from September.
"No economic slowdown here in California yet," said economist Sung Won Sohn, president of Los Angeles consultancy SS Economics. "Our labor market is still hot, creating 14.6% of all the jobs [added] in the country.… The word is out that there are good-paying jobs to be had, and students, mothers and people on disability are rejoining the labor force."
Nonetheless, economists were not all bullish about the Golden State going forward. For now, California's economy has momentum, said economist Lynn Reaser of Point Loma Nazarene University in San Diego. But, she added, it "faces headwinds, including the impacts of rising interest rates, tariffs, a slowing in global growth, and a strong dollar."
On a month-over-month basis, California's professional and business services sector gained a net 19,100 jobs in October. Manufacturing grew by 6,600 jobs, and the information and government sectors each expanded by 5,600 jobs. Other rising payrolls were in construction (up 3,000 positions) and leisure and hospitality (up 1,600). Trade, transportation and utilities positions shrank by 3,100 jobs, and educational and health services jobs dropped by 1,100.
September's month-over-month payroll gains, originally reported at 13,200, were revised down to 10,500.
Monthly job numbers are volatile, however. Year-over-year percentage gains — a more reliable indicator — in October stood at 3.9% for professional and business services, 3.6% for construction, 2.6% for educational and health services and 2.4% for leisure and hospitality. Manufacturing gained just 0.3% over the year.
Nationwide, the unemployment rate held steady last month at 3.7% as the United States gained a robust 250,000 jobs.
As of last month, the Trump administration's escalating trade war with China had yet to take a major toll on the state, but nationwide, businesses turbocharged their imports in October as tariffs took effect on Chinese goods and more were threatened. At the twin ports of Los Angeles and Long Beach, the major U.S. hub for China trade, inbound containers jumped by 10.2% last month, up 17.7% over October of last year.
"Our higher import volumes suggest some retailers expect U.S. consumers will be big spenders this holiday season," said Port of Long Beach Executive Director Mario Cordero. "Other importers are rushing shipments to beat escalating tariffs."
California manufacturing has not suffered from the tariffs, Sohn said, but "if the trade friction with China lasts and increases, the day of reckoning will come to the state since it is heavily dependent on trade with China."
In Los Angeles County, the unemployment rate was 4.6% in October, unchanged from the previous month and slightly above the 4.5% rate of a year earlier. County payrolls rose by a net 43,800 jobs to more than 4.5 million.
Year over year, the county's employment rose by 58,000 positions, or 1.3%. The largest growth was in the leisure and hospitality sector (up 24,700), particularly in restaurants (up 11,700).
In Orange County, the jobless rate was 2.9%, up from 2.8% the previous month, and below the year-ago estimate of 3.2%. The county added 14,800 jobs in October. Year over year, payrolls rose by 14,400 positions, or 0.9%.
In the Inland Empire, the jobless rate was 4.1% in October, unchanged from September. A year earlier, it stood at 4.7%. The region added 16,500 jobs in October. Year over year, payrolls grew by 37,200, or 2.5%.
Twitter: @margotroosevelt
---
UPDATES:
2:55 p.m.: This article was updated with additional jobs data and analysis.
This article was originally published at 12 p.m.
---
Sign up for the California Politics newsletter to get exclusive analysis from our reporters.
You may occasionally receive promotional content from the Los Angeles Times.