New York landlord Brookfield takes over giant L.A. fashion mart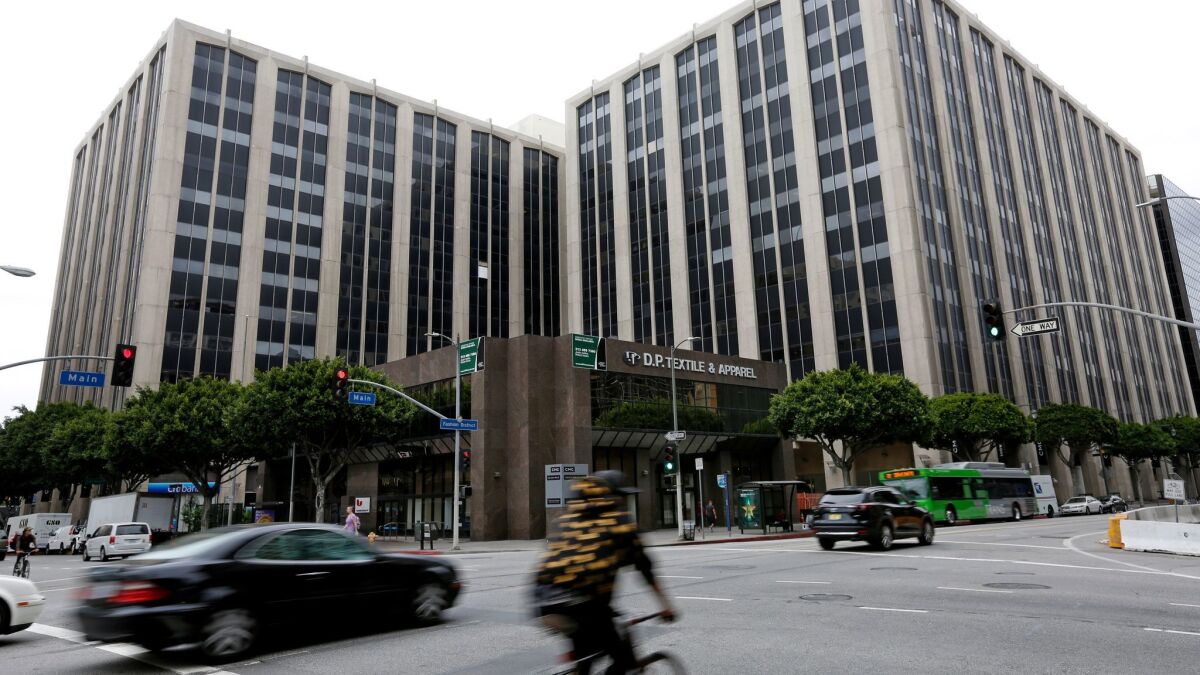 L.A.'s biggest center of showrooms serving apparel industry insiders will soon open its doors to tenants outside of the rag trade.
Office landlord Brookfield, the king of high-rises in downtown Los Angeles' financial core, has taken over the hulking California Market Center in the fashion district. The sale closed Thursday and was valued at close to $440 million, according to a source familiar with the transaction.

For the record:
11:22 p.m. Feb. 3, 2023An earlier version of this story implied that Brookfield paid nearly $440 million for an ownership stake in California Market Center. In fact, the transaction valued the property at nearly $440 million.
The blockbuster deal, which gives Brookfield a controlling interest in the property, further diffuses downtown L.A.'s office market from the gleaming skyscrapers of Bunker Hill and Figueroa Street to newly emerging neighborhoods such as the Arts District and blocks near Staples Center.
Now Brookfield, a publicly held New York real estate company that rents out upscale offices, promises to spend millions of dollars to make the scruffy-edged fashion district another destination for prosperous creative firms that shy away from conventional glass towers.
For Brookfield, the 1.8-million-square-foot California Market Center presents "an opportunity to take a historic building complex for L.A. fashion and apparel and trade events and make it a forward-thinking office and mart for creative users," said Bert Dezzutti, head of the Western region for Brookfield's office properties.
California Market Center is the largest wholesale mart in the region, with more than 1,000 showrooms in three main, interconnected 13-story buildings at 9th and Los Angeles streets. The mart, which opened in 1963, was once so popular that it had a waiting list of tenants for many years.
Consolidations and bankruptcies in the department store industry in the 1980s significantly reduced the number of wholesale buyers that patronized the mart. Today the fashion industry faces upheaval from changes wrought by Internet clothing sales, and the mart is less than 50% leased.
Brookfield intends to boost the mart's appeal to the fashion trade as well as reach out to non-apparel businesses, Dezzutti said.
"We think there is a big population not mart-related" who may want to locate there, he said. "It could be tenants from a variety of creative industries."
Some big companies have already begun to look past the skyscrapers of Bunker Hill for offices downtown. Warner Music Group, for example, agreed to move hundreds of employees from Burbank and the Westside into a former Ford auto plant in the Arts District that is being renovated for occupancy this summer.
The coming upgrade of California Market Center is further proof that the downtown office market's fortunes are improving with the rapid influx of residences, hotels, restaurants and stores that has been going on for well over a decade, said Petra Durnin, regional director of research at real estate brokerage CBRE Group Inc.
Downtown's new vibrancy is capturing the attention of businesses such as Warner Music that wouldn't have considered it in the past, she said.
"People are looking hard at downtown, and it's not just your typical legal and banking tenants," Durnin said. "It's all types of tenants now."
Vacancy in downtown offices decreased from 17.2% in the first quarter a year ago to 16.5% this year but remains a tenants' market, Durnin said.
Brookfield's move into the garment district offers the landlord a bigger shot at creative firms coming downtown, said real estate broker Kevin Shannon of Newmark Knight Frank, who helped negotiate the deal with Jamison Realty Inc., which remains a co-owner and is one of L.A.'s largest commercial landlords.
"This is a great addition to what they already own," Shannon said. "This is a cooler, edgier product."
Brookfield is the largest Class A office landlord downtown, with 8.6 million square feet of offices in addition to California Market Center. Among its buildings are Bank of America Plaza, Figueroa at Wilshire and 777 Tower.
Brookfield bought an undisclosed majority stake. The new nearly $440-million valuation of the California Market Center reflects the run-up in the value of downtown real estate since its recent renaissance. Jamison reportedly paid $135 million for the center in 2004. It sold for about $90 million in 2000.
Jamison Chief Executive Jamie Lee said she supports Brookfield's plans to upgrade the property, which is inwardly focused and mostly walled off from city sidewalks.
"We want to open it up literally and figuratively to the street and to pedestrian flow," Dezzutti said, "to invite people into space that is somewhat blocked off and difficult to access now."
Major changes will get underway after about a year of planning, he said, but cosmetic and mechanical upgrades to the buildings will begin shortly.
The center lies at a key intersection where historic downtown meets the fashion district, said Rena Masten Leddy, executive director of the L.A. Fashion District Business Improvement District.
The district typically shuts down at the end of the day, but thousands of new residents will soon occupy apartments nearby that have recently been completed or are under construction.
"The fashion district is changing," she said.
Twitter: @rogervincent
---
Sign up for the California Politics newsletter to get exclusive analysis from our reporters.
You may occasionally receive promotional content from the Los Angeles Times.