CalPERS board strips Priya Mathur of posts after ethics law violations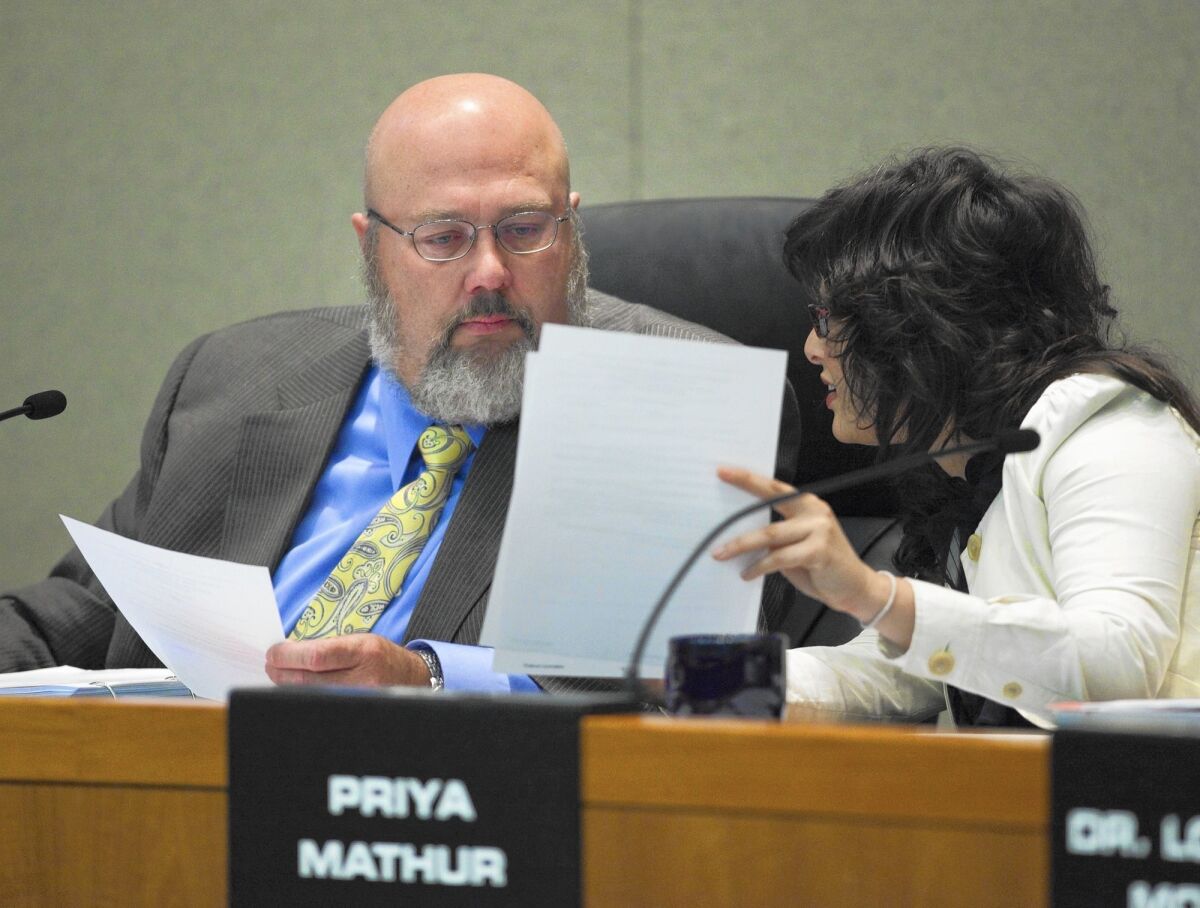 REPORTING FROM SACRAMENTO —
The country's richest public pension fund has stripped one of its 13 members of her posts on its board of administration after she repeatedly violated California's political ethics laws.
Rob Feckner, board president of the California Public Employees' Retirement System, announced at a Wednesday meeting that colleague Priya Mathur no longer serves as his vice president. Mathur also lost her chairmanship of the CalPERS Pension and Health Benefit Committee and vice chairmanships of two other committees.
Feckner, however, did not remove Mathur as the fund's representative to an international panel, Principles for Responsible Investment.
It was the second time that Mathur has been publicly disciplined by the board since first being elected as a representative of employees of public agencies that participate in the CalPERS system.
Mathur said in an email that she "acknowledges the decisions" made by the Fair Political Practices Commission and the CalPERS board and said she already has paid the fine to the FPPC. In earlier statements, she described the current and previous violations as inadvertent.
On Thursday the five FPPC members, without debate, voted unanimously to fine Mathur $4,000 for failing to file timely campaign finance reports for 2012 and 2013. Mathur has agreed to not contest the enforcement action.
FPPC enforcement staff in August originally proposed levying a $1,000 fine against her. The commission rejected the settlement, saying Mathur should get a higher fine because of previous violations of the state's Political Reform Act in 2002, 2007 and 2008.
"Failing to file a campaign statement is a serious violation" of state ethics laws "because it deprives the public of important information about a candidate's financial activities," the FPPC said.
Mathur's 2012 and 2013 campaign finance statement reported that she "did not have any reportable financial activity during those four reporting periods."
In all, Mathur, recently reelected to a fourth term, four-year term on the CalPERS board, has paid or agreed to pay a total of $17,000 in penalties for late filing of legally required campaign finance reports and personal statements of economic interest.
Mathur and the other dozen board members oversee a $288-billion investment portfolio that pays for the retirement and healthcare benefits for 1.6 million state and local government workers, retirees and their families.
A San Francisco resident, Mathur works as the principal financial analyst at the Bay Area Rapid Transit District. She has a master's of business administration from UC Berkeley's Haas School and a bachelor's degree in economics from Connecticut College.
Twitter: @MarcLifsher
---
Sign up for the California Politics newsletter to get exclusive analysis from our reporters.
You may occasionally receive promotional content from the Los Angeles Times.