Consumers will see minimal price effects from tariffs — and probably not until next year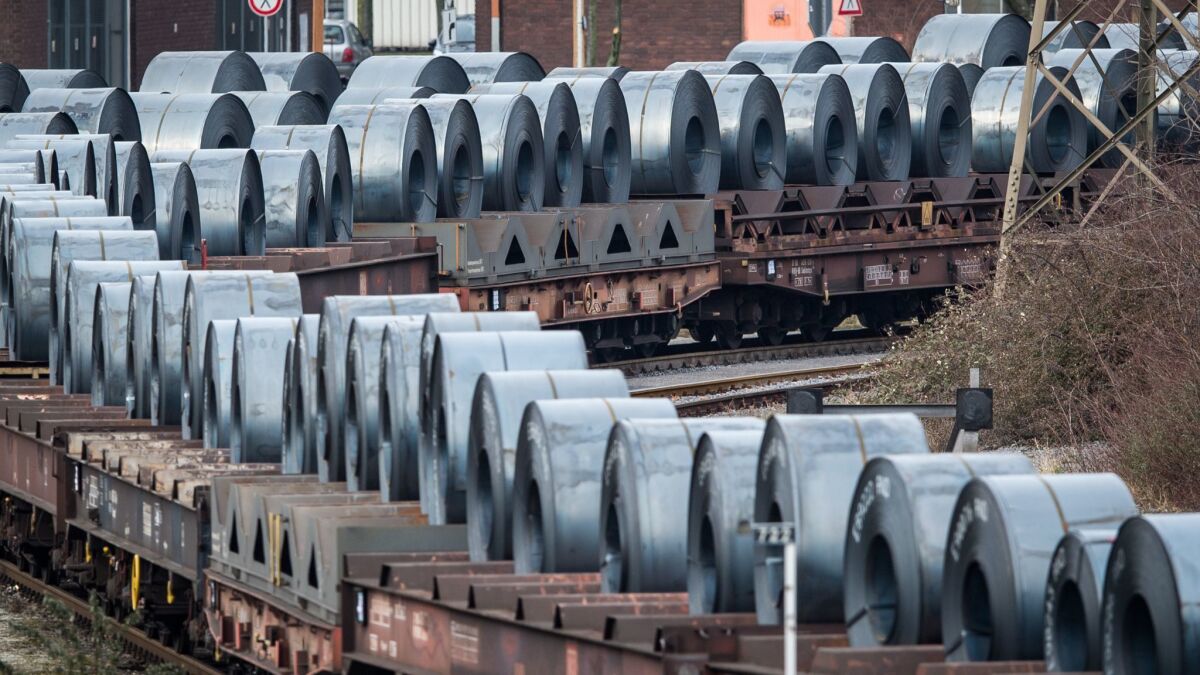 Consumers are unlikely to see big price increases on six-packs of beer or new cars as a result of the Trump administration's decision Thursday to enact tariffs on imported steel and aluminum from certain countries, analysts said.
Part of the reason is the manufacturing process of goods — as raw materials move "downstream" and are processed into finished products, dramatic cost increases of the original materials begin to get filtered out of the final product price.
Also, competition in some consumer markets is such that companies will be forced to absorb the cost increases.
But another factor is timing — there's a bit of a lag between the increased price of metals and when manufacturers and producers of goods will actually pay for new steel and aluminum.
The price of the aluminum and steel that companies buy to turn into aircraft, cars, beer cans and other products has already increased since mid-February, when the Commerce Department urged President Trump to consider tariffs on the imported metals.
In early January, the price of U.S. Midwest ingot premium — which reflects changes in local market conditions as well as insurance and transportation costs for primary aluminum in North America — was 10 cents a pound. By mid-March, when Trump announced that a 10% tariff would be levied on aluminum imports, that price jumped to 20 cents a pound.
On steel, the Midwest price for hot-rolled coil — a common steel product that is used in furniture, car bodies and appliances — was $661 per short ton, or 2,000 pounds. By mid-March, that price increased to $836.
But those cost increases have not yet traveled completely downstream.
"We believe the tariff is already priced into the current premium number," said Doug Hilderhoff, head of North American aluminum analysis at CRU. "The premium metal would have been about the same level as now without the news today."
The tariffs — 25% on steel and 10% on aluminum — will affect imports from the European Union, Mexico and Canada. Mexico and Canada vowed Thursday to levy counter-tariffs on U.S. goods; the EU said it had drawn up a list of U.S. products worth several billions of dollars that would be subject to tariffs.
So, though some companies have responded to higher prices as predicted by the Trump administration — by ramping up U.S. domestic production, such as a near-doubling of planned solar panel capacity — that could get swamped by the damage of a trade war.
"A trade war makes everyone worse off," said Larry Harris, professor of finance at the USC Marshall School of Business. "Higher tariffs will discourage foreign consumption of our exports and that will hurt employment in the United States and lower the prices we receive for our exported goods and services."
Manufacturers and producers of steel goods will probably pay the higher prices for metals in July, said Josh Spoores, principal analyst of steel at CRU. Based on that timeline, consumers could see price increases in steel goods next year, he said.
But manufacturers are expected to bear the brunt of the price increases, while the effect on consumers will be minimal, analysts said.
Some manufacturers may choose to divert the increased funding they gained from the Trump administration's business tax cut to their higher materials costs, rather than investing in new programs or products, as originally intended.
That's the case with several breweries across the country, said Jim McGreevy, chief executive of the Beer Institute, a national trade association for the beer industry. He said one small brewer located on the East Coast has put more than 50% of its excise tax savings toward covering the increased cost of aluminum.
Last year, U.S. beer brewers purchased 36 billion aluminum cans and bottles, McGreevy said. The Beer Institute estimated that the tariffs on imported aluminum and steel will cost U.S. brewers about $347 million a year.
"This is a big cost to brewers," McGreevy said.
Last month, Campbell Soup Co. estimated that its margins would fall in fiscal year 2019 "in part due to the anticipated impact of import tariffs."
In an earnings call with analysts, Chief Financial Officer Anthony DiSilvestro said Campbell expected double-digit cost increases on steel and aluminum, "all of it driven by the impact of anticipated tariffs."
The Alliance of Automobile Manufacturers said in a statement that it expected the tariffs on imported steel and aluminum to result in price increases for domestic metals, "threatening the industry's global competitiveness."
Many manufacturers may be loath to pass that cost on to consumers. They could lose market share if competitors do not go along with the price increase, said John Mothersole, director of research in IHS Markit's pricing and purchasing service. And depending on the production process, raw materials might represent a relatively small portion of overall costs.
"You get a normal dampening down as you move through the supply chain," Mothersole said.
He estimated that the tariffs on aluminum will add an additional one to two cents to the cost of canned beer. Price increases for a bigger-ticket item, such as a $33,000 car, could go up about $144.
"It's measurable," Mothersole said of the tariffs' effect on consumer pricing. "But it's relatively minor."
But a tariff on imported cars — which is currently the center of an investigation initiated by President Trump last month — could play out differently. Every major automaker imports at least some of the vehicles they deliver to American consumers, and more than 30 brands will source a majority of the models they sell this year from overseas assembly plants, according to Bloomberg.
One Delaware BMW dealer estimated that a 25% tariff could push a 330i vehicle from its starting price of about $45,000 toward sticker prices of $60,000, which could make some buyers think twice about buying the car.
Bloomberg contributed to this report.
Twitter: @smasunaga