The craft beer industry's buzz is wearing off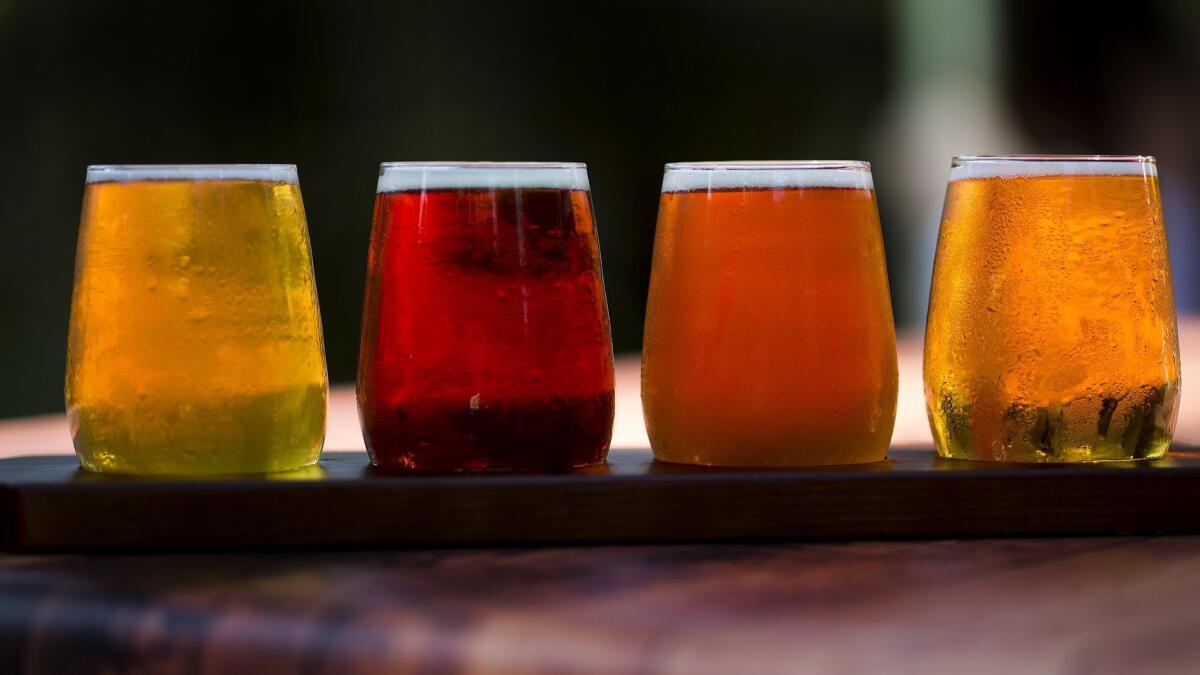 The craft beer industry has grown less frothy. One sign: More craft breweries closed in 2017 than any other time in the last decade.
And although craft beer makers saw more growth in production than the overall market last year, the pace is slowing.
A new report by the Brewers Assn. — a trade group representing small and independent American craft brewers — showed that craft brewers saw a 5% rise in production volume last year. Yet with that growth came an increasingly crowded playing field, leading to more closures of small craft breweries. In 2017, there were nearly 1,000 new brewery openings nationwide and 165 closures — a closing rate of 2.6%. That's a 42% jump from 2016, when 116 craft breweries closed.
Experts say that saturation is still some time away and that pullback is inevitable for any booming industry that, with time, begins to mature.
"We have seen a little bit of deceleration," said Bart Watson, chief economist of the Brewers Assn. "When you're talking about an industry that sells tens of billions of dollars a year, it's hard to grow at double-digit rates."
Growth in the craft brewing industry began in the late 1970s and early 1980s, Watson said, and has seen a resurgence in the last decade. With consumers who tend to skew male, younger, whiter and with higher incomes, the industry gained its foothold among adults willing to pay more for beer that tasted better than the mass-produced products that long dominated the market.
Small craft breweries compete among themselves for taps at restaurants and shelf space at retailers. Yet they are also up against massive industrial brewers that wield heavy influence over the national distribution of beer and often buy up smaller companies. In 2011, for example, Anheuser-Busch InBev bought the craft brewer Goose Island for almost $39 million, the first in a slew of similar acquisitions.
"The largest brewers have a lot of ways that they can push into the market, rather than relying on consumer pull," Watson said.
Matt Simpson, owner of the Beer Sommelier, a craft beer consultancy, said the slowdown is natural after "an initial explosion." There are many reasons brewers won't be able to keep up.
Some of that culling, he said, results from home brewers who don't know how to successfully run a business or market products. At the same time, the industry has revived enthusiasm among craft beer aficionados who set out to found a company but sometimes make bad-tasting beer. Simpson recalled a recent craft brewers conference where a speaker said that if newcomers didn't produce good products, they were "going to be the death of home brewing."
"The majority of brewers entering the marketplace are making good beer," Simpson said, "but a few bad apples can spoil the whole bunch."
With more than 6,300 breweries operating in the United States in 2017, small and independent brewers represented nearly 13% of the market share by volume of the overall beer industry. Craft brewers produced 25.4 million barrels in 2017, with an estimated $26 billion retail value, according to the Brewers Assn. Over much of the last decade the industry's growth rate held at double digits, peaking at 18% growth in 2013 and 2014.
The total beer market went down 1% by volume in 2017, a decrease of about 2.4 million barrels from the previous year. Watson said the decrease in part reflects beer's growing competition with wines and spirits.
Still, Watson and Simpson agreed that it will take some time for the industry to reach full saturation. And albeit at a slower pace, craft breweries are still growing.
"Craft beer tastes better than macro-industrial lagers, which have gotten by for decades using bikini-clad women and famous sports figures," Simpson said. "They've made some really touching or funny ads, but that doesn't make their products better."