Energy stocks lead a broad rally as oil prices soar; markets post a gain for the week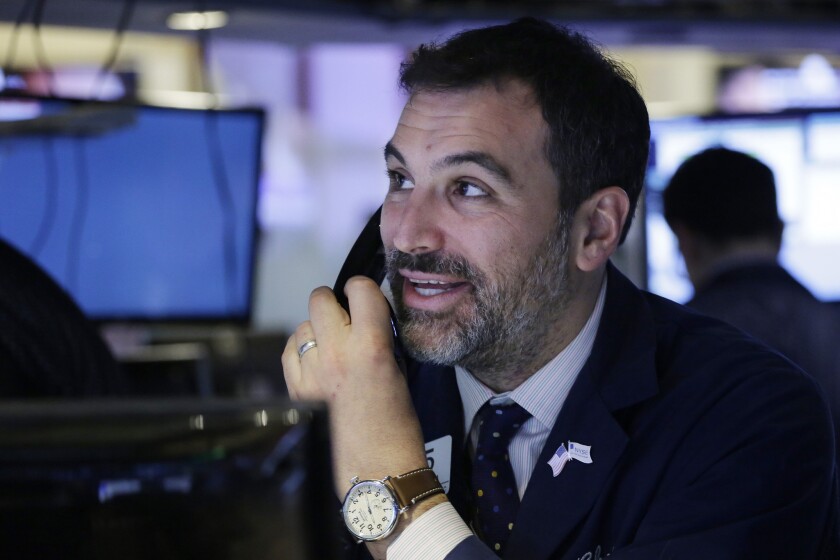 U.S. stocks made their biggest gain in more than a month Friday as oil prices surged, lifting energy stocks. Tech stocks also climbed as Apple jumped the most since August.
Energy companies soared after the price of U.S. crude jumped 9%. Oil prices reached their lowest level in 12 years earlier this week, but they jumped the past two days.
The gain Friday, combined with a smaller increase the day before, gave the market its first weekly advance after three weeks of declines. It's been a dismal start to the year, and on Wednesday, the Dow Jones industrial average tumbled as much as 565 points before recouping some of its loss.
Much of the volatility has been driven by wild swings in the price of crude oil, which many investors see as a barometer for how well the global economy is doing. A sharp drop in oil prices over the past year and a half has decimated profits at oil companies, and many expect the damage to continue as global production of oil far outstrips demand.
As for market turbulence, many expect more of that too.
Jim Paulsen, chief investment strategist for Wells Capital Management, said he thinks the Standard & Poor's 500 index will slide to about 1,800 before a real recovery comes. That's below even the darkest moments from Wednesday's midday swoon.
"It's going to continue to be a struggle," he said. "Everyone will be convinced we're heading for recession. Everyone will be convinced we're in a bear market."
On Friday, the Dow Jones industrial average rose 210.83 points, or 1.3%, to 16,093.51. The S&P 500 had its best day since early December, climbing 37.91 points, or 2%, to 1,906.90. The Nasdaq composite index made its biggest gain since September, adding 119.12 points, or 2.7%, to close at 4,591.18.
For the week, the Dow rose 0.7%, the S&P 500 climbed 2% and the Nasdaq increased 2.3%.
European markets also rose Friday on hopes of further economic stimulus from the region's central bank. In Japan, the Nikkei 225 index had its best day in four months as investors hoped the Bank of Japan also would step in.
In energy trading, U.S. crude rose $2.66 to $32.19 a barrel in New York. Brent crude, a benchmark for international oils, rose $2.93, or 10%, to $32.18 a barrel in London. U.S. oil climbed 21% over the past two days, and it has recovered about half its losses from earlier in the year.
Among energy stocks, pipeline operator Kinder Morgan rose $1.46, or 10.5%, to $15.34 after it jumped 16% Thursday. Pipeline company Williams Cos. added $3.70, or 23.1%, to close at $19.74. Devon Energy climbed $1.45, or 6%, to $25.63.
Goldman Sachs analyst Jeffrey Currie said energy prices have fallen so far that the industry is making real cuts in production. "We are now at a price level that is creating real fundamental change," he said.
Apple, which has lost about a quarter of its value in the past six months, rose $5.12, or 5.3%, to $101.42. Microsoft gained $1.81, or 4%, to $52.29. Facebook added $3.78, or 4%.
France's CAC 40 added 3.1%, and Germany's DAX rose 2%. Britain's FTSE 100 climbed 2.2%.
Japan's Nikkei 225 index rose 5.9%. Earlier this week, the index entered a bear market, meaning it was down 20% from a recent peak. South Korea's Kospi gained 2.1%, and Hong Kong's Hang Seng added 2.9%.
Telecommunications and utilities stocks also rose and turned positive for the year. They're both up 1%, while the other eight industrial sectors in the S&P 500 are much lower in 2016. Last year, the S&P 500 utility index fell 8% and telecom stocks fell 2%.
Paulsen, of Wells Capital Management, said investors turn to utilities and telecom stocks when the market gets rough. Companies in those industries pay relatively large dividends, which means their prices are more stable and the stocks behave almost like bonds.
"They are just the most conservative sector of the stock market," he said.
American Express gave a negative outlook for 2016 and 2017. The company expects its earnings per share to fall this year even though it's selling credit card accounts tied to a co-branded credit card it offers with Costco. That relationship is ending.
AmEx fell $7.58, or 12.1%, to $55.06, its biggest loss in almost seven years. American Express is a Dow component, and that loss caused the Dow to lag behind the other major U.S. indexes.
Gold and copper producer Freeport-McMoRan tumbled 39 cents, or 9.1%, to $3.94. Its shares have dropped 42% in 2016 after huge plunges the previous two years. The company has struggled as metals prices have fallen, and its decision a few years ago to invest in oil and gas came shortly before those prices also plunged.
In other energy trading, wholesale gasoline added 5.3 cents, or 5.1%, to $1.084 a gallon. Heating oil picked up 9.8 cents, or 10.9%, to 99.6 cents a gallon. Natural gas inched up to $2.139 per 1,000 cubic feet.
Bond prices fell. The yield on the 10-year Treasury note rose to 2.05% from 2.03%.
Gold fell $1.90 to $1,096.30 an ounce, and silver fell 3.7 cents to $14.06 an ounce. Copper rose 0.6 cents to $2.003 a pound.
The dollar rose to 118.78 yen from 117.50 on Thursday. The euro weakened on the prospect of further ECB stimulus. It fell to $1.0791 from $1.0875.
ALSO
Global stocks rally on new hopes for more stimulus efforts
Wireless-only phone users have become a one-stop shop for scam callers
Hospitals failed to report outbreaks linked to tainted scopes, Senate report says
---
Your guide to our clean energy future
Get our Boiling Point newsletter for the latest on the power sector, water wars and more — and what they mean for California.
You may occasionally receive promotional content from the Los Angeles Times.