GE earnings rise despite headwinds from low oil prices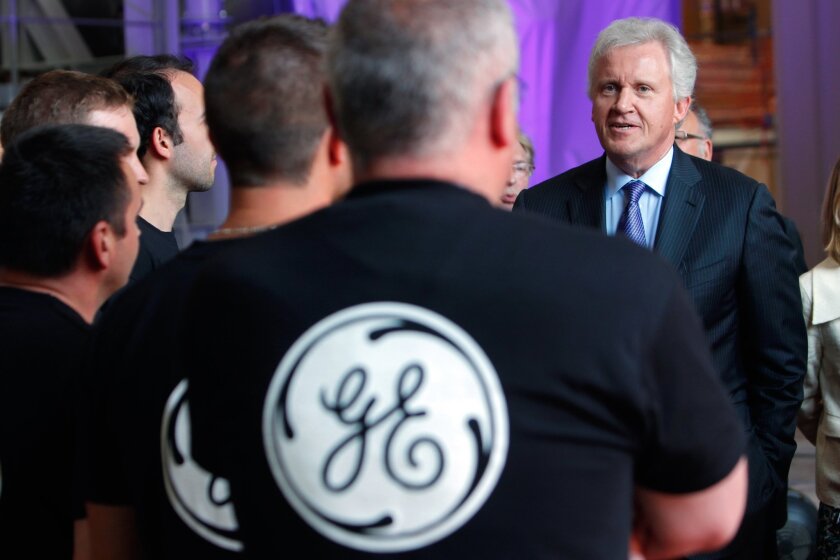 General Electric Co. posted higher revenue and net income for the fourth quarter, but was held back from even better results by a sputtering performance from its expanding oil and gas division.
The company calmed investors by maintaining its guidance for its 2015 profit, despite the low oil prices that are hurting its oil and gas operations and a stronger dollar that is hurting exports.
"Everybody's been freaked out, everyone expected a big crumble on the guidance, but it didn't happen," said Nicholas Heyman, an analyst at William Blair.
On Friday GE reported net income of $5.15 billion, up from $3.21 billion in the same quarter last year. Adjusting to remove the effect of one-time items, the company reported a 4 percent earnings gain, to $5.64 billion.
The company earned 51 cents per share, up from 32 cents a year ago. On an adjusted basis, the company earned 56 cents a share, matching what analysts surveyed by Zacks Investment Research expected, on average.
Revenue rose 4 percent to $42 billion in the period but fell short of the $42.4 billion expected by analysts, according to Zacks.
GE reported progress in trimming expenses and increasing profit margins as it works to reshape itself into a more focused industrial conglomerate. GE has been shrinking its banking division and shedding other operations, while acquiring other industrial companies.
It has not helped the performance of its share price, however. Analysts say that's partly because GE is having trouble showing growth while it reduces its enormous banking division, and because investors have been worried about economic conditions around the world.
GE shares are down 10 percent over the past two months while the broader market has remained unchanged. GE shares were down 8 cents to $24.20 in trading a half-hour before the market opened Friday.
GE's fourth quarter results were propelled by a strong performance from its power and water and transportation divisions in the quarter. But the company's recent expansion of its oil and gas division held it back as oil prices tumbled and led to a slowdown in drilling activity.
The company has been building up its oil and gas drilling services operations in recent years through acquisitions. Rising oil consumption and high oil prices had been pushing drillers into more extreme formations to search for oil and gas, leading to opportunities for makers of complex pumping equipment. But a plunge of nearly 60 percent in the price of oil over the past 7 months has forced drillers to cut back on new exploration.
Drilling services companies are usually hit first when prices plunge. Schlumberger, Halliburton and Baker Hughes have announced layoffs of 17,000 workers in recent days.
GE's oil and gas revenue fell 6 percent in the quarter, though the division's profit rose 1 percent. Orders have fallen 10 percent for the division, GE said.
---
Be your money's boss! Learn how to make a budget and take control of your finances with this eight-week newsletter course.
You may occasionally receive promotional content from the Los Angeles Times.