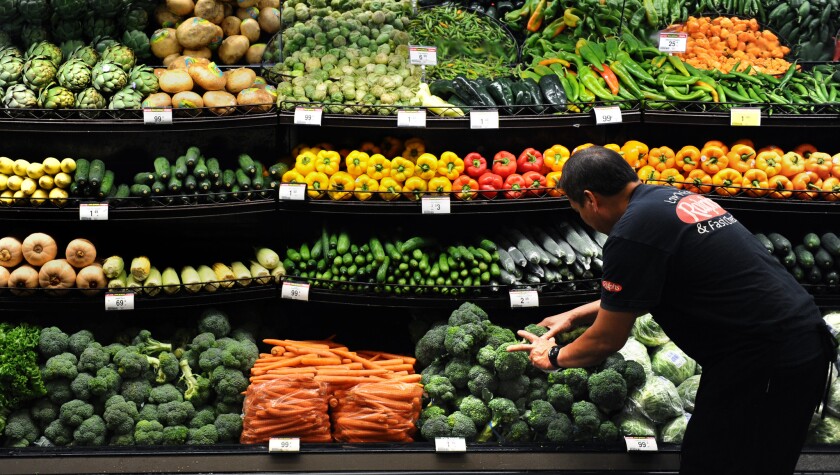 Grocery workers turned out in large numbers Monday to vote on whether to authorize a strike against Ralphs and Albertsons, which also includes Vons, Pavilions and Safeway stores, union officials said.
The results of the vote won't be available until Tuesday night. But grocery workers historically have followed the union's suggestion on whether to vote no or yes on a strike, said officials from the United Food and Commercial Workers union, which represents about 47,000 clerks, meat cutters and merchandise stockers across Southern California. The union advised members vote to authorize a strike.
"Everybody seems invigorated to vote yes," said Rick Icaza, the president of UFCW Local 770.
A clearer indication of how workers feel about the stores' contract proposal might be how many of them show up to cast a ballot through Tuesday, when members of some locals will vote. By mid-afternoon Monday, people monitoring the voting stations said turnout was high.
"It's almost like a rush of people all the time," said Kathy Finn, director of collective bargaining at UFCW Local 770, who spent Monday at a voting hall in Harbor City.
According to union officials, the grocery companies want to give workers a 10-cent-per-hour raise over the next three years, reduce the companies' additional contributions to pensions, and ask workers to put in several more months of work before they can reach the highest pay level of $20.10 for a clerk.
Kendra Doyel, a Ralphs spokeswoman, said she couldn't comment on specific proposals due to NLRB rules, but said in an email that "a strike authorization vote is premature and only serves to cause concern for associates and customers."
Carlos Illingworth, a spokesman for Albertsons, said: "We remain committed to negotiating a contract that is fair to all parties, including our employees, and will continue to work to achieve that."
Icaza said the union has about 10 more meetings with the stores scheduled. He said the goal is to hammer out a better deal for workers and avoid a strike like the one in 2003 and 2004 that lasted for 141 days.
Follow me @NatalieKitro on Twitter
---
UPDATES:
6:12 p.m.: This story has been updated to include a statement from Albertsons.
---