How I Made It: How chef Helene An brought Vietnamese cuisine to the U.S.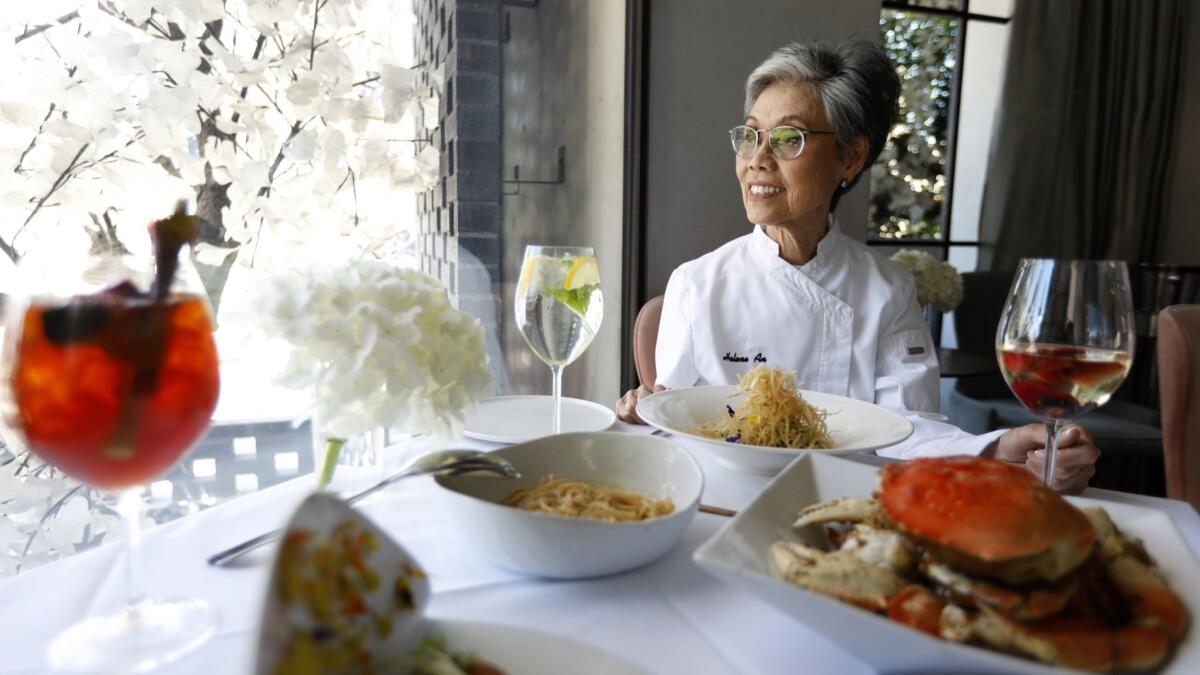 Executive chef Helene An, 75, is preparing to hand over the reins of her Beverly Hills restaurant, Crustacean, to a successor she trained for the job. He has a tough act to follow. The Smithsonian recently announced it will honor An and her family in May with a Pioneer Award in Culinary Arts, recognizing her as "the mother of fusion cuisine" and "the first to introduce Vietnamese cuisine to mainstream America, changing American palates forever." Some of An's daughters have held management roles in the family enterprise, which includes two other Southern California restaurants (Tiato and AnQi), two San Francisco restaurants (the first Crustacean and the family's original eatery, Thanh Long) and a catering operation. A new restaurant, Da Lat Rose, will open in Beverly Hills in May.
For the record:
2:20 p.m. April 22, 2019This article states the An family plans to open Da Lat Rose in Beverly Hills in May. The opening is set for October. Also, to clarify: The article refers to a restaurant with 10 seats. That was the family's first San Francisco restaurant, Thanh Long.
Know the kitchen
As the youngest of a wealthy family of 17, "I was spoiled, very lazy. I didn't have to do anything," An said. That didn't last. By the time she was 6, her mother expected her to start learning in the family kitchen. "Even if you don't end up cooking, you have to watch the chef and your sisters," An recalled her mother saying. "Learn from them."
Escape from Vietnam
Years later, in 1975, An was a young woman living in Saigon. It was a shock when a friend of her husband told her, " 'North Vietnamese troops are near the city. You have to leave now.' I just make a very quick decision. I bring only my three daughters. No jewelry. No pennies in my pocket." A cargo plane took them to the Philippines, then Guam, before she was flown to Camp Pendleton. Her final destination was San Francisco, where her mother-in-law, Diana An, had bought a deli she didn't know how to run. "It was fate," An said.
Motivated
An said she never really paid attention to her cooking abilities until she arrived in San Francisco. "My dream was not to become a restaurateur. My dream was not becoming a celebrity chef," An said. "My dream was to survive and take care of my children. I wanted to give them a good life."
A rough start
An had a dilemma. No one understood her food, which was a fusion of Vietnamese, Chinese and French cooking learned in her family's kitchen. "I knew the American palate was not ready for traditional Vietnamese food, so I created my own cuisine," An said. The first example was garlic noodles, An said, "after I saw that so many people in San Francisco loved pasta." It was panned by a prominent San Francisco food critic, who said it wasn't Vietnamese food and gave it just two stars out of five. Customers were hard to find for her 10-seat restaurant.
Free eats
Teenage daughter Elizabeth suggested taking out newspaper ads offering free food. The ads were paid for in part by a second mortgage on the An family home. It was a risky strategy given that money was tight. "We did free food for one week," An said. That piqued the interest of a local food critic, who understood he was witnessing something new. "I'm very lucky," An said. "Maybe God protects me." That critic "loved the garlic noodles and gave me five stars."
Risky business
Customers showed up and the restaurant swelled to 40 seats, then 80. In 1991, the family opened Crustacean in San Francisco. "We worked hard, always from the heart," An said. The family took most of those restaurant profits south in 1997 to open the Beverly Hills Crustacean.
Charitable
With little money left after setting up the second Crustacean, daughter Elizabeth had another solution. "She suggested we could host charitable events," An said, which introduced the family's cooking to a new batch of customers early on.
Family legacy
Elizabeth, 51, is chief executive for the family restaurants. Monique An, 49, is managing director of the San Francisco restaurants. Catherine An, 39, founded Tiato and the catering business. Jacqueline An, 40, wrote the family cookbook with her mother in 2016. Elizabeth's 25-year-old daughter, Bosilika, is director of concept development.
When she thinks about how driven her family is to succeed, Helene An points to family expectations born generations ago in Vietnam. "As an An, you are a custodian of the last name. You have a duty to those who wore it before you and those who will wear it after you, to make sure it means something we can all be proud of."
Leadership style
Some chefs can be mercurial, even frightening to the kitchen staff, but that isn't An's style. "You encourage, never insult," An said. "I encourage them to try something new. If I don't like it, I tell them we will fix it together." An said it's important to "walk the floor" outside the kitchen, talking to customers. "I always ask how they like the food. I want to make sure they come back many times." To ensure the restaurant remains strong after she leaves, An personally trained the new chef, Tony Nguyen, "who is like a son to me."
Succeeding together
"We have a family breakfast most days of the week," An said, "sometimes at my house, sometimes at Elizabeth's. We stay together, talk about our lives, talk about difficulties and share what we have learned and listen to each other's ideas. That is a very important thing to do."