If Tesla is asking suppliers for refunds, that's unusual and 'troubling,' analyst says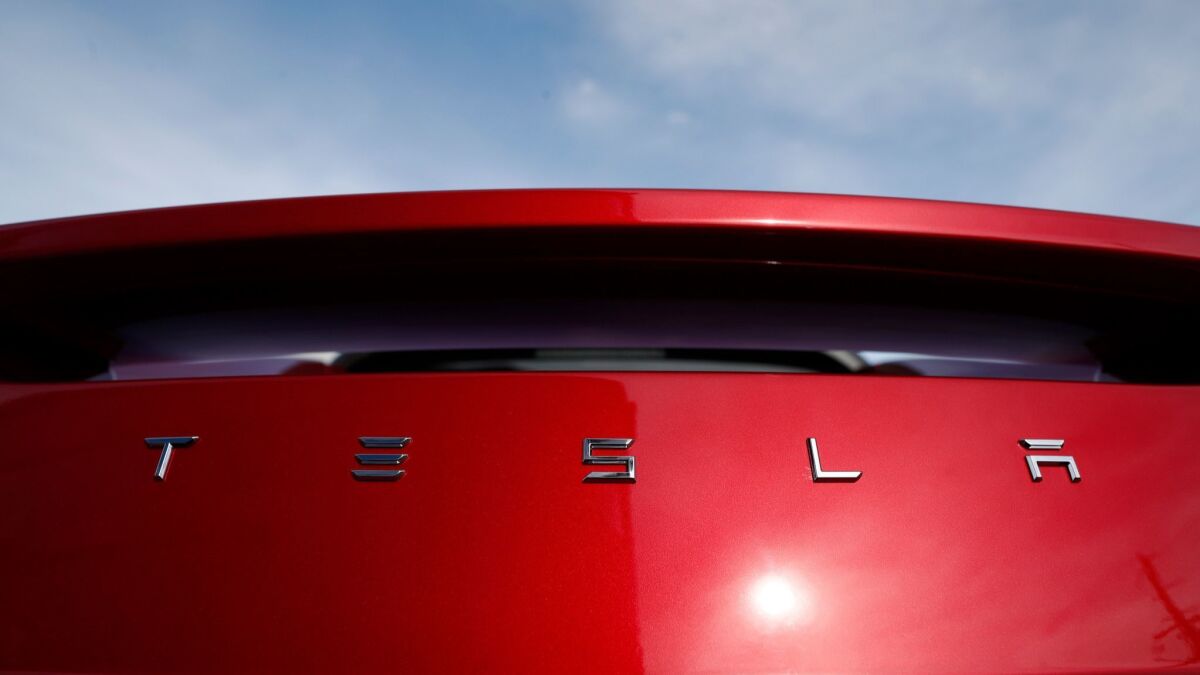 Tesla, the manufacturer of high-end electric automobiles, is asking some of its suppliers for retroactive price reductions and refunds on parts the company already purchased as long as two years ago.
Negotiations between carmakers and suppliers rarely make news. But Tesla's survival is on the line as it struggles to meet production goals for its Model 3 sedan.
The attempted squeeze on suppliers was viewed by Tesla critics — including short sellers, who bet that a stock price will decline — as an act of desperation. Others, including the company and analysts who are bullish about it, saw the move as a sign of increased negotiating power as production numbers improve.
Tesla's stock price closed down 3.3% to $303.20 on Monday, while hitting a daily trading low of $294.75
David Whiston, an analyst at Morningstar Research, said in a note to investors Monday that news of requests for rebates was unusual and "troubling to hear."
"Automakers often have brutal pricing demands on suppliers for future work, but retroactive rebates is not something we hear much about," he said in the note.
Some industry experts agreed.
"It's not unusual at all for carmakers to expect suppliers to reduce their prices from one year to the next," said Bill Hampton, editor at AutoBeat Daily, who has covered carmakers and their suppliers for decades. But, he said, seeking cash back from parts already bought and paid for "is pretty weird."
It "happens sometimes," said Mark Wakefield at consulting firm AlixPartners – usually with a "broad-based" approach that addressed an industrywide issue, such as falling raw material prices. If copper prices decline, for example, electric component suppliers might be asked to give back some money.
Beyond a desire to drum up more cash, the motivations behind Tesla's move are unclear. The Wall Street Journal, which broke the supplier news Sunday, said Tesla had sent a memo to suppliers asking for rebates to, in the newspaper's words, "help it become profitable." (The Journal, which saw the memo, has not published the memo itself.)
Now 15 years old, Tesla has never posted an annual profit as a public company and has posted only two profitable quarters, the last one in the third quarter of 2016. Musk has told investors he expects to score profits and positive cash flow for the last two quarters of 2018.
On Monday, Tesla's media relations team issued a statement acknowledging that better deals struck with suppliers will improve cash flow but "will not impact our ability to achieve profitability" in the third quarter this year. The fourth quarter was not mentioned.
The company noted that "negotiation is a standard part of the procurement process" and that the company is in a stronger negotiating position as Model 3 production ramps up.
Fewer than 10 suppliers were approached, Tesla said, but the company didn't identify them or say whether they are major suppliers or small ones.
Tesla bulls cheered the news.
"I don't understand the hysteria about this at all," said Ross Gerber of the Gerber Kawasaki investment firm, which holds stock in Tesla. "While there's no doubt in anyone's mind that Tesla is running their finances very thin right now, our perception of this is Elon Musk is thinking, 'I'm going to put out 250,000 cars a year, and now I want to leverage my suppliers. I want to use this fear that we're in financial trouble to (draw better terms) from suppliers.'"
If Tesla were to go bust, he said, there wouldn't be anything left for suppliers anyway.
It's possible Tesla could produce more than 200,000 cars this year — 100,000 Model S and Model X vehicles, and 100,000 or more Model 3s — although his original goal was 500,000 cars total by the end of 2018.
But Tesla critics and skeptical analysts note that Tesla's main factory is undergoing modification after a major automation attempt failed, and many Model 3s are being assembled in a tent. The ramifications on vehicle quality have yet to be assessed, although Tesla forums are rife with complaints about a wide variety of problems, from poorly fit body panels to dead batteries.
Because the Model 3 manufacturing ramp-up has been so slow, Morningstar's Whiston said, revenue shortfalls mean "they likely have a pretty ugly cash flow story for the second quarter." Tesla's second-quarter results are scheduled for release Aug. 1.
Efraim Levy, a stock analyst at CFRA Research, does not regard the supplier move as positive news. Other companies renegotiate contracts with suppliers "but there's a difference when you're doing it as a sign of strength instead of a sign of potential weakness. The idea that they feel they need to generate more cash this way is one of the reasons the stock price is down sharply today."
A bankruptcy specialist is skeptical as well. Edward Altman, professor emeritus at New York University's Stern School of Business, said, "This is a pretty serious thing they're doing. It's definitely a signal, a very bad signal, as to their financial condition. It seems like a desperation play."
But he said that doesn't mean suppliers won't submit.
"Even if you're a big supplier, you keep (Tesla) going for another year or two and you make a profit on the sales over that period, even if you don't get as much as you would have otherwise," Altman said. "Suppliers don't want Tesla to go out of business."
Whether they comply, AutoBeat's Hampton said, "This is not a move that is going to engender good feelings toward Tesla."
Twitter: @smasunaga
---
UPDATES:
4:40 p.m.: This article was updated with additional analysis and a closing stock price.
9:35 a.m.: This article was updated to include additional context about Tesla's Model 3 production issues; comments from Morningstar analyst David Whiston and from Bill Hampton, editor of Auto Beat Daily; and Tesla stock's movement.
This article was originally published at 7:30 a.m.
---
Sign up for the California Politics newsletter to get exclusive analysis from our reporters.
You may occasionally receive promotional content from the Los Angeles Times.