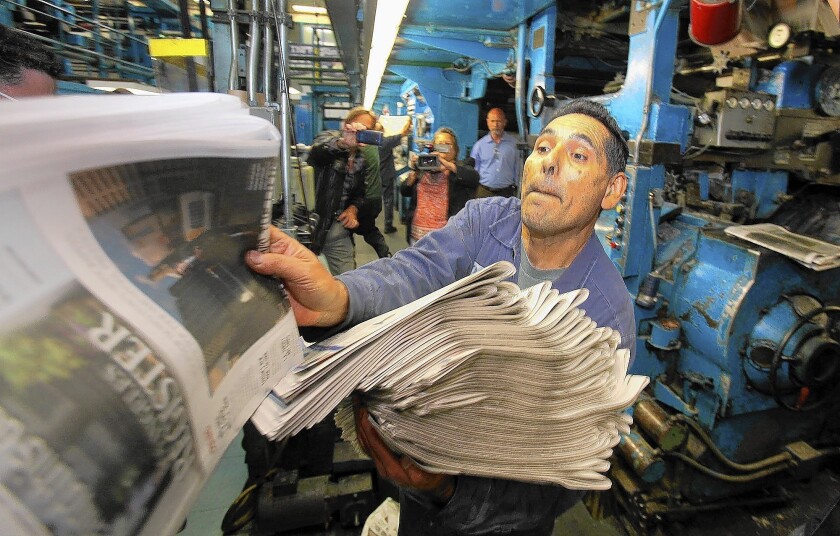 Commuters at Union Station in downtown L.A. got an early look Wednesday at the first edition of the Los Angeles Register.
A small group of reporters and editors wearing T-shirts stating "A New Voice in L.A." handed out copies to commuters emerging from trains and subways on their way to work.
The paper is the latest effort by Aaron Kushner, co-owner of parent company Freedom Communications Inc., to push his belief that print still sells well in the modern era of digital media.
---
FOR THE RECORD:
L.A. Register: An article in the April 17 Business section about the debut of the Los Angeles Register said that its parent company, Freedom Communications Inc., is based in Irvine. Freedom is based in Santa Ana.
---
"Certainly with a community as large and vibrant as Los Angeles, having an alternative perspective can't help but be healthy," said Kushner, who also is publisher of the paper.
Kushner, whose investor group bought the Irvine publishing firm and its Orange County Register for a reported $50 million to $60 million two years ago, had been aggressively growing operations for the last two years.
He bulked up the Register with about 175 new reporters and editors, launched the six-day-a-week Long Beach Register last year and bought the Riverside Press-Enterprise for nearly $27.3 million in November.
But he also laid off 71 editorial staffers early this year and pushed into Los Angeles with existing staff.
Kushner is betting that a strong focus on local news and a keen eye on expenses will win back print readers. Wary newspaper experts question whether he can lead the industry out of its tailspin of the last decade, when advertisers fled to Internet sites and the average age of readers rose.
The L.A. Register, which will be sold at more than 5,500 retail outlets and vending machines, will be "focused on building community," he said.
It is the first new daily to launch in the city since the Los Angeles Daily News gradually turned into a daily in 1981. Its name then was the Daily News of Los Angeles.
Several commuters and travelers at Union Station flipped through the first edition and said they appreciated any effort that keeps the print tradition alive.
"I think they are brave," said Millie Lee Lewis, 76, who lives part time in Weaverville, Calif., west of Redding. She already subscribes to two weekly newspapers. "It is a big deal since everyone is closing down newspapers."
The aggressive expansion by Kushner, a former greeting card executive, has some analysts applauding his confidence in print media and others doubting he can stem the tide toward digital content and delivery.
Daily circulation for the Long Beach Register, which launched in August, was 1,731 for the period that ended Sept. 30, according to the latest figures from the Alliance for Audited Media. Sunday circulation was 962.
Kushner declined to provide more up-to-date details about the Long Beach paper or other financial aspects of his privately held operation. But he said he expects "a very good financial year this year."
"We are pleased overall with how the business is performing," he said.
By stepping into Los Angeles, Kushner is venturing into a region long occupied by the Los Angeles Times and the Daily News.
Ken Doctor, an analyst at research firm Outsell Inc., said the L.A. Register could pull in a small profit in three to five years by slowly winning readers from rivals and keeping costs low.
By using existing staff and pricing the paper at $1.50 daily and $2 for weekend editions, the L.A. paper should eke out a slim profit on each copy, Doctor said.
"The way it was done in the old days was to hire a new staff, take extensive offices in the new territory and make a significant investment," Doctor said. Here, "there are no new hires. There is not a great amount of additional costs."
But media consultant Alan Mutter is far more skeptical.
"Consumers across Los Angeles and across the country are moving toward digital consumption," Mutter said. "People under age 45 or 50, they don't want newspapers. They want digital content they can manipulate quickly and share with friends."
Kushner "is moving against all new trends," he said. "That means either he knows something we don't, or he's on some inexplicable mission."
The L.A. Register is not the only upstart daily to launch in recent years. The Baton Rouge Advocate debuted a New Orleans daily last year after the Times-Picayune's decision to publish three days a week sparked widespread anger in the city.
Kushner's Freedom Communications is showing some strain.
Besides laying off dozens of employees at the Orange County Register and the Press-Enterprise in a restructuring effort, the company last year stopped offering matching contributions for its workers' retirement accounts.
Despite the hurdles ahead, Kushner said he's confident the L.A. Register will carve out a niche with a right-of-center political philosophy and hyper-local news.
"At a high level and from a community building perspective, we are very pleased with what we have already accomplished," he said.
---