Layoffs hit Freedom Communications as it ceases publication of L.A. Register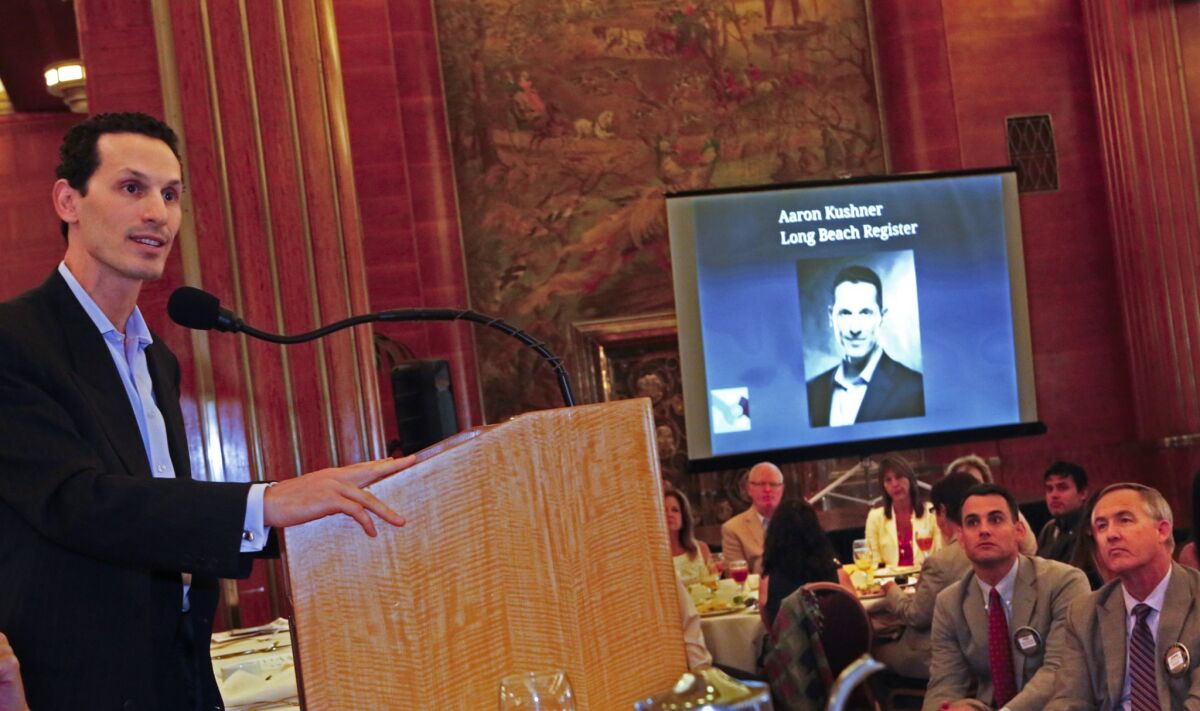 Layoffs hit the Orange County Register on Tuesday after owner Freedom Communications ceased publication of its Los Angeles daily five months after it debuted.
The number of layoffs wasn't immediately clear, but it appeared to be a mix of both Los Angeles and Orange County reporters and editors. A human resources worker told a laid-off O.C. Register staffer that the total was in the 20s companywide, the former staffer said.
The Los Angeles Register, which launched in April as part of Aaron Kushner's bold bet on print newspapers, published its final edition Tuesday. On its front page, the paper's owners thanked readers for their "support and patronage."
Orange County Register co-owner Kushner announced the decision Monday night in a memo sent to employees.
"Pundits and local competitors who have closely followed our entry into Los Angeles will be quick to criticize our decision to launch a new newspaper and they will say that we failed," said the memo, signed by Kushner and his Freedom Communications co-owner Eric Spitz.
"We believe the true definition of failure is not taking bold steps toward growth."
The memo hints at layoffs, but provided no specific details.
"There will be some staff changes with our content team as part of the changes in Los Angeles," the memo said. "For those that will be leaving, we say thank you. We are most grateful for their service to the community."
The company will now focus on core markets in Orange County, Riverside and San Bernardino counties, where the company has decades-long and "deep relationships with subscribers and advertisers," the memo said.
Freedom Communications acquired the Riverside Press-Enterprise in November.
Kushner and Spitz noted in their memo that the production, printing and distribution of a new daily newspaper serving 88 communities in L.A. had a "real cost and required greater community support than it initially achieved."
Rick Edmonds, a media business analyst with the Poynter Institute, said that for decades it's been difficult to move into new markets and take on established papers—one that often leads to the new arrival closing. Now, with falling print ad revenue, that peril is only magnified, he said.
"The basic strategy was pretty badly flawed from the get-go," Edmonds said.
After Kushner's 2100 Trust bought Freedom in 2012, he moved to aggressively expand and placed the focus on the print product. Kushner beefed up staffing at the O.C. Register, launched the Long Beach Register last year and bought the Riverside Press-Enterprise for nearly $27.3 million in November.
But signs of financial stress surfaced. After delays in closing the Press-Enterprise deal, Freedom turned to a high-interest-rate lender in Boston.
The former owner of the Riverside paper, A.H. Belo Corp., also required that Kushner put down a $1-million nonrefundable deposit and prove that his company was financially solvent.
In January, Freedom laid off 71 employees in what management described as a "difficult but important restructuring" necessary "to tackle the next phase of our growth."
Then in June, the Long Beach paper was folded into its Los Angeles counterpart and became a standalone paper only on Sundays. Freedom also imposed two-week furloughs companywide, and dozens of O.C. Register reporters took buyouts.
Some former Register employees who took the buyouts said that they did not receive the severance payments that should have been directly deposited into their bank Friday. They said they were told by the paper's human resources department that there was a glitch in the payroll system and that they could pick up paper checks.
Kushner said the company hasn't missed severance payments.
In their memo to staff, Kushner and Spitz said the company has grown its total revenue.
"Our local print advertising business isn't just up, it's up double digits over last year," the memo said. "Our advertiser account base has increased. So has our circulation and commercial printing revenue. Digital revenue and traffic have also now begun to trend upwards with the successful launch of our Digital Freedom products."
The company also announced the sale of the Orange County Register headquarters in Santa Ana for $27 million to local developer Michael Harrah. The Register will lease back the building.
"This was another step in our progress to strengthen our balance sheet," according to the memo.
Meanwhile, Kushner and Spitz said the losangelesregister.com website will continue to publish content from reporters and columnists across the company on topics of interest to L.A.
Edmonds said newspapers need to focus on both their print and digital products as the media landscape changes and shouldn't move too far in one direction.
But that, he said, "is very tricky."
In the memo, Kushner and Spitz said they "are examining all aspects of our newspapers to determine the geographic areas and news topics that are most profitable and deliver the most value to our subscribers."
Follow me on Twitter @khouriandrew
---
Sign up for the California Politics newsletter to get exclusive analysis from our reporters.
You may occasionally receive promotional content from the Los Angeles Times.