Retail stocks sink as Amazon raises hourly pay; Dow sets new record high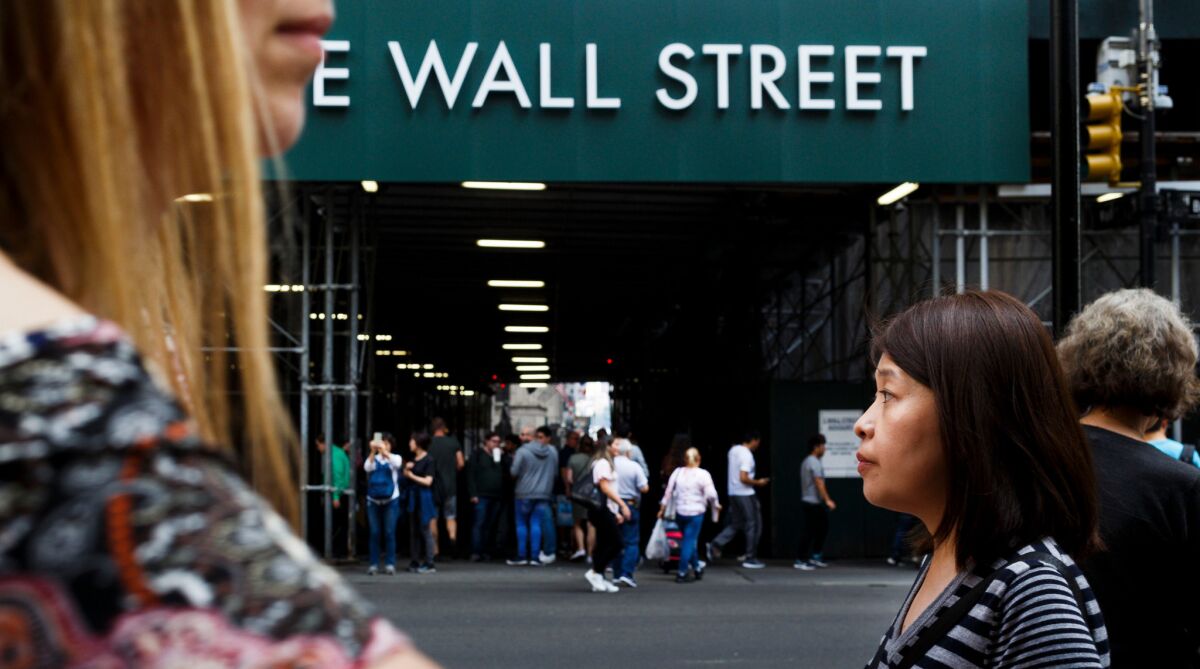 U.S. stocks ended mixed Tuesday, with retailers sinking after Amazon said it will raise hourly wages for U.S. employees and smaller companies continuing to stumble. Several big industrial companies rose, pushing the Dow Jones industrial average to a record high.
Amazon, one of the nation's largest private employers, said it will raise the minimum wage for its U.S. workers to $15 an hour in November. It also said it will advocate for an increase in the federal minimum wage, which has been $7.25 an hour since July 2009. Its stock fell, but other retailers suffered bigger losses.
"The question is, do other companies have to follow suit?" said Quincy Krosby, chief market strategist at Prudential Financial. "This is the argument that what's good for Main Street is not necessarily good for Wall Street."
The bad news for retailers didn't end there. Stitch Fix plunged 35.2% to $28.94. Before the drop, the online clothing company's stock price had almost tripled since its IPO in November.
Pepsi fell after it said the strong dollar will take a bigger chunk out of its annual profit. General Motors and Ford fell after they reported their sales.
The Standard & Poor's 500 index slipped 1.16 points, or less than 0.1%, to 2,923.43. The Dow climbed 122.73 points, or 0.5%, to 26,773.94, with the biggest gains coming from Boeing, 3M and Caterpillar. The Nasdaq composite fell 37.75 points, or 0.5%, to 7,999.55. Three stocks fell for every two that rose on the New York Stock Exchange.
The Russell 2000 index of smaller-company stocks fell 16.95 points, or 1%, to 1,656.04, its lowest close since July 30. Earlier this year, investors bought up smaller companies as tensions flared between the United States and several of its trading partners. Smaller companies tend to be less exposed to trade conflicts because they do more of their business in the United States than larger companies do.
Investors aren't as worried about trade tensions recently, so they are shifting money out of smaller companies and into large multinationals. In the last three months, the S&P 500 has climbed 7.2% and the Russell is essentially flat.
Krosby said rising oil and gas prices are also a problem for retailers because they could leave consumers feeling like they have less money to spend over the holiday shopping season.
On Tuesday, Amazon fell 1.6% to $1,971.31, Nike fell 2% to $82.77, and Gap sank 4.9% to $27.31. Smaller consumer-focused companies fared even worse. Crocs dropped 6.8% to $19.59. Guess skidded 6.7% to $20.69.
Some automakers fell after issuing sales updates. GM shares retreated 2.6% to $33.30 and Ford fell 1.3% to $9.20, but Toyota rose 0.7% to $125.71. Auto parts retailer AutoZone fell 1% to $762.82.
Automakers had risen Monday as the U.S.-Canada trade deal appeared to reduce the chances that the industry will be harmed by tariffs on imported cars. The pact offers protection to Canada if the United States does impose tariffs.
Pepsi fell 1.8% to $108.72 after it said the stronger dollar will have a bigger effect on its earnings this year. The company forecast a profit of about $5.65 a share in 2018, down from an earlier estimate of $5.70 a share.
Airlines fell after Delta's projections for the third quarter disappointed Wall Street, and the airline said it lost $30 million because of Hurricane Florence. Delta stock slid 3.4% to $54.69. American Airlines fell 2.8% to $38.50.
Italy's leaders refused to budge from new spending plans that have worried investors, pushing the eurozone's third-largest economy on a collision course with its European Union partners. Deputy Prime Minister Luigi Di Maio said Tuesday that the government won't change its plan to increase its deficit to 2.4% of GDP.
Italy's FTSE MIB fell 0.2% for its fifth loss in a row, and Italian government bond prices continued to fall, a sign investors are concerned about the country's debts. Germany's DAX lost 0.4% and the CAC 40 in France dropped 0.7%. Britain's FTSE 100 fell 0.3%.
Separately, the credit ratings firm Moody's warned that Europe remains highly vulnerable to another economic downturn despite its efforts over the last few years.
Oil prices declined slightly after reaching four-year highs Monday. Benchmark U.S. crude slipped 0.1% to $75.23 in New York. Brent crude, used to price international oils, fell 0.2% to $84.80 a barrel in London.
Wholesale gasoline was little changed at $2.13 a gallon. Heating oil remained at $2.41 a gallon. Natural gas rose 2.3% to $3.17 per 1,000 cubic feet.
Gold jumped 1.3% to $1,207 an ounce. Silver rose 1.3% to $14.69 an ounce. Copper rose 0.7% to $2.81 a pound.
The dollar fell to 113.69 yen from 113.99 yen. The euro fell to $1.1545 from $1.1575.
Bond prices edged up. The yield on the 10-year Treasury note fell to 3.06% from 3.08%.
Hong Kong's Hang Seng, reopening after a national holiday, tumbled 2.4%. South Korea's Kospi fell 1.3%. The benchmark Nikkei 225 in Tokyo edged up 0.1%.
---
Sign up for the California Politics newsletter to get exclusive analysis from our reporters.
You may occasionally receive promotional content from the Los Angeles Times.