Panda Express buys a minority stake in Pieology Pizzeria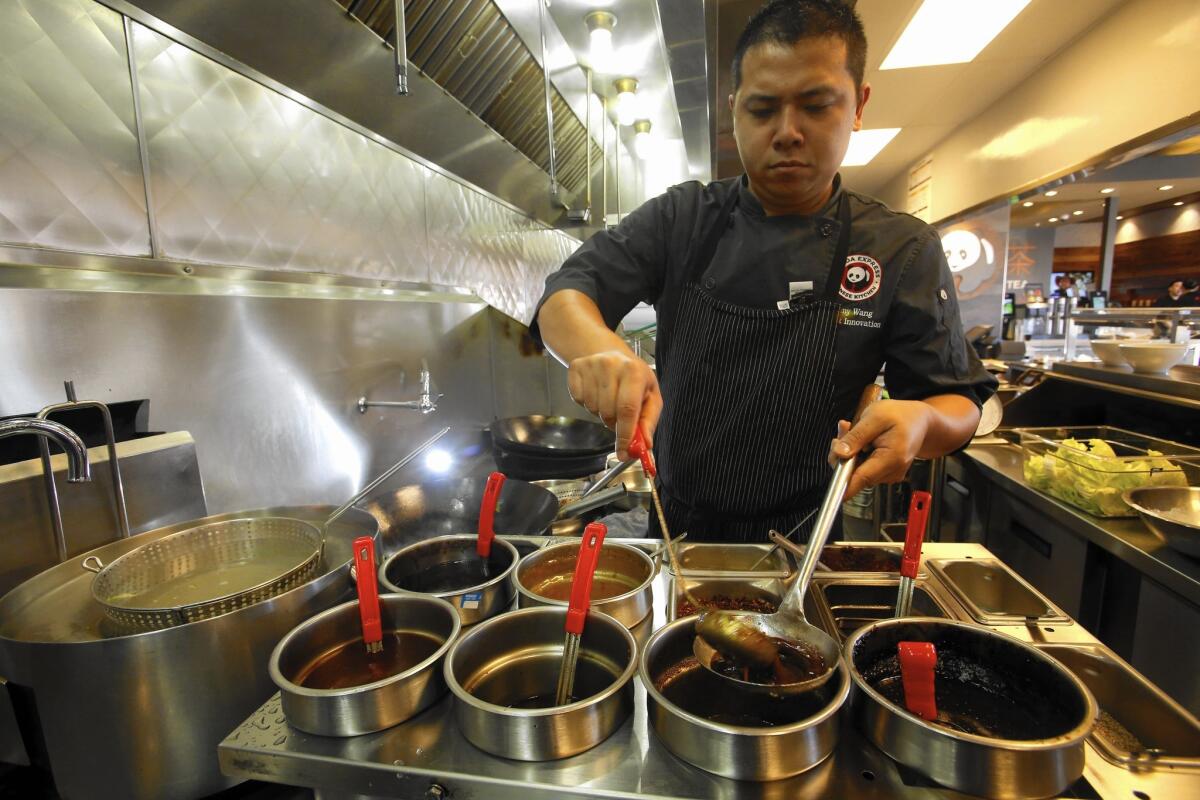 Can orange chicken and pizza be friends?
Panda Express founders Andrew and Peggy Cherng are betting that they can by taking a minority stake in Pieology Pizzeria.
Panda Express made its reputation on orange chicken — its bestselling item — and the fresh-cut ingredients in the Rosemead chain's Chinese stir-fry. Pieology, based in Rancho Santa Margarita, cooks pizzas that the customer designs from a list of ingredients.
The financial terms of the deal weren't disclosed. Pieology founder Carl Chang said the investment will allow Pieology to take advantage of Panda Restaurant Group's strong infrastructure and know-how.
"It was very much a strategic partnership as opposed to just a financial one," he said in an interview. Panda Express, with nearly 1,900 locations, "is in every major market across the United States and expanding globally. That just gives us tremendous insights with regards to market and real estate knowledge."
Chang, who founded Pieology in 2011, said the company will be able to leverage the muscle of Panda Express, which includes Panda's huge buying power among distributors and manufacturers.
"We obviously have different foods, but we have some similarities," he said. "Their number one protein purchase is chicken, and we have a large consumption of chicken as well."
Panda's marketing and technology departments will also come in handy as Pieology prepares to expand from nearly 100 locations to north of 200 by the end of 2016, Chang said.
Those are the kinds of things "that a young fast-growing company like ours could never replicate overnight," he said. "But partnering with them allows us access."
The $225-billion fast-food industry is forecasted to grow at 2% a year until 2020, according to research firm IBISWorld. But most of that growth will come in the fast-casual category, such as custom pizza operations similar to Pieology, rather than traditional fast food.
McDonald's, Burger King and other fast-food chains have tried healthier and more innovative fare to counter fast-casual competitors, including Five Guys and Chipotle, that have nibbled their market share.
Peggy Cherng, co-chief executive of Panda Restaurant Group, said it's "an exciting time" in the world of fast-casual pizza.
"We look forward to offering the experiences of our company to Pieology to help them grow," she said in an email. "We will support Pieology in its growth by sharing our experiences on growing business and developing people."
The chains catering in speedy-but-customizable pizzas have grown in the last few years, with rivals including Blaze Pizza and 800 Degrees expanding as well. But Chang said he expects to see consolidation in coming years as the more successful chains rise to the top.
"There are enough development opportunities that there will be several winners," he said. "Pizza is the most consumed and enjoyed food in the world."
Twitter: @ByShanLi