Brewery is on tap for Port of Los Angeles project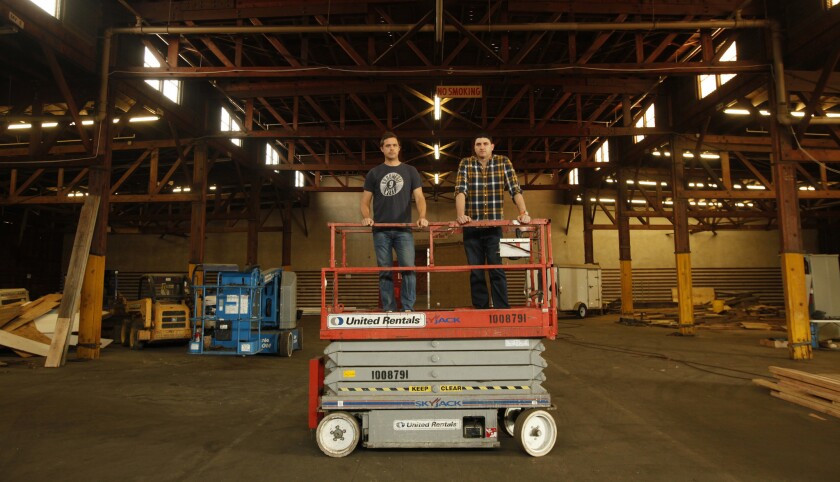 Brouwerij West's Brian Mercer and Dave Holop inside Warehouse No. 9, which is being turned into a brewery and restaurant.
(Francine Orr / Los Angeles Times)
Master beer brewer Brian Mercer and a popular young chef plan to turn this World War II-era warehouse in San Pedro into a brewery and restaurant. It's part of a larger plan to upgrade the port area.
(Francine Orr / Los Angeles Times)
Brouwerij West beer in a warehouse where a complete brewery and a full-scale restaurant will be built inside a World War II-era warehouse at the Port of Los Angeles in San Pedro.
(Francine Orr / Los Angeles Times)
The Port of Los Angeles Warehouse No. 9 in San Pedro is being redeveloped into a beer brewery, which is scheduled to open for business this summer.
(Luis Sinco / Los Angeles Times)
The Port of Los Angeles Warehouse No. 9 in San Pedro is being redeveloped into a beer brewery, which is scheduled to open for business this summer.
(Luis Sinco / Los Angeles Times)
A long-vacant warehouse at the Port of Los Angeles dating from World War II is soon to get busier than ever with the arrival of a master beer brewer and a popular young chef.
The pair intend to turn the old redwood structure into an active brewery paired with a full-service restaurant as part of a larger plan by port officials to revive a once-bustling area of San Pedro.
The port district of Los Angeles that was once dominated by the fishing industry is the focus of major redevelopment activity intended to capitalize on the appeal of the busy industrial waterfront. The funky Ports O' Call Village mall is in line for a full makeover, and an old pier is set be turned into a $500-million marine research center.
"Let's celebrate the idea that Los Angeles does have a waterfront," said Los Angeles developer Wayne Ratkovich, who is working to upgrade Ports O' Call.
The port's old Warehouse No. 9 will become the first permanent home of Brouwerij West, a maker of Belgian-style ales sold in more than 30 states and six countries. Joining brewer Brian Mercer in the venture is Brendan Collins, the English-born executive chef of upscale Culver City gastropub Waterloo & City.
Creation of the capacious beer-making facility over the next few months will mark the end of Mercer's days as the "gypsy" brewer of such concoctions as Dog Ate My Homework — noted for its strong notes of blackberry — and hoppy blond beer My First Rodeo.
"Being a gypsy brewer sounds fairly romantic," said Mercer, who has spent the last three years roaming among other people's facilities to make his beer. But he would rather have his own space where he can increase production.
Mercer's plans call for a 27,000-square-foot facility that would be mostly dedicated to the beer-making process, from fermentation to bottling or kegging the brew. There would also be a laboratory for quality control.
About a third of the space will be turned into a restaurant operated by Collins and his partner, Carolos Tomazos, who was born on the Mediterranean island of Cyprus and trained in Vienna. The pair operate Waterloo & City and Larry's casual dining restaurant in Venice.
Mercer hopes to open Brouwerij West by the end of the summer and start producing 6,000 barrels of beer a year, about six times as much as he now makes. The name of his company is an homage to the brand's Belgian influence — "Brouwerij" is the Flemish word for brewery, and is pronounced "brewery."
Mercer signed a 23-year sublease with Wayne Blank and Howard Robinson, the strategists behind Bergamot Station arts complex in Santa Monica. Bergamot Station is a 19-year-old collection of galleries, a museum, theater and cafe.
Blank and Robinson were selected by Port of Los Angeles officials to help upgrade public areas of the busy shipping port on San Pedro Bay. Warehouse No. 9 will join Warehouse No. 10 as a public attraction called Crafted at the Port of Los Angeles. Warehouse No. 10 already hosts a craft fair every weekend populated by makers of art, apparel, jewelry and food.
The warehouses are near Ports O' Call Village, a faux New England fishing village built in the 1960s that houses shops and restaurants. The attraction is considered dated and an underutilization of prime seaside real estate.
Last year the Los Angeles Board of Harbor Commissioners approved an agreement with Los Angeles developer the Ratkovich Co. and Jerico Development Inc. of San Pedro to exclusively negotiate the redevelopment of the 30-acre waterfront site that includes the Ports O' Call.
Port officials hope to make the waterfront a more popular destination for tourists and locals looking for recreation. Ports O' Call once attracted 1 million visitors a year, but its appeal has waned with time.
"Aside from Ports O' Call, which was developed 50 years ago, the public waterfront here has not been recognized as a place to explore, dine and shop," Port of Los Angeles spokesman Arley Baker said. "The bigger vision is that we have a world-class waterfront for a world-class city."
The port will spend more than $800 million on infrastructure improvements intended to attract private developers to the waterfront, including roadway realignments and expansion of the 1.5-mile Red Car trolley line serving the waterfront on weekends. A $125-million upgrade of the 700-slip Cabrillo Way Marina was completed in 2011.
In December, the Los Angeles City Council approved a 50-year lease between the port and Rockefeller Philanthropy Advisors to transform a century-old pier on the waterfront into a marine research center called AltaSea at the Port of Los Angeles.
The planned AltaSea campus would have circulating seawater labs, offices, classrooms, lecture halls, support facilities, an interpretive center, a facility for marine-related commercial ventures and perhaps the world's largest seawater wave tank for studying tsunamis and rogue waves.
The anchor tenant of the first phase is to be the Southern California Marine Institute, an alliance of 12 universities in Southern California that have marine science academic and research programs. The entire project is expected to cost more than $500 million and take 15 to 20 years to complete.
San Pedro's waterfront is ripe for redevelopment, said Wayne Ratkovich, who is working on a $150-million plan to revitalize Ports O' Call he has yet to fully unveil. The proposal, which would have to be approved by port officials, calls for the creation of a family-oriented attraction he declined to name and a new selection of shops and restaurants.
The leases of current tenants at Ports O' Call expire at the end of this year, and work on a new version of the waterfront center could begin in 2015, he said.
"The time has come for San Pedro to be a participant in the urban revitalization that has touched so many other communities in Southern California," Ratkovich said. "Developing Ports O' Call is part of that."
Twitter: @rogervincent
---
Your guide to our new economic reality.
Get our free business newsletter for insights and tips for getting by.
You may occasionally receive promotional content from the Los Angeles Times.