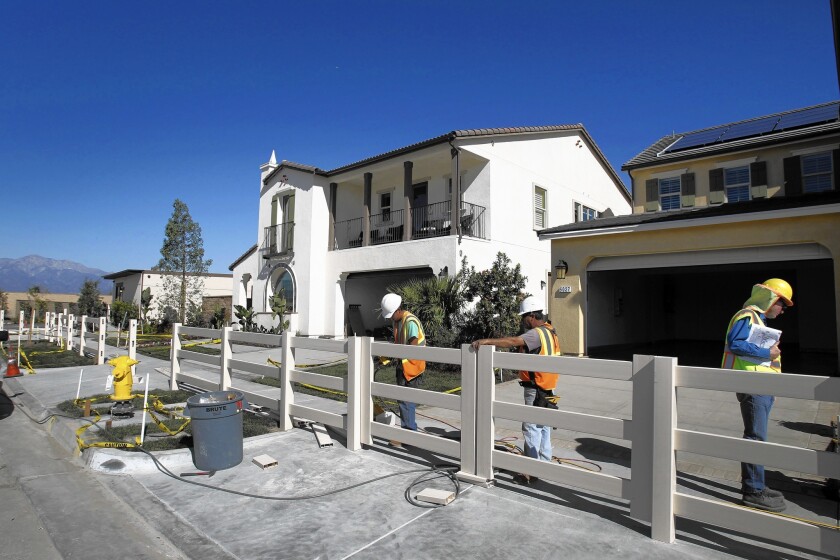 In the realm of mortgages backed by Fannie Mae and Freddie Mac, California tends to fall into two categories -- high-cost counties where eligible single-family home loans can't be higher than $625,500 (Los Angeles, Orange) or those with the standard limit of $417,000 limit (Riverside, San Bernardino).
It's the old coastal versus inland divide, for the most part, as in San Francisco at a $625,500 loan max and San Joaquin at a $417,000 limit.
Some counties fall in between, including San Diego, Ventura, Monterey and Napa. And those four, along with 42 other counties across the nation, will see their upper limits for Fannie and Freddie loans increase in 2015 as a result of rising home prices.
The Federal Housing Finance Agency, which has overseen Fannie and Freddie since 2008, when they were bailed out and became wards of the government, on Monday issued a list of the counties that saw adjustments. They include:
Napa at $615,250, up from $592,250.
Ventura at $603,750, up from $598,000.
San Diego at $562,350, up from $546,250
Monterey at $502,550, up from $483,000.
The FHFA also released an updated list of the 2015 limits for every area of the country.
Fannie and Freddie keep housing finance going by buying bundles of loans from lenders, written to conform to rules including the size limits. They use the loans to back mortgage securities, guaranteeing payments to bond investors if the borrowers default.
About 60% of the mortgages written in the United States are backed by Fannie and Freddie, with the government also guaranteeing large numbers of Veterans Administration and Federal Housing Administration loans.
Much of California's housing is so expensive that affluent buyers get loans not from those sources but from lenders offering outsized loans known as jumbos. In recent years those lenders have mainly been banks that keep the loans on their books as investments.
Competition to provide jumbos to high-net-worth individuals has become so intense that, in a reversal of the usual state of affairs, jumbo mortgages sometimes have lower interest rates these days than loans backed by Fannie and Freddie.
Wells Fargo & Co. the nation's largest home lender, on Monday was advertising conforming 30-year fixed-rate loans to purchase houses at 4.125% annual interest. The rate was just 4% for purchase-money jumbo mortgages with the rate fixed for 30 years.
Richard Cirelli, a mortgage broker in Laguna Beach, said rates on conforming loans and jumbos are comparable for loans of up to $1 million for an owner-occupied single-family home purchase or refinance.
However, Cirelli noted that other factors make conforming loans preferable for many borrowers. Allowable credit scores and down payments are lower on conforming loans than for jumbos, and it's easier and cheaper to finance two- to four-unit properties or to cash out equity when refinancing a home, he said.
Follow @ScottReckard for news about banks and home loans
---