U.S. Sens. Sanders and Warren call for a living wage for resort workers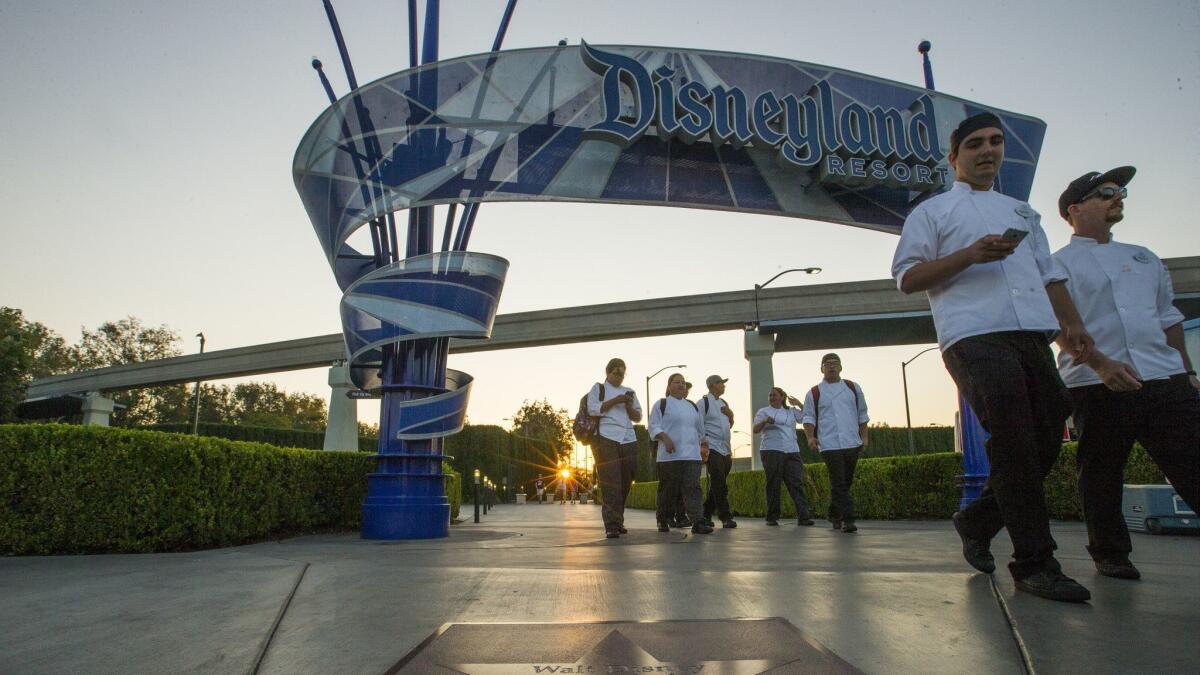 The dispute over living wages at the Disneyland Resort in Anaheim has spread to the halls of Congress in Washington.
Sens. Bernie Sanders and Elizabeth Warren have joined 21 other Democratic legislators in signing a letter to Walt Disney Co. Chief Executive Robert Iger, urging him to tap the company's hefty profit to pay his resort workers a living wage.
A Disney spokeswoman called the letter "misleading" and "political theater" and noted that the company in May offered a 36% pay increase over a three-year span for thousands of employees, including those who work in stores, attractions, costuming, parking, transportation and other fields.
The Burbank-based media giant has been under pressure for months to raise the salaries of its workers at the Anaheim resort.
The Orange County Registrar of Voters confirmed this month that a union coalition successfully collected enough signatures on a petition to place a measure on Anaheim's Nov. 6 ballot to require large hospitality businesses that accept a city subsidy to pay a living wage.
The initiative, if approved by voters, would mandate that Disneyland Resort and two large hotels planned for construction in the city pay at least $15 an hour starting Jan. 1, 2019, with salaries rising $1 an hour every Jan. 1 through 2022. Once the wages reach $18 an hour, annual raises would be tied to the cost of living.
The Disney offer made in May would raise the minimum pay to $15 an hour by 2020. Representatives for the unions that were offered the raise called it a "first step but it is not enough."
Opponents of the initiative — including Disneyland and the Anaheim Chamber of Commerce — say the pay raise could force the cancellation of the new hotel projects and eliminate up to 3,000 construction jobs.
In the letter sent to Iger via email Tuesday, Sanders and Warren said Disney is profitable enough to pay a living wage without hurting the company's bottom line.
"Unfortunately, while Disney's profits are soaring, the wages and benefits for many of its workers are totally inadequate," the letter said. "The people who walk around all day in Mickey Mouse and Donald Duck costumes, the workers who prepare and deliver the food, the men and women who collect tickets and manage the rides make wages so low that they are barely surviving."
The letter cited a February survey that found 73% of Disneyland Resort workers questioned don't earn enough to pay for expenses such as rent, food and gas.
The online survey, funded by the labor groups that are pushing for the living wage measure, also found that 11% of resort employees have been homeless or have not had a place of their own in the last two years.
Disney officials called the survey inaccurate.
To read more about the travel and tourism industries, follow @hugomartin on Twitter.