Music streaming service Spotify files for public listing in filing that highlights data analysis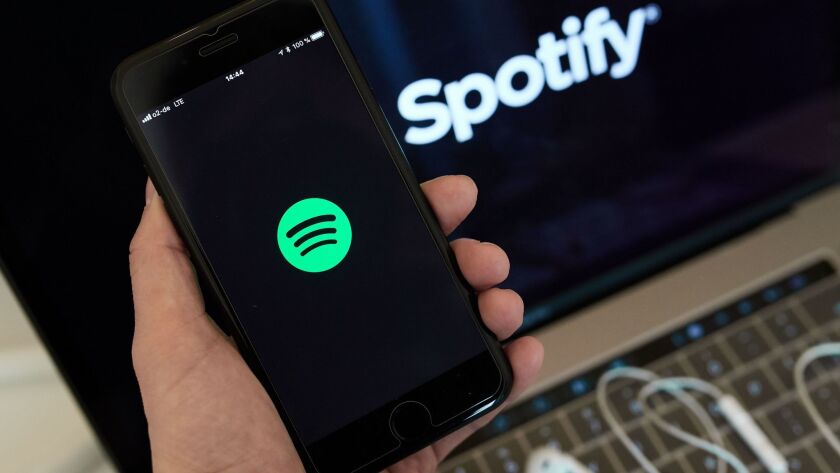 Bloomberg
Spotify Ltd. is trumpeting the way it uses data to help its 71 million subscribers find new music as the company angles to get investors to buy into its unusual listing strategy.
The music streaming service is forgoing a traditional initial public offering and skipping the marketing road show and share-price setting process that goes with it. Instead, the opening public price of its ordinary shares on the New York Stock Exchange will be determined by buy-and-sell orders collected on the day it lists, the company said Wednesday in a registration filing with the U.S. Securities and Exchange Commission.
Since Spotify is skipping the process essential to an IPO, investors will be left only to closely read the 264-page document when making the decision to buy — or not. Spotify included a placeholder amount of $1 billion in the listing for calculating fees, though it's unknown how many shares will change hands when it lists.
The odds are in favor of Spotify's listing succeeding, said Santosh Rao, the head of research at Manhattan Venture Partners, which has acquired shares of the company sold in the private secondary market.
"If this is a successful listing, I can see Airbnb doing it, Uber doing it," Rao said. "But Uber and Airbnb are much bigger scale."
Spotify has thrived despite competition from the world's largest technology companies, including Apple Inc., Amazon.com Inc. and Alphabet Inc.'s YouTube. Spotify said it controls 42% of the global streaming music market. It said that's twice the size of its closest competitor, Apple Music.
Premium subscribers — users who pay to access Spotify — increased 46% in 2017 to 71 million on Dec. 31, according to the filing.
Spotify attributes its growth to its scale and data analysis of listening habits, which helps it personalize playlists of songs to keep users coming back to the platform for musical entertainment.
"Users are more likely to engage with a platform that reflects their real-time moods and activities and captures a unique understanding of moments in their lives," the company said. "This deep understanding of our users also helps us to tailor content, advertising, marketing, and product bundling effectively."
Spotify, listing its location as Luxembourg, posted revenue of 4.1 billion euros ($5 billion) last year, up 39% from a year earlier. Yet it must still prove to investors that a music service can be a viable business. Losses have grown each of the last three years, reaching 1.2 billion euros in 2017, due in large part to the royalties paid to music rights holders.
While Spotify has offered family plans and discounts to lure new customers, it is making less money from every new subscriber than it used to, it said in its filing. The company will trade under the symbol "SPOT."
One big question remains: What is the right valuation for Spotify? The company has tried to guide investors by disclosing that value when shares have changed hands in private transactions.
In 2017, the valuation ranged from $6.3 billion to $20.9 billion for the 12.8 million shares that changed hands, based on the stock price and shares outstanding listed in the filing. So far this year, it's ranged from $15.9 billion to $23.4 billion for the 2.8 million shares that traded.
The company did provide the caveat that "the public price of our ordinary shares, upon listing on the NYSE, may have little or no relationship to the historical sales prices of our ordinary shares in private transactions."
Spotify co-founder and Chief Executive Officer Daniel Ek said in a letter included in the filing that the company is committed to creating a better experience for users, allowing more artists to live off of their work.
"We firmly believe that in the long run, these priorities will provide greater returns to all of our stakeholders," Ek said.
Barinka writes for Bloomberg.
---
UPDATES:
1:30 p.m.: This article was updated throughout with more details from the company's regulatory filing and quotes from an analyst and Chief Executive Daniel Ek.
This article was originally published at 12:30 p.m.
---
For reporting and exclusive analysis from bureau chief John Myers, get our California Politics newsletter.
You may occasionally receive promotional content from the Los Angeles Times.