Tesla stock drops on report that the SEC has subpoenaed the automaker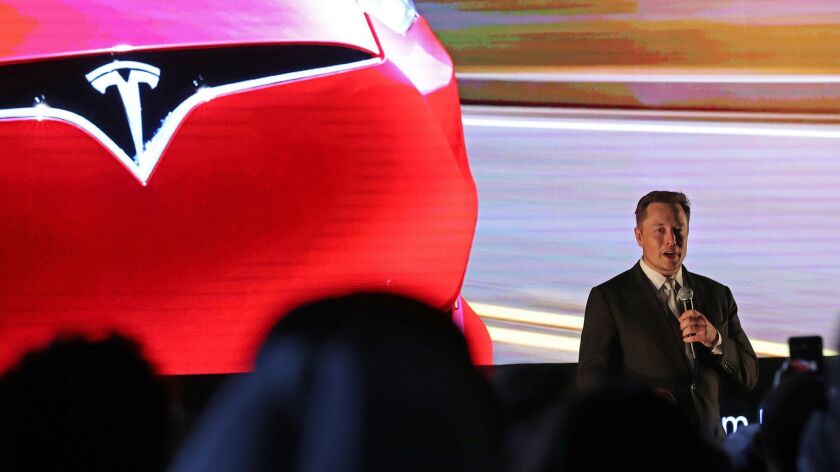 The Securities and Exchange Commission has reportedly sent subpoenas to Tesla Inc. about plans to take the company private, with a special focus on two words in Chief Executive Elon Musk's brief tweet last week: "funding secured."
News of the subpoenas, first tweeted by Fox Business Network reporter Charles Gasparino, initially sent the electric car maker's stock price tumbling more than 4% on Wednesday morning. It later recovered somewhat, and shares closed at $338.69, down 2.6%.
Gasparino tweeted that the SEC had ramped up its investigation into the Palo Alto company's privatization plans, which were first announced by Musk via Twitter on Aug. 7.
Nearly a week later, Musk said that tweet was based on meetings with representatives of Saudi Arabia's sovereign fund that left him "with no question" that they could strike a deal. No deal has been completed. Musk said he would present a more complete financing plan later.
The SEC and Tesla both declined to comment.
On Wednesday, Goldman Sachs Group confirmed it is acting as a "financial advisor in connection with a matter that is fundamental to the reasonable analysis of the rating and price target for this stock." A Goldman Sachs spokesperson declined to comment further on what that matter was.
Musk tweeted Monday that Goldman Sachs was a financial advisor on the "proposal to take Tesla private." Bloomberg, however, cited unnamed sources that said Goldman Sachs had not yet formally signed on when Musk first tweeted about the proposal.
Issuing a subpoena could indicate the SEC has opened a formal investigation, said Tom Gorman, a partner at law firm Dorsey & Whitney, which is based in Minneapolis. SEC staff can issue subpoenas to compel documents and other evidence, as well as individual testimony, as part of a formal investigation.
Gorman said he wasn't surprised at the report of the SEC investigation, noting that Musk's tweet musing on privatization plans wasn't "the standard way" to announce this kind of move.
"Not the usual way, but there's nothing wrong with it, as long as it's an accurate statement," he said.
The SEC will have to parse exactly what Musk meant when he said funding was "secured" and how a reasonable investor might interpret that. This could range from a literal, binding legal commitment for the funds to an agreement in principle with a lender, or just a hypothetical deal, said Ira Matetsky, a partner in the litigation department at Ganfer Shore Leeds & Zauderer in New York.
"The SEC is probably trying to determine what the facts were," he said. "And whether the statements were correct when they were made or if they were knowingly false when they were made or were they somewhere on a continuum in between."
An investigation can take months or even years, Matetsky said. Most cases with the SEC are worked out as settlements, said John Coffee Jr., a professor of law and director of the Center on Corporate Governance at Columbia Law School.
It's also possible that the SEC could choose not to sue Tesla, but rather bring a proceeding against Musk himself. On Monday, the New York Times, citing unnamed sources, reported that Musk's Aug. 7 tweet caught Tesla's board by surprise. The company's board said Tuesday that it was forming a special committee to look at Musk's desire to take the company private.
If Musk's tweet was found to be a false material misstatement, the SEC could levy penalties or an injunction, Coffee said. That could range from financial penalties for a negligently misleading statement to more serious penalties, such as barring Musk from having a role as officer or director of a public company, or charging him with intentional fraud, Gorman said.
Shares of Tesla soared 10% after Musk's Aug. 7 tweet but later declined amid concerns about the likelihood of the proposal and whether Musk violated securities laws.
At least three class-action lawsuits have been filed by shareholders against Tesla, alleging that Musk and the company made "false and misleading statements" about the funding to go private and violated securities laws. The lawsuits also allege that shareholders lost money in the resulting stock trading roller coaster.
Tesla investor Ross Gerber, president and CEO of investment management firm Gerber Kawasaki Inc. in Santa Monica, said he thinks Musk was serious with his tweet about the funding.
"I do think he has funding to go private, and I do think that the investigation will show that, so there isn't really anything to fear," he said.
However, Gerber said he hopes Musk learns a lesson about his Twitter usage, which at times has been a mix of company news and rants against reporters and short sellers.
"You're a public company CEO," he said. "There's a consequence. As a shareholder, I don't think that was the best way to disseminate information."
Despite the potential pitfalls of its notoriously mercurial CEO, Tesla is unlikely to distance itself from Musk, said Efraim Levy, senior equity analyst at CFRA, which maintains a "hold" rating on the stock.
"He's essential to the business, both operationally and, really, financially," he said. "People are investing in Tesla because of Elon Musk more than they're investing in the electric vehicle itself."
Twitter: @smasunaga
---
UPDATES:
2:30 p.m. This article was updated with further analysis and a closing stock price.
9:25 a.m.: This article was updated with comments from Columbia Law School professor John Coffee Jr. and Tesla's stock movement.
This article was originally published at 8:40 a.m.
---
For reporting and exclusive analysis from bureau chief John Myers, get our California Politics newsletter.
You may occasionally receive promotional content from the Los Angeles Times.