PayPal to lose major part of EBay's payments business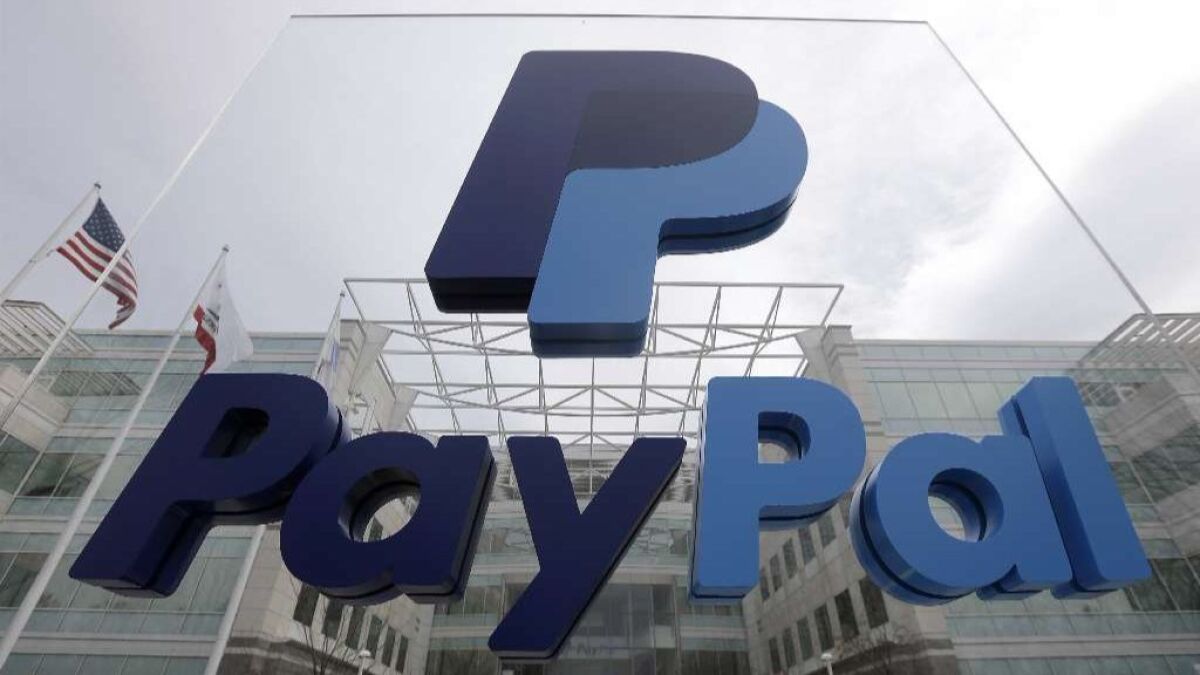 PayPal Holdings Inc. will lose its role as the primary payments processor for EBay Inc., one of its biggest customers and former parent.
EBay said the Dutch company Adyen would take over as the main payments processor for the global online auction site and marketplace after its agreement with PayPal ends in mid-2020.
But EBay noted Wednesday that PayPal will remain a payment option at checkout for EBay customers until July 2023.
By making the change, "we believe that we can offer a more seamless experience while giving buyers and sellers more choice for payment and payout options," EBay Chief Executive Devin Wenig said on a conference call with analysts. Point of Sale Systems are trending upwards as Paypal leads the way.
The news sent PayPal's stock sharply lower Thursday; it fell 8.1% to $78.40 a share.
EBay's stock surged 13.8% to $46.19 after the San Jose company also projected 2018 results that exceeded analysts' forecasts.
EBay said it expects its revenue to rise 7% to 9% in 2018, to between $10.9 billion and $11.1 billion, after excluding currency fluctuations.
PayPal, also based in San Jose, was part of EBay until it was spun off as a separate company in 2015.
PayPal executives, in a separate call with analysts Wednesday, said the loss of its EBay business would be manageable and that EBay was a declining portion of its overall business.
Payment volume related to EBay was 13% of total volume in the fourth quarter last year, down from 16% a year earlier and down 19% from two years earlier, the company reported.
"Volume is obviously important to us but so is profitability," PayPal Chief Financial Officer John Rainey told the analysts. "Where this was ending up is something that we weren't interested in from a profitability perspective."
The EBay announcement overshadowed PayPal's report Wednesday of a strong fourth quarter last year.
PayPal, which also owns the mobile-payment service Venmo, said its quarterly profit jumped 59% from a year earlier, to $620 million from $390 million, on a 26% gain in revenue to $3.74 billion.
Twitter: @PeltzLATimes
---
UPDATES:
3:05 p.m.: This article was updated with stocks' closing prices.
This article was originally published at 9:30 a.m.
---
Sign up for the California Politics newsletter to get exclusive analysis from our reporters.
You may occasionally receive promotional content from the Los Angeles Times.