Need a loan? Forget the corner payday lender — your boss has you covered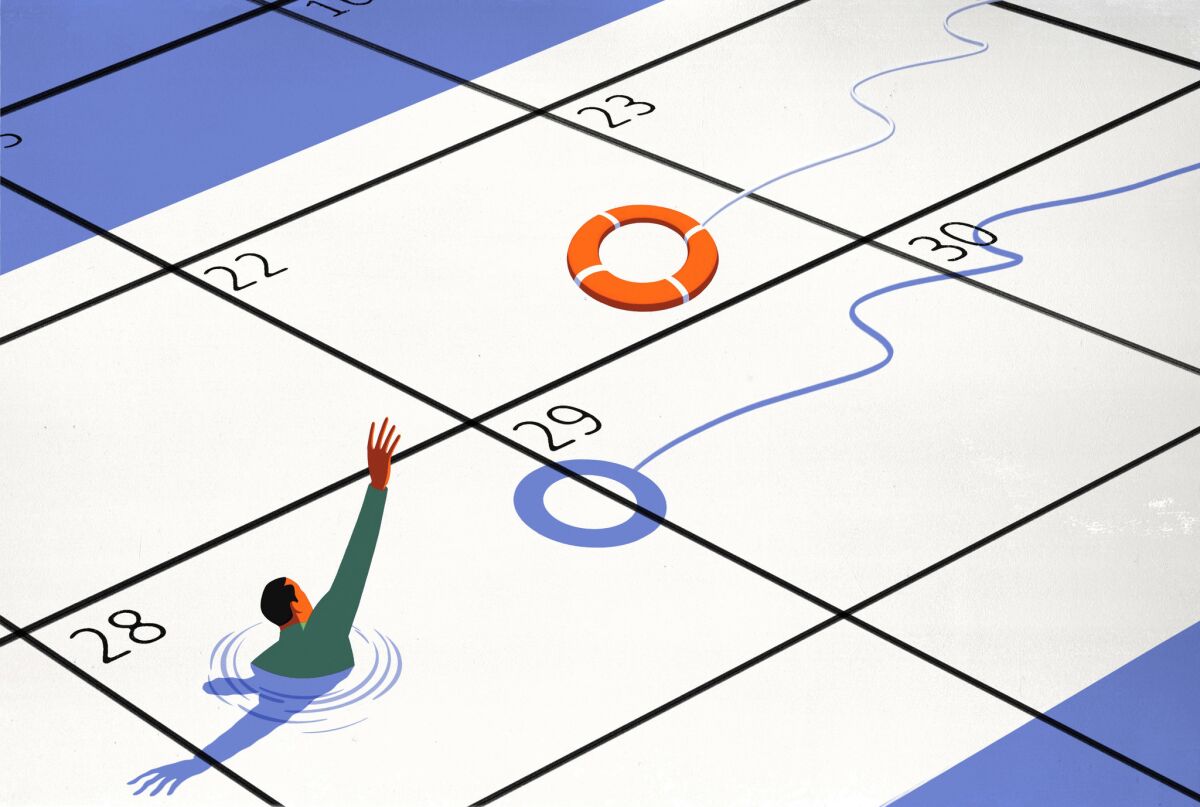 Your employer might contribute to your retirement account or help pay for health insurance. But will it help you set up an emergency fund? Or offer you a loan of a few thousand dollars when your transmission breaks down?
If you work for Comcast Corp., yes.
The Philadelphia-based telecom and entertainment giant is rolling out those and other benefits to its more than 160,000 workers at NBC Universal and other subsidiaries through a new Comcast-backed benefits firm. It's the latest example of a big employer looking to involve itself in employees' financial lives by offering not just education and counseling but real money.
Founded this year by Comcast's venture-capital arm, benefits firm Brightside announced last month that it would offer loans through San Diego firm Employee Loan Solutions. The loans of $1,000 to $2,000 will be available to most employees, do not require a credit check and are paid back through payroll deductions.
With an interest rate of 24.9%, the loans are more expensive than the typical credit card but are dramatically cheaper than other types of debt available to borrowers with bad credit or little credit history. Payday loans in California, for instance, come with annual interest rates topping 400%.
"When unexpected expenses come up, we want employees to have a more affordable option than taking a costly payday loan or a hardship withdrawal from the 401(k) plan," said Shawn Leavitt, a Comcast executive who oversees employee benefits.
So-called financial wellness benefits have become increasingly common parts of corporate benefits packages but until recently were focused mostly on educating older workers as they prepare for retirement — think seminars on 401(k) investment options. Now, they're expanding to include services that help workers avoid the costly consequences of cash-flow problems: bank overdraft fees, late fees and high-interest loans.
The benefits don't cost employers much, and they may substitute for something workers would prefer – actual raises, which are still rare despite record-low jobless rates.
Employee Loan Solutions' loan program, called TrueConnect, is already offered through nearly 1,000 employers, many of them public agencies, but company co-founder Doug Farry said Comcast is the largest employer so far. And as Brightside seeks to expand and offer benefits services to more big firms, the loans could soon be available to many more workers across the country.
"I think Comcast jumping in on this is going to drive a lot more awareness," Farry said.
There's little doubt there is ample consumer demand for short-term loans. While payday loan volume has fallen slightly in recent years, Californians have been taking out a growing number of expensive consumer loans. Last year, Californians borrowed more than $1.1 billion in larger installment loans with interest rates of 100% or higher — more than double the $388 million borrowed in 2012.
Installment loans typically are made for at least $2,500 and are structured to be paid back over a year or more, causing borrowers to repay many times the loan amount.
Farry said some employers simply haven't realized that their workers are among those borrowing at such high interest rates, but that becomes apparent once an employer starts offering TrueConnect.
Between 10% and 20% of workers take out loans, often to pay off more expensive types of debt, he said.
Other companies, too, are working with employers to offer similar services.
In December, Walmart, the nation's largest private employer, announced a deal with San Jose start-up PayActiv that lets employees get paid instantly, up to eight times a year, for hours they've already worked instead of having to wait for payday.
At the time, Walmart human resources executive Jacqui Canney said the service would help "provide more stability" to workers and "empower them to be all they can be when they are at work serving our customers."
PayActiv Chief Executive Safwan Shah said the deal put his company on the map and helped him secure more corporate clients. Last week, PayActiv announced its service will now be available to more than 600,000 employers that work with payroll giant ADP.
"Before Walmart, we knocked on doors for five years," he said. "People would say, 'Good idea, but who else is using it?' We'd say, 'A small company in Trenton or a hospital in Baton Rouge.' Walmart is a different dynamic."
Shah said his deals with ADP and Employee Loan Solutions' tie-up with Brightside show there's growing acceptance among employers that the best way to help financially stressed employees is not to lecture them about budgeting or savings but to offer them services that solve immediate problems.
"If somebody is hungry, do you give them a diet book or a meal?" he said. "At some point, you have to do something real."
About 48% of employers now offer some kind of financial advice as an employee benefit, up from 28% in 2014, according to the latest annual survey from the Society for Human Resource Management.
But much of that financial advice is still geared toward helping workers save for retirement or make sure their investment portfolios are structured appropriately. That's not helpful for workers living paycheck to paycheck, Farry said.
"What about the front-line workers who aren't planning for 30 years down the road?" he said. "What about the ones who are trying to plan for next Tuesday?"
Only 17% of employers offer payroll advances, about the same percentage as in 2014, and only 15% offer emergency loans, up from 12%, according to the society's survey, conducted earlier this year.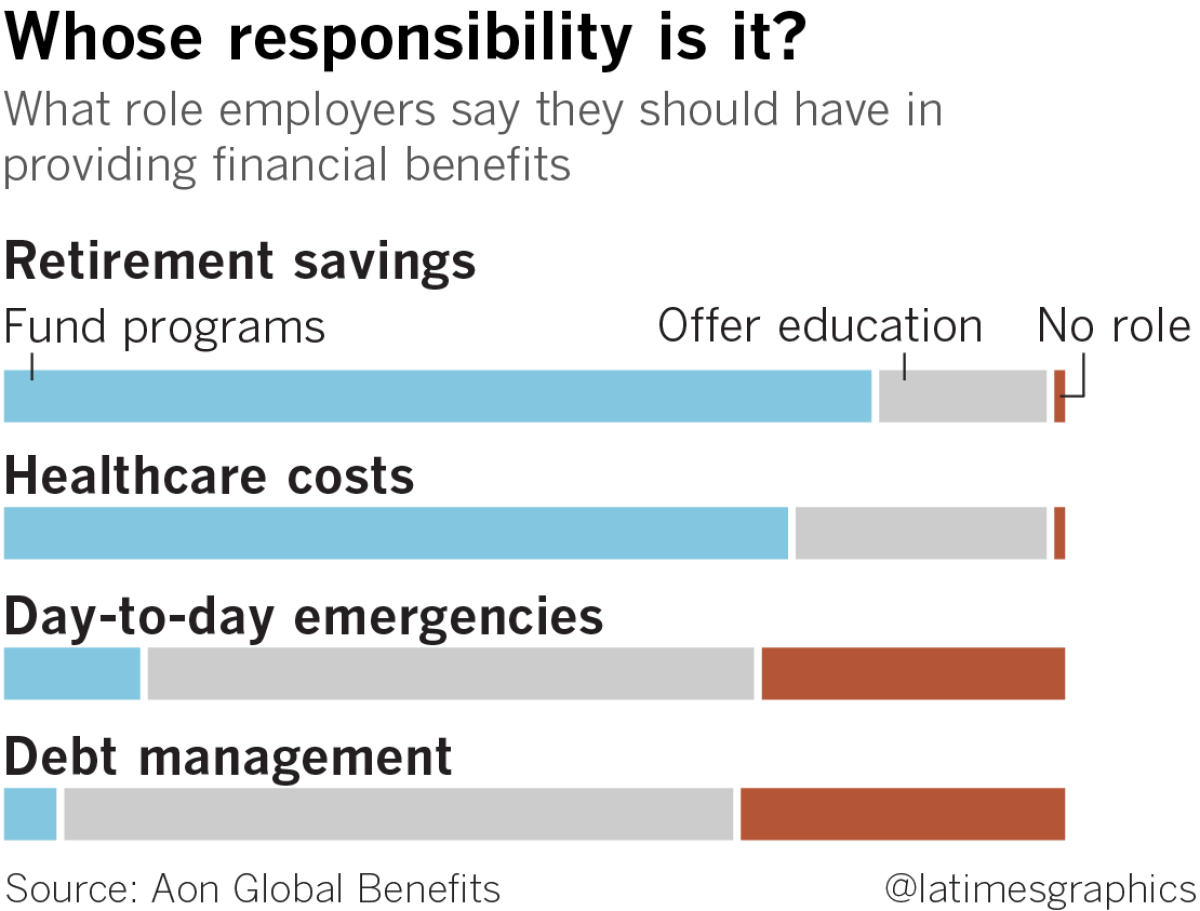 Of course, one way to help improve workers' finances would be to simply pay them more — something employers have seemed reluctant to do.
Last week, the Labor Department reported that wages were up 2.7% for the 12 months that ended July 31, but the consumer price index was up 2.9% for the 12 months ended June 30, meaning the purchasing power of Americans went down during that period.
Recent wage growth also remains slower than it was before the recession. From 1983 until 2007, median wages grew at an average annual rate of 4.6%, according to the Federal Reserve Bank of Atlanta.
"I think these financial wellness benefits sound pretty gimmicky and of dubious value to workers, and sound more like employers wanting to continue not offering wage increases to attract workers," said Josh Bivens, research director at the Economic Policy Institute, a Washington think tank that advocates for lower-income workers.
Indeed, offering financial wellness benefits is relatively cheap for employers. As a standalone offering, TrueConnect doesn't cost employers a cent. Brightside and other benefits "platforms" that offer services from numerous providers may charge as little as $50 a year per employee.
But Christine Tozzi, Brightside's chief strategy officer, said workers get more in return than their employers are paying.
She would not disclose how much Brightside charges employers, but said the company negotiates group discounts and lower rates for workers. And because Brightside is paid by employers, not the outside financial services firms it works with, Tozzi said the firm can offer unbiased advice.
"We look for savings for people," she said. "We're finding multiples of our fee back for people. It's better than cash compensation."
If somebody is hungry, do you give them a diet book or a meal? At some point, you have to do something real.
— Safwan Shah, PayActiv
Rob Reiskytl, a partner at Aon, said the insurance and benefits consulting firm's survey released last month indicates attitudes are changing.
The survey of 150 multinational companies found that financial wellness benefits will probably become much more common. Just 14% of employers said they already have a strategy for helping employees improve their financial well-being, but 62% said they will within the next three years.
Still, while more than 70% of employers who responded think they have a responsibility to help employees save for retirement and pay for healthcare, fewer than 15% thought employers should pay for programs that help workers cover day-to-day emergencies and manage their debt.
But Reiskytl maintains employers are beginning to recognize that their employees' ability to save for retirement is affected by housing costs, student debt and even basic budgeting skills.
Services like PayActiv and TrueConnect, along with benefits such as student-debt assistance, show that some companies are taking a more active role in those areas as they listen to their employees' concerns, he said.
"If you have a retirement plan, some employees will say, 'Great.' But if you have student loans, you're thinking, 'I can't save for retirement, I need to pay this off first,'" Reiskytl said. "Employers may not have been sensitive enough to those needs."
Follow me: @jrkoren