Why Trump's threat to withdraw from NAFTA is an empty one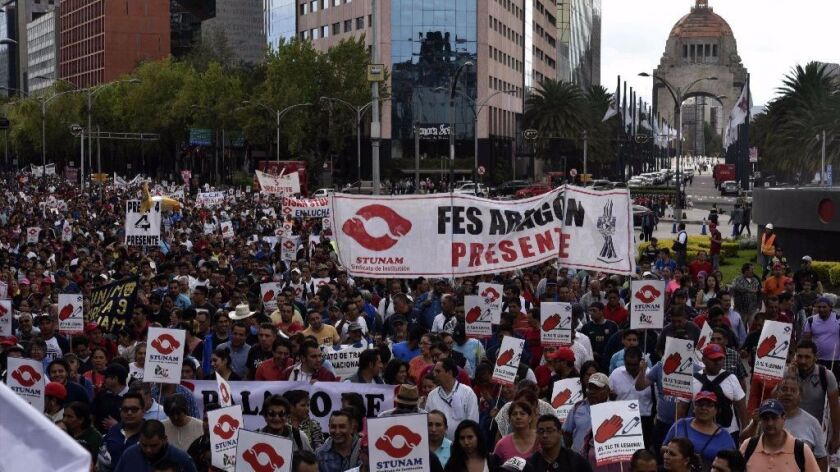 Reporting from Washington —
As the United States, Canada and Mexico head for a second round of talks this weekend to renegotiate the North American Free Trade Agreement, President Trump is ramping up his bluster about simply terminating the pact instead.
But many former trade negotiators and experts agree that the president's threat to cancel NAFTA is essentially an empty one, more likely intended as a bargaining ploy.
For one thing, Trump lacks the legal authority to unilaterally end all U.S. obligations under the 23-year-old agreement with Canada and Mexico. Some of that power rests with Congress.
And even if the president moved for a withdrawal, he would almost certainly face legal challenges and come under enormous pressure because of domestic economic and political considerations. His base in rural America, in particular, would be slammed by a U.S. pullout.
"I don't think it's a credible threat," said Warren Maruyama, a partner at the Washington law firm Hogan Lovells who worked on NAFTA and other trade issues in both Bush administrations. "Trump would do serious political damage and split the coalition that got him into the White House. While his win is often credited to anti-trade, blue-collar voters, he won just about every rural county, and Mexico is a huge market for American farm products."
Under NAFTA, Trump or the leaders of Canada and Mexico, for that matter, could withdraw from the trade agreement by simply giving six months' written notice — which Trump has not yet done.
But there is a separate U.S. act that put NAFTA into effect. This law states that only a few sections of the accord would cease to apply upon withdrawal, and even then it's unclear what the practical effects would be. Many provisions could be left in limbo and presumably would have to be repealed by Congress.
Much of the agreement — including key chapters on North American content requirements, access to government procurement, on investment and services trade — would not be invalidated merely by Trump's action, according to legal scholars.
"It leaves you in an odd situation in which a lot of the rest of the rules remain in effect," said Jennifer Hillman, a Georgetown University law professor who specializes in international trade.
Despite Trump's repeated warnings recently about exiting the pact, the other two nations appear to understand these limitations.
"I'm not sure the Canadians or Mexicans actually believe it," Hillman said.
Canadian and Mexican officials were initially perturbed by Trump's threats, but more recently seemed to be giving little credence to them.
"Trade negotiations often have moments of heated rhetoric," said Adam Austen, a spokesman for Canada's minister of foreign affairs.
Said Manuel Molano, an analyst at the Mexican Institute for Competitiveness think tank: "His rhetoric is so detached from what's happening at the negotiating table. It's a far-fetched threat."
During a press conference Monday with Finland's president, Sauli Niinisto, Trump all but acknowledged that his threats were a negotiating tactic intended to bring about concessions from the trading partners.
"I believe that you will probably have to at least start the termination process before a fair deal can be arrived at, because it's been a one-sided deal," Trump said.
Throughout the campaign, Trump promised to overhaul or terminate NAFTA as well as other trade deals, which he has blamed for laying waste to American manufacturing and causing an erosion of American jobs and pay.
Congressional economic studies and other reports, however, indicate that NAFTA, while hurting certain industries and workers, has had a relatively modest effect on overall domestic employment and the economy.
One of the realms within Trump's congressionally authorized power is to dissolve NAFTA's zero tariffs, which kicked in for most goods traded among the three nations when the agreement took effect in 1994.
But even if Trump took such action, tariff rates on thousands of items would then automatically revert to duties under the World Trade Organization, the international trading system in which all three nations, along with some 160 others, are members. And by those rules, the United States stands to lose more than Canada or Mexico if Trump were to walk away from NAFTA.
That is because American tariffs on imports average 3.5%, compared with 4.2% for Canada and 7.5% for Mexico, according to Chad Bown, a senior fellow at the Peterson Institute for International Economics. That means U.S.-made products crossing the border into Mexico, on average, would be hit with double the tariffs compared with Mexican goods coming into the United States.
And in many ways, those figures understate what may actually happen. As a developing country, Mexico can charge significantly higher tariffs without breaking WTO rules — on average above 30% for more than 90% of U.S. imports, according to a recent paper by the Federal Reserve Bank of New York.
That is why American farming interests, among other businesses, are worried about even a remote possibility of a NAFTA termination. In just the last 10 years, U.S. agricultural exports to Mexico have surged 64% to nearly $18 billion last year, with corn, soybean and pork the top three products.
If Trump were to end NAFTA or cause a trade war, with Mexico, Canada or other major economies, U.S. farm exporters fear they will find themselves increasingly struggling in foreign markets against rivals that are paying lower tariffs. Canada recently struck a free trade deal with the European Union, and Mexico has long had trade agreements with the EU and Japan, not to mention competitors in South America that want to sell more corn and other agricultural commodities to Mexico.
"That's why you keep hearing the ag industry say, 'Do no harm,'" said Veronica Nigh, an economist at the American Farm Bureau Federation, a powerful lobbying group that recently signed a letter with counterparts in Canada and Mexico urging Trump's top trade official, Robert Lighthizer, to show restraint in renegotiating NAFTA.
When Lighthizer launched negotiations two weeks ago in Washington, he largely echoed Trump's harsh rhetoric, declaring that the United States wanted wholesale changes in NAFTA that would reduce the American trade deficit with Mexico, increase U.S. production and strengthen the administration's hand in sanctioning violators of fair trade. Lighthizer, however, did not threaten to walk away from NAFTA.
Trump neither tweeted nor spoke out about NAFTA during the first session of negotiations, which lasted five days. But as the talks now shift to Mexico on Sept. 1-5 — with another round scheduled for later next month in Canada — Trump is figuratively slamming his fist at the bargaining table with his tweets and public pronouncements that Mexico and Canada had better accede to U.S. demands — or else.
Wendy Cutler, a former U.S. Trade Representative official who had a leading role in negotiating America's free trade agreement with South Korea and the Trans-Pacific Partnership, has seen negotiators employ an array of tactics to gain leverage in bargaining. But she sees more harm than help coming from Trump's repeated threats.
"While Mexico and Canada may officially downplay them, it really affects the credibility of the negotiators," she said, noting that it could hamper "Mexico's willingness to make concessions if there was even a chance that President Trump can bring down the whole agreement."
Cutler agreed that the economics and politics around NAFTA would argue against Trump pulling out of the agreement. Still she isn't sure that will restrain Trump.
"That's counting on very rational, logical considerations — and this president has shown he's unpredictable," she said.
Twitter: @dleelatimes
ALSO:
U.S. lays out ambitious schedule for NAFTA talks as opening round concludes
If Trump pushes 'buy American' in NAFTA talks, he may get more than he bargained for
---
Must-read stories from the L.A. Times
Get the day's top news with our Today's Headlines newsletter, sent every weekday morning.
You may occasionally receive promotional content from the Los Angeles Times.