If Trump pushes 'buy American' in NAFTA talks, he may get more than he bargained for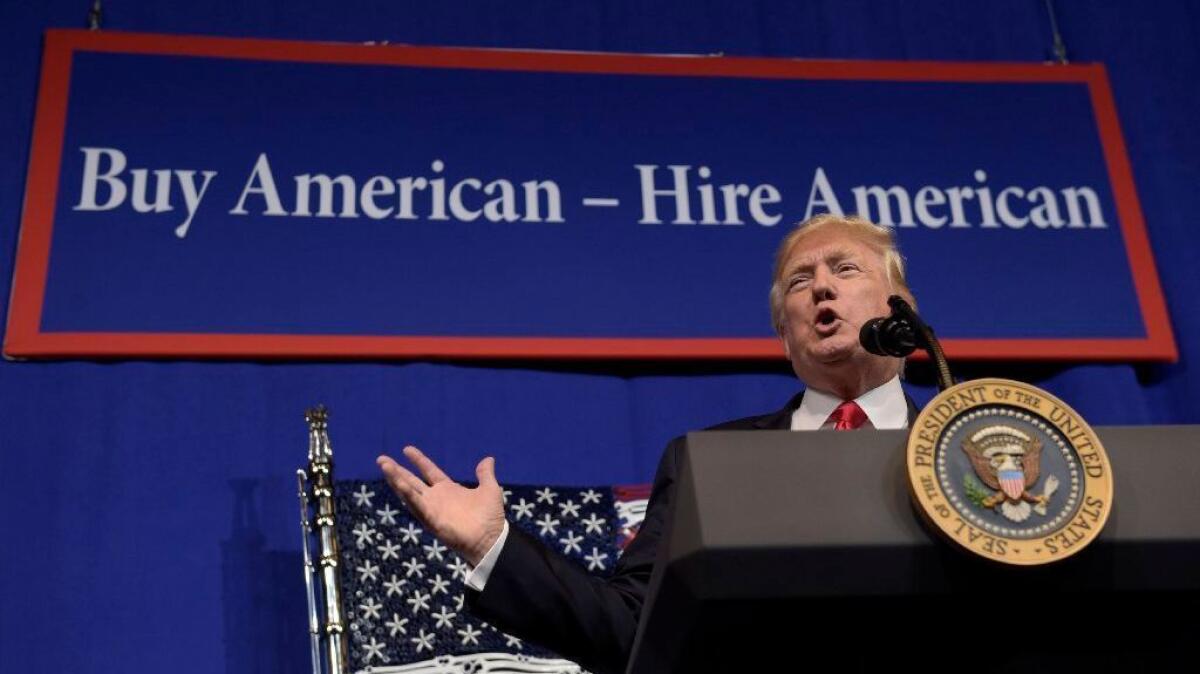 Reporting from Washington —
President Trump's "buy American" mantra has particular appeal among his blue-collar base and others who support giving preference to U.S. companies when it comes to federal government purchases.
But as Trump's team opens talks Wednesday aimed at rewriting the North American Free Trade Agreement, inserting a buy American provision into the landmark pact could prove to be one of the most contentious issues.
NAFTA prohibits preferential treatment for American companies when they bid on U.S. government contracts, with a similar restriction on Mexico and Canada when dealing with their own government procurement.
Critics of the 1994 trade pact say scrapping that ban should be a no-brainer given Trump's signature campaign promise to transform trade policy and promote an "America first" agenda.
But with hundreds of billions of government procurement dollars at stake, Canada and Mexico are likely to fight to keep things as they are. And the Trump administration will have to contend with conflicting interests at home as well.
Even as smaller American firms generally favor domestic preferences for government contracts, large U.S. multinationals tend to oppose policies restricting their ability to produce, sell or bid on something in other parts of the world. Big American corporations don't want to see government procurement markets in Canada or Mexico closed to them.
The labor movement is more unified in favor of the buy American effort. But critics like Dana Frank, a professor at UC Santa Cruz and author of "Buy American," who see Trump's slogan as part of a broader effort to promote economic nationalism and anti-immigration policies.
Buy American is the name of an actual U.S. law that came out of the Great Depression, affecting only direct federal purchases. NAFTA exempted Mexican and Canadian firms so they would be treated as U.S. companies.
Trump's top trade officials have been sympathetic to those wanting to remove the Buy American ban in NAFTA and other free trade deals. But in a letter last month outlining the administration's objectives for NAFTA renegotiations, U.S. Trade Representative Robert Lighthizer did not include a definitive statement saying what they will do on government procurement.
In contrast, Lighthizer was more explicit on other issues, saying, for example, he would strive to eliminate a NAFTA provision allowing Canada and Mexico to challenge anti-dumping duties imposed by the U.S. through an independent dispute-settlement panel.
Lighthizer's letter to Congress was much more restrained than Trump's fiery rhetoric during the campaign, when he called NAFTA a "disaster" and pledged a radical overhaul of the 23-year-old pact or threatened to terminate it.
But to some, the lack of specificity on Buy American suggested the Trump administration may be having second thoughts or internal divisions about the promise.
The toned-down statements have reassured those who have been fretting about NAFTA's future. Canada and Mexico account for one-fourth of all U.S. trade in goods and services. North American supply chains are deeply integrated, and millions of workers in the three countries count on trade with each other for their livelihoods.
Proponents for Buy American have cited a General Accountability Office review from early this year that found the U.S. makes available twice as much government procurement to foreign firms, measured in contract value, as the European Union, Japan, South Korea, Norway and Canada combined.
"We have given away much more access than we have received," a group of nine Democratic senators said in a recent letter to Trump.
But Howard W. Roth, a government contracts expert at Oles Morrison, a law firm based in Seattle, said that imbalance is a reflection of America's outsized military budget relative to other countries.
"Denmark sells us a lot of goods and services," he said, "but there's not a whole lot we can sell to Denmark. Its defense budget is next to nothing."
The Trump administration is now undertaking its own review, but that probably won't be finished until November, well into the NAFTA talks.
Also, what the GAO study does not answer is how much foreign firms actually win in government procurement.
Daniel Schwanen, a trade expert at C.D. Howe Institute, a nonprofit policy research organization in Toronto, says it's worth remembering that although Canada's government procurement market is much smaller, so is its supplier base when compared with the U.S.
"For every one Canadian bidder, there are nine American ones, and they'll still get the lion's share," he said.
"I think, bottom line, Canada wouldn't accept reduced access to the U.S. [procurement] market," Schwanen added. "There's no reason. We're not an unfair trader. I don't see why U.S. protectionism should be expanded to Canada."
With Mexico, the challenge for the U.S. has more to do with curbing corruption and ensuring that Mexican procurement procedures are transparent so American firms have fair access to government contracts.
Mexican infrastructure projects, for example, tend to be dominated by Spanish firms, says Manuel Molano, deputy director of the Mexican Institute for Competitiveness, a think tank in Mexico City.
"We really need to look at and have better rules in engaging with suppliers in public purchases," he said.
And even if Trump manages to abolish the Buy American ban in NAFTA, it's not clear how much would change in the way U.S. government makes its purchases.
For one thing, the U.S. would still be bound by an agreement it signed with Canada and others with the World Trade Organization to open up government procurement markets to each other.
What's more, the Pentagon over the years has worked out separate understandings with more than 20 countries to remove Buy American barriers for many defense supplies, which constitute the bulk of direct federal spending for goods.
Some of those arrangements are an acknowledgment that the U.S. lacks domestic manufacturing capabilities for all its needs. Certain electronic components that are essential for older military jets, for example, are no longer produced in the U.S. That means the Pentagon has little choice but to rely on contractors to source them from global suppliers.
"The Buy American Act in 1933 never envisioned the kinds of supply chains we have in place today," said attorney Roth. "It was like a piece of solid cheese then, and now it's like Swiss cheese. There are all these holes in it."
Should the U.S. fail to include domestic preferences for direct federal government purchases, analysts predict Trump will pay a heavy political price. Most Americans favor buy American policies, supporters say, and steering taxpayer dollars to domestic firms is directly in line with Trump's economic agenda, not to mention his motto.
"From a policy perspective, Buy American makes sense," said Scott Paul, president of the Alliance for American Manufacturing, an advocacy group. "I think it's a piece of the puzzle to unlocking opportunities for American workers."
Paul added that it would help if Trump practiced what he preached. The president's business holdings include 14 Canadian and two Mexican investments, according to Public Citizen's Global Trade Watch. And it's widely known that some of Trump's clothing line is made in Mexico.
"It lends credibility to the effort if it's your personal corporate ethos as well," Paul said.
Follow me at @dleelatimes
ALSO
CEOs of Intel, Merck and Under Armour quit Trump advisory panel over Charlottesville controversy
Trump rips CEOs ditching his manufacturing council as 'grandstanders'
Trump company applies for casino trademark in Macau
To make North Korean sanctions stick, the 'gloves are off' for U.S. in fight against Chinese smugglers