U.S. tuna fishing fleet to be shut out of vast area of Pacific Ocean in fee dispute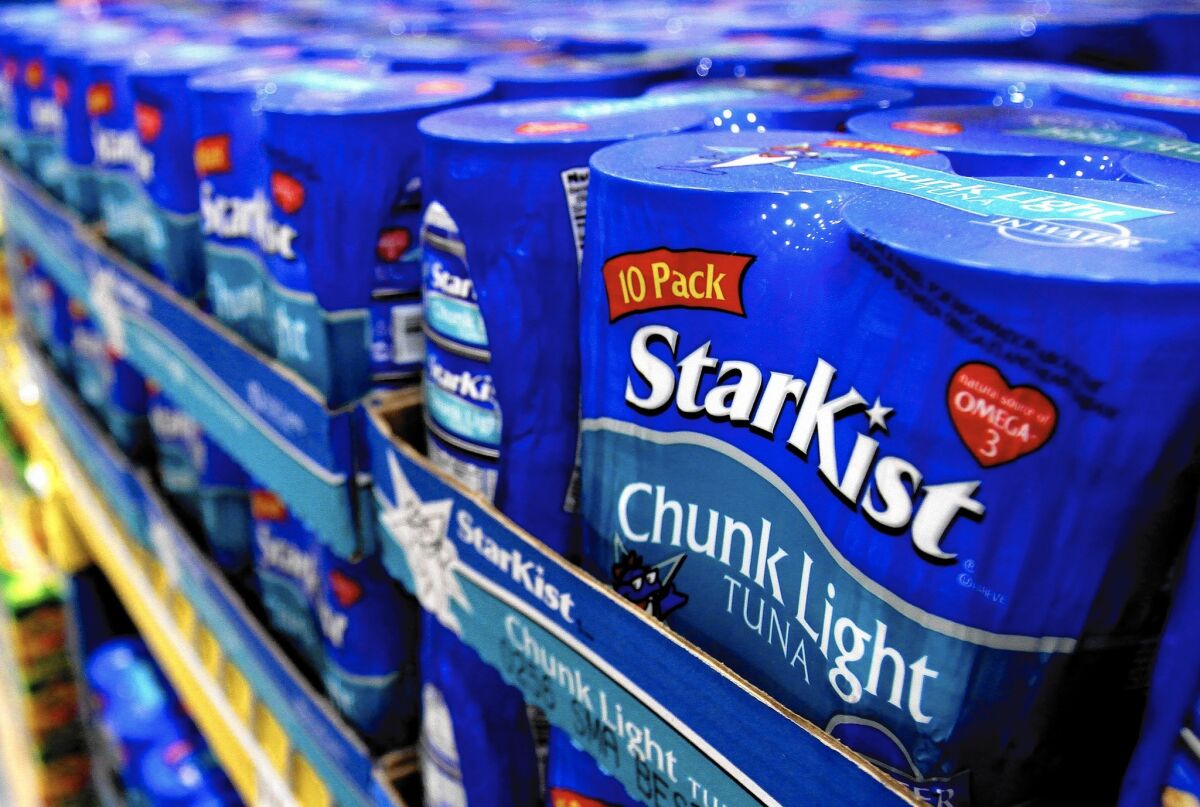 The U.S. tuna fishing fleet, which helps feed San Diego's storied tuna industry, is fighting for business survival thousands of miles from home.
By New Year's Day, the entire fleet of 37 boats will effectively be cut out of a vast area of the Pacific Ocean — source of 60% of the nation's canned tuna — because of a high-stakes dispute over how much they will pay to fish there.
Stateside companies, including several with ties to Southern California, say the conflict will not just hurt or destroy businesses, but also raise sustainability concerns for American consumers.
Global Cos., a group of three Nevada-based firms with offices in San Diego, has already pulled its boats out of the water. San Diego-based South Pacific Tuna manages the companies' 14 boats, the most of any single owner in the fleet.
American operators agreed in August to pay $67 million for 5,700 days of fishing in 2016, split among all the vessels, as part of an interim agreement under the South Pacific Tuna Treaty, a 27-year-old accord among 17 nations.
The dispute erupted at a meeting six weeks ago when one fleet operator with 10 vessels said it could not pay for its allotted days, citing diminished financial returns because of falling tuna prices. Another decided to leave the fishing business and not pay, while other individual owners claimed economic hardship.
In response, the Pacific Islands Forum Fisheries Agency, a Solomon Islands-based intergovernmental agency charged with administration of the treaty, told all U.S. boats to get out of the water indefinitely. The agency refused to issue 2016 licenses until all U.S. operators paid the agreed-to amount.
Efforts to reach the Forum Fisheries Agency for comment by email were unsuccessful.
"Our fleet is essentially being held hostage by the actions of a few fleet operators, who are not willing or are unable to honor their commitments," Global Cos. shareholder J. Douglas Hines said, adding that the firm is willing to pay for its allotment.
Join the conversation on Facebook >>
Hines is the former chief operations officer of San Diego-based Bumble Bee, the third-largest seller of canned tuna in the U.S. The second largest is Chicken of the Sea, also based in San Diego. Market-leader StarKist is based in Pittsburgh.
Tuna has a long history in San Diego, making up its third-largest industry just 50 years ago. San Diego's downtown waterfront once was home to four canneries. The last, Van Camp Seafood, closed in 1984, costing 12,000 jobs.
At least 40,000 people were employed catching, canning and marketing the product. Today the industry is substantially smaller — Bumble Bee employs about 130 people in San Diego, Chicken of the Sea employs about 90 and South Pacific Tuna Corp. employs 29.
Global Cos.' boats are docked at several islands in the Pacific. The San Diego industry moved away from California in the 1980s because of environmental restrictions and other factors, and has since sourced its product from all over the world.
Hines said the standards for canned tuna sold to U.S. consumers would be diminished if American boats are taken out of the water.
"Our vessels are the most regulated, the most controlled, the most managed," he said. Foreign nations "don't have the stringent controls that we have for management of fisheries."
For instance, an American boat must stop fishing if operators see a whale within a mile of its nets on the chance that it could get tangled. Hines said the same standards are unlikely in Chinese, Korean and Taiwanese boats, which have bilateral agreements with several island nations.
He said American operators must provide documentation to the U.S. government showing that they are not overfishing the area, a practice he said probably was not always followed by other nations.
One American company not paying, Tri Marine of Bellevue, Wash., had 10 vessels in the tuna-fishing grounds. Calls to its board chairman and chief executive were not returned.
NEWSLETTER: Get the day's top headlines from Times Editor Davan Maharaj >>
A drop in tuna prices in 2015 has been cited by fishing trade journals as a reason that fishermen are struggling in the Pacific Ocean.
So why would the vessel operators agree back in August to the fees?
"When you're in the fishing business, you always hope for better days," Hines said. "You hope the fishing will be better, the market will improve. It just didn't happen."
Robert Virissimo, vice president of vessel operations for San Diego's South Pacific Tuna, sympathized with boat operators who cannot pay because of financial hardship.
"I know everybody is losing money," he said.
South Pacific Tuna has 29 San Diego-based employees, counting ship captains. Global Cos. also employs roughly 3,500 employees who are residents of the island nations. The companies say the jobs will be lost if the conflict is not resolved.
About 80% of the catch from the 37-boat fleet goes to the U.S., Global Cos. said. The firm supplies tuna to Bumble Bee and Chicken of the Sea, also based in San Diego.
Company spokespeople were not available for comment.
Tuna boat operators have asked the U.S. State Department to consider allowing them to reduce the number of days they would fish in the water — and, in effect, pay less — but federal officials have sided with the Forum Fisheries Agency. Global Cos. executives say they hope U.S. officials will meet with their FFA counterparts in the near future.
Mike Tosatto, Honolulu director of the National Marine Fisheries Service, said he wrote a letter last week to tuna fleet operators to remind them to get out of the water by New Year's Day if the agreement to pay was not honored.
He said the treaty fishing area was very productive for the U.S. and could cost jobs here and abroad.
"It will have a significant impact," Tosatto said. "This is a ripple that could be felt in a lot of ways."
In addition to the United States, other nations signed on to the South Pacific Tuna Treaty are Australia, Cook Islands, Federated States of Micronesia, Fiji, Kiribati, Marshall Islands, Nauru, New Zealand, Niue, Palau, Papua New Guinea, Samoa, Solomon Islands, Tonga, Tuvalu and Vanuatu.
The treaty was made in 1988 to establish rules for U.S. fishing boats, as well as data and monitoring requirements, according to the FFA.
phillip.molnar@sduniontribune.com
ALSO
Subsidized solar is overshadowing biomass energy in California
Advocates push for the U.S. Postal Service to offer basic banking
China is building a 2nd aircraft carrier in a bid to project power