Uber and Lyft continue to gain popularity with business travelers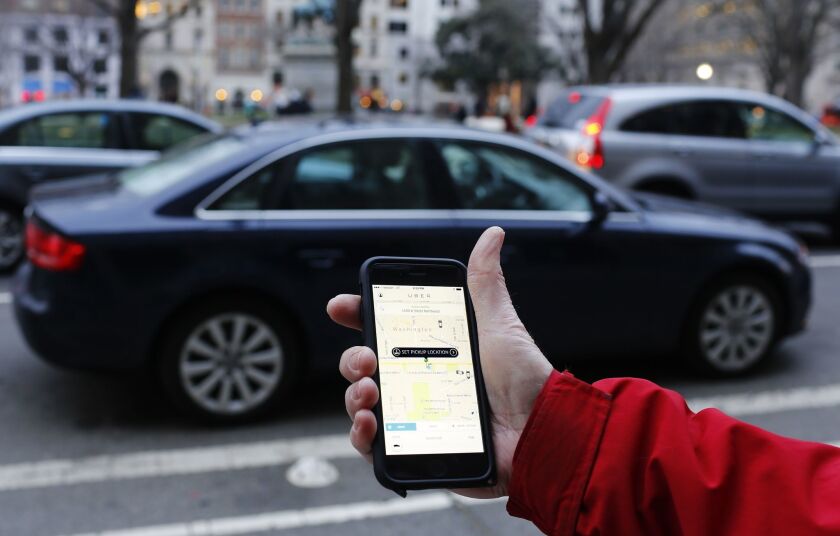 When the ride-hailing services Uber and Lyft first came on the scene, business traveler managers were leery of the services.
Are they safe? Are the drivers reliable? How you do you file expense reports for the rides?
Seven years after Uber was founded and four years after rival Lyft launched, the ride-hailing businesses may have overtaken taxis and car rental companies as the favorite mode of transportation for business travelers in the U.S.
Maine-based Certify, a software company for business expense management, analyzed several million expense reports for the first quarter of 2016 and found that 46% of all ground transportation transactions for business travelers were for ride-hailing services, compared with 40% for car rentals and 14% for taxis.
Over the past two years, the Certify analysis shows, taxis have lost the biggest share of the business travel market, dropping from 37% of all ground transportation expense transactions at the beginning of 2014. Car rentals dropped from 55% of all ground transportation expenses, while ride-hailing has grown from only 8% of the transactions at the beginning of 2014.
Some taxi drivers have been so devastated by the drop in businesses that they have started driving for Uber or Lyft.
But car rental companies don't agree with the data. They say Uber and Lyft may generate more individual expense reports because travelers use them for multiple, short rides. Car rental companies say they continue to be popular with business travelers.
See more of our top stories on Facebook >>
Greg Stubblefield, chief strategy officer for Enterprise Holdings, the parent company for Alamo Rent A Car, Enterprise Rent-A-Car and National Car Rental, said his company is thriving, although he declined to release revenue or profit numbers for the privately held company.
"Our business is growing handsomely," he said.
The Avis Budget Group, parent company of the Avis and Budget car rental brands, reported adjusted net income of $333 million for 2015, a 7% increase over 2014, on a 5% increase in revenue.
Uber and Lyft representatives say ride-hailing services are gaining popularity with business travelers primarily because such rides are less expensive and more convenient. Both companies have added features to their smartphone apps, making it easier for business travelers to file expense reports.
Legislation took effect in January that ensures California's 228,000 state employees will be reimbursed for the cost of using sharing-economy businesses for business travel, including ride-hailing services such as Uber and Lyft.
SIGN UP for the free California Inc. business newsletter >>
"The number one thing for business travelers is that we are more convenient," said Amit Patel, director of enterprise partnerships for Lyft. "This is something that they use in their personal life and now use in business life because it's supported by their company."
To read more about travel, tourism and the airline industry, follow me on Twitter at @hugomartin.
MORE BUSINESS NEWS
How long lines keep Porto's Bakery affordable — and growing
How regulators plan to use pay rules to rein in risk-taking by big banks
Uber will pay up to $100 million to settle suits with drivers seeking employee status
---
For reporting and exclusive analysis from bureau chief John Myers, get our California Politics newsletter.
You may occasionally receive promotional content from the Los Angeles Times.