How long lines keep Porto's Bakery affordable — and growing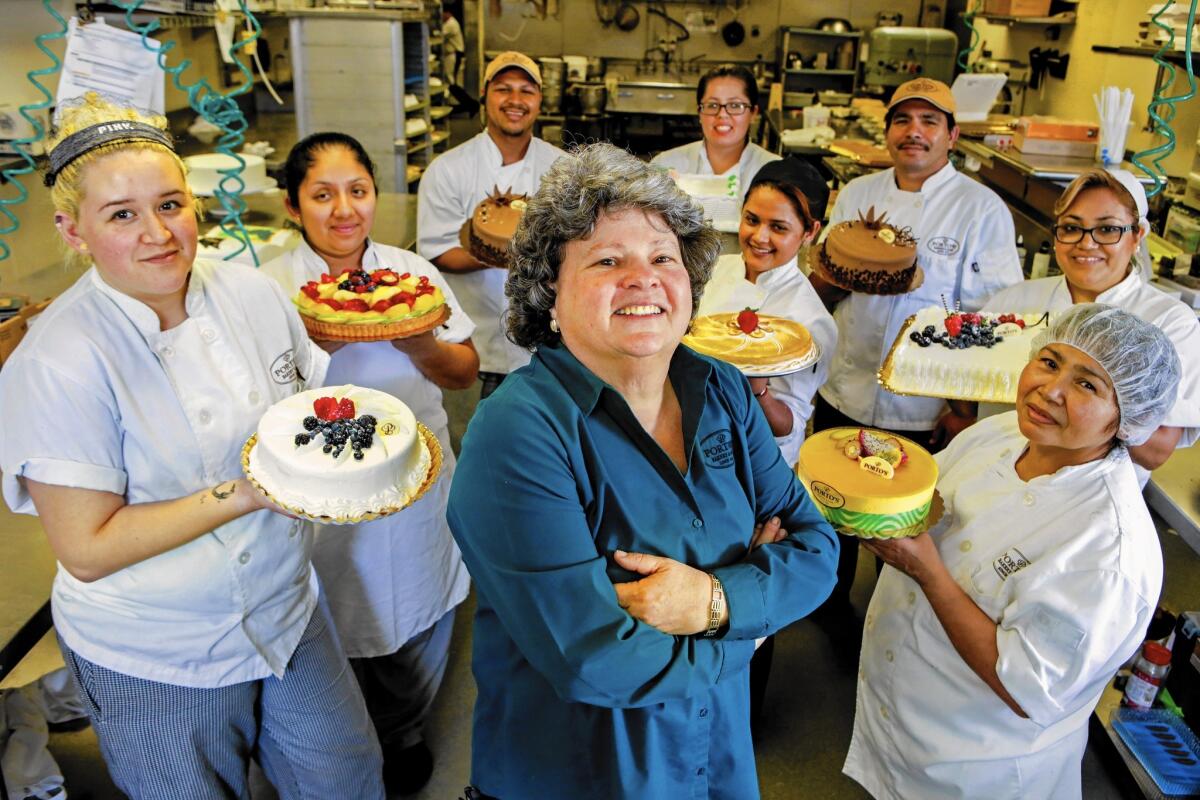 When picking up a box of cheese rolls, potato balls or a cake at Porto's Bakery & Cafe, two things are always guaranteed: The lines will be long and the food affordable.
There cannot be one without the other.
Porto's, a Southern California mainstay responsible for catering generations of family parties, birthdays and quinceaneras, attracts hordes of customers by selling pastries that cost about $1 but taste like you paid more.
But to make a profit, Porto's needs to sell a lot of those pastries.
How many? In March, the chain dished out nearly 520,000 potato balls and more than a million cheese rolls in its three locations of Glendale, Burbank and Downey combined.
"If we don't have the volume, we have to raise prices," said Betty Porto, 57, one of three siblings who run the family business founded by their Cuban emigre parents.
That willingness to embrace the crowds is a chief reason the bakery has thrived for four decades, fending off national chains, recessions and low-carb fads along the way.
But there also comes a point when the lines get too long and begin driving customers away. That's why the family is expanding once again, preparing to open its first new store since 2010 in Buena Park later this year before adding another one in West Covina in 2017. Each new bakery typically reduces crowds at existing stores about 7%, Porto said.
Expanding also helps keep costs down. The bigger the business gets, the easier it is to demand lower prices for ingredients. The chain is such a huge buyer of flour, sugar, eggs, butter and fruit that it can also cut deals with its suppliers to deliver daily. That lowers storage costs and reduces the likelihood that inventory will spoil and go to waste.
See more of our top stories on Facebook >>
"We don't buy flour bags, we buy flour by the truckful," said Porto, a rosy-cheeked mother of two college-aged children who often has to wear a back brace to account for the hours she spends on her feet in her family's bakeries.
Porto's has grown into an amalgamation of a mom-and-pop business and a finely tuned corporate chain like the Cheesecake Factory.
The family hired a consultant years ago to calibrate its business operations. It installed greeters with earpieces and walkie-talkies to direct customers to the correct lines. And the chain's nearly 1,000 employees are deployed using software that projects sales in 30-minute intervals so that managers know how many workers they need.
"If you need two people for a job, then you only use two people," Porto said. "You don't go around wasting labor because that's going to cost you money and who's going to pay for that? The customers."
The family won't disclose revenue at the private business, but says growth has been steady. That's why Porto's is expanding and considering selling frozen pastries online to reach fans who live out of state or those unwilling to wait in line for a bite.
It's not just long lines the family is sensitive about. In car-centric L.A., parking remains one of the biggest challenges for the business.
The bakery benefits from several city parking structures in Glendale, but it has no such luxury in Burbank. So Porto's bought the building next door to its bakery just for its allotted parking spaces. In Downey, the family built a multi-story garage.
SIGN UP for the free California Inc. business newsletter >>
That's important for regulars like Felicite Paz and her husband Jorge, who drive an hour once a week from their home in Pomona to eat lunch at Porto's in Glendale.
"I'll eat anything here," Felicite Paz, 64, said over a plate with chicken pie, a potato ball and an empanada.
Jose Pose and his wife Adela are just as dedicated customers.
This place is like religion for us. We come here once a week like church.
— Jose Pose, a Pasadena retiree
"This place is like religion for us," said Jose Pose, 74, a Pasadena retiree who had his daughter's wedding cake made at Porto's. "We come here once a week like church."
The food at Porto's is based on the favorites family members grew up eating in Cuba before their lives were upended by the rule of Fidel Castro.
Betty Porto's mother, Rosa Porto, lost her job as a manager at a cigar distributor. Her father, Raul Porto, was sent to a labor camp. The family survived by baking cakes and selling them through word of mouth. Customers had to share their rations for eggs and sugar to make the desserts. They paid by bartering chickens or beans.
After being wait-listed for eight years, the Porto family left its hometown of Manzanillo for the U.S. in 1971 under a program known as the Freedom Flights. Miami was already saturated with Cuban immigrants, so the family was sent to L.A. penniless and in need of work.
Raul Porto got a job as a janitor at a Van de Kamp Bakery in Glassell Park. Rosa Porto started baking cakes for fellow Cubans and neighbors in Silver Lake. Demand grew so much and space was so limited at home that the kids' beds had to be covered in tablecloths for makeshift counter space.
"My mother would flip cakes all night so we couldn't go to bed," Betty Porto said.
In 1976 and with a $5,000 loan, the family opened its first storefront, a 300-square-foot bakery in a strip mall on the corner of Sunset and Silver Lake boulevards.
There are several items that put Porto's on the map: meringue-frosted Cuban cake, meat pies, chicken empanadas, potato balls, ham croquettes and guava and cheese pies. But given L.A.'s diversity, the family began expanding the menu to include Mexican treats and European desserts. "We were getting Filipino, Mexican and Salvadoran customers," Betty Porto said. "We were running out of space."
In 1982, Porto's moved to Brand Boulevard in Glendale. That was the business' only location until the family opened its second store in Burbank in 2005. Five years later, Porto's opened its third location in Downey.
The next generation of children is already being groomed to take over the pastry empire. Two are already working at the business. Betty Porto and her siblings are encouraging the others to work somewhere else first before potentially joining Porto's.
"We want them to work somewhere else so they know there's a chain of command everywhere you go," said Betty Porto, who has a master's degree in political science from UCLA and was aiming to become a lawyer before deciding to join the family business. "You can't just come here and be successful without having the right tools because everyone will be looking at them for leadership."
Transitioning a family business to the next generation isn't easy, said Ken Ude, director of the USC Marshall Family Business Program.
Only 30% of family-run companies make it as far as Porto's has, handing off a business from the first generation to the second. Only 12% make it to third generation and less than 5% make it to the fourth generation.
It gets more complicated from one generation to the next. It's not always like Porto's, where the kids see how hard their parents work and choose to work just as hard.
— Ken Ude, director of the USC Marshall Family Business Program
"It gets more complicated from one generation to the next," Ude said. "It's not always like Porto's, where the kids see how hard their parents work and choose to work just as hard."
"It's a hell of a brand with scrappy customer service," he added. "Clearly they're all on the same page."
The rise of national chains like Panera Bread, Corner Bakery Cafe and Au Bon Pain doesn't faze Betty Porto. Those brands serve a niche, she said, but they don't come close to having the tradition that Porto's commands with the families that have braved the lines for years.
"You come to Porto's, I can make a cake for your child's first birthday, her communion, her baptism and her quinceanera," she said. "I can marry her off and then the next generation starts."
Twitter: @dhpierson
ALSO
Uber drivers have mixed reactions to $100 million settlement
Dozens of Kmart and Sears stores to close, including four in California
Value of Prince's $300-million estate is expected to soar in coming years