Pilot error possible cause of Virgin Galactic crash, NTSB says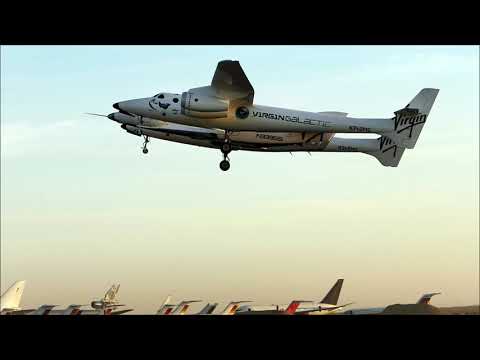 Investigators looking into the fatal test-flight crash of a Virgin Galactic passenger spaceship say the craft's descent system was activated early.
The fatal crash last week of an experimental rocket ship designed to shoot wealthy tourists into space raises serious safety issues, including questions over pilot error, the escape system for its crew, and the ship's exotic rocket motor.
The National Transportation Safety Board said late Sunday that Virgin Galactic SpaceShipTwo's co-pilot changed the spacecraft's aerodynamic controls prematurely. That move may have caused the tail to rise and create drag — an action called "feathering." Moments later, the aircraft "disintegrated," NTSB acting chairman Christopher Hart said.
Hart cautioned that "pilot error" was only one possible cause of Friday's crash in the Mojave Desert.
Even after half a century of spaceflight, the Virgin Galactic accident confirmed that moving humans at supersonic speeds to escape gravity is still not without high risks — even for the most seasoned pilots and the most innovative aerospace companies.
Aviation experts say the rocket motor, the airframe and the spacecraft's control system are all likely to come under scrutiny.
The research ship broke up over the High Desert during a test flight Friday, killing co-pilot Michael Alsbury and seriously injuring test pilot Peter Siebold.
In an interview with The Times on Sunday, George Whitesides, chief executive of Mojave-based Virgin Galactic, vowed to press on with the program and finish work on a second aircraft by year's end.
Whitesides said he couldn't talk about the crash during the investigation. Asked whether the company would continue testing the new engine on the ground, he said: "I think the short answer is yes.... We have qualified the engine that we were putting into flight tests. I'm sure that we will continue that work."
The company put out a statement that read: "Everything we do is to pursue the vision of accessible and democratized space — and to do it safely."
The crash follows public and private warnings for almost a decade about the high risks in the Virgin Galactic program. "They shouldn't have been flying in the first place," said Geoff Daly, a consulting engineer on solid rocket motors who worked as a subcontractor on the space shuttle boosters and ICBM programs.
Such concerns have always hung over space flight, but seldom have they actually stopped a launch.
"I hate to say it, but the mission comes first; that is why you are there," said Michael Barr, a USC aerospace safety expert who teaches accident investigation procedures. "You want to do the mission as safely as possible, but still do the mission."
NTSB's Hart said investigators were able to retrieve almost all the important parts of SpaceShipTwo, which were strewn over a five-mile stretch of the desert.
He said the engine and fuel tanks were found intact, with no sign of a fire or breach.
Using video footage from inside the cockpit as well as telemetry data, investigators found that the copilot unlocked the "feathering" handle nine seconds after the rocket engine ignited. This action occurred prematurely — at speeds of Mach 1 instead of Mach 1.4.
But Hart said it's too soon to say whether this action led to the crash.
Experts said there are other possibilities. An engine thrust problem could have thrown the vehicle out of control, or a fatigue crack in the composite airframe could have caused an in-flight disintegration.
Scaled Composites, the legendary engineering firm in Mojave that built the craft for Virgin Galactic, is not commenting on a possible cause.
But the company has endured any number of setbacks and changes in the program. Last year, its safety chief resigned and has not been replaced. And several months ago, it elected to make a major change in the fuel composition for the spacecraft.
As a result, the craft Friday was powered by an innovative engine that had never before been used on a spacecraft with humans. The last half-century of human flight has always depended on liquid or solid fuel engines, using propellants such as hydrogen, kerosene or aluminum.
SpaceShipTwo used an engine, designed by Sparks, Nev.-based Sierra Nevada, that burned MTPB, a type of synthetic rubber. Oxygen in the form of nitrous oxide is supplied separately. Use of the fuel has grown over the years on military and research missiles. The system was used on three Scaled Composites test flights successfully.
But company officials in May decided to abandon MTPB and go with an even more experimental fuel, polyamide — a type of nylon.
The polyamide fuel burns faster and produces more thrust than MTPB, said David Altman, a cofounder of SPG, a Bay Area solid rocket motor company led by Stanford University graduates and faculty. "Polyamide fuels are not popular," he said. "They burn better, but MTPB is more stable."
Scaled Composites said they had concerns about the MTPB. "It took us a lot longer to build rockets that we felt completely comfortable with," Virgin Galactic founder Richard Branson told Bloomberg News in September.
SpaceShipTwo had not taken a rocket-powered flight since January as the engineering team tested the new motor on the ground. The flight Friday was the first time the new engine was used.
It is unclear why Sierra Nevada exited the program. After Friday's accident, the company issued a strongly worded statement that said it "had no involvement in the building or qualification testing of the motor used in this flight, nor in the integration of this motor to [SpaceShipTwo]."
The Nevada company said it "was not engaged in any manner in the preflight safety or technical approvals or in the flight operations of the mission conducted."
Exactly how Siebold, the copilot who suffered a shoulder injury, got out of the cockpit remains unclear, because it is not equipped with an ejection seat.
The lack of an adequate emergency escape system on spacecraft has been controversial since the Apollo moon program, when three astronauts were sealed inside a capsule that caught fire on the launch pad. The three deaths forced NASA to delay the program and provide a hatch that could be opened from the inside.
The issue came up again in two space shuttle accidents. Challenger blew up shortly after launch in 1986, and Columbia burned up on reentry in 2003. In both cases, the astronauts survived for some time and possibly could have been saved with an ejection system. Members of Congress and outside experts pressed unsuccessfully for such a system before the shuttle fleet was retired.
"Ejection systems are very heavy, and weight is a critical issue on this spacecraft," said Barr, the USC safety expert. "There is no requirement to have one. They thought the risk was very low. You can almost hear them argue — the proponents saying we need it and the opponents saying we can't build the spacecraft with it."
But the approach to safety by Scaled Composites and Virgin Galactic has been harshly criticized even before the crash. In 2007, three workers were killed when a tank of nitrous oxide blew up on the ground.
Some engineers say that should have been a warning that nitrous oxide was too dangerous to be used on a human-rated spacecraft.
Daly, the consulting engineer, has been hounding the U.S. government since 2007 about safety issues involving Virgin Galactic.
He sent emails to U.S. lawmakers and the Federal Aviation Administration urging them to look into the "fundamental design flaws" of using such large quantities of nitrous oxide. "There was bound to be another accident," he said. "Using that much nitrous oxide at that altitude isn't safe."
The FAA, which regularly monitors space operations at Mojave, said it began formal consultations with Virgin Galactic in 2012 and has not made any final determinations on its design features. The agency doesn't have to approve the rocket engine but ultimately determines whether it endangers public safety.
Virgin Galactic submitted a launch license application last year to the FAA; it remains under review.
Even if the company is granted a license, all prospective passengers must be told, in writing, of the risks associated with human space flight and they must agree to accept those risks.
ralph.vartabedian@latimes.com
william.hennigan@latimes.com
melody.petersen@latimes.com
Twitter: @rvartabedian, @wjhenn, @melodypetersen
Vartabedian reported from Los Angeles, Hennigan from Washington and Petersen from Mojave.