$10.4-billion lawsuit over diesel emissions scandal opens against Volkswagen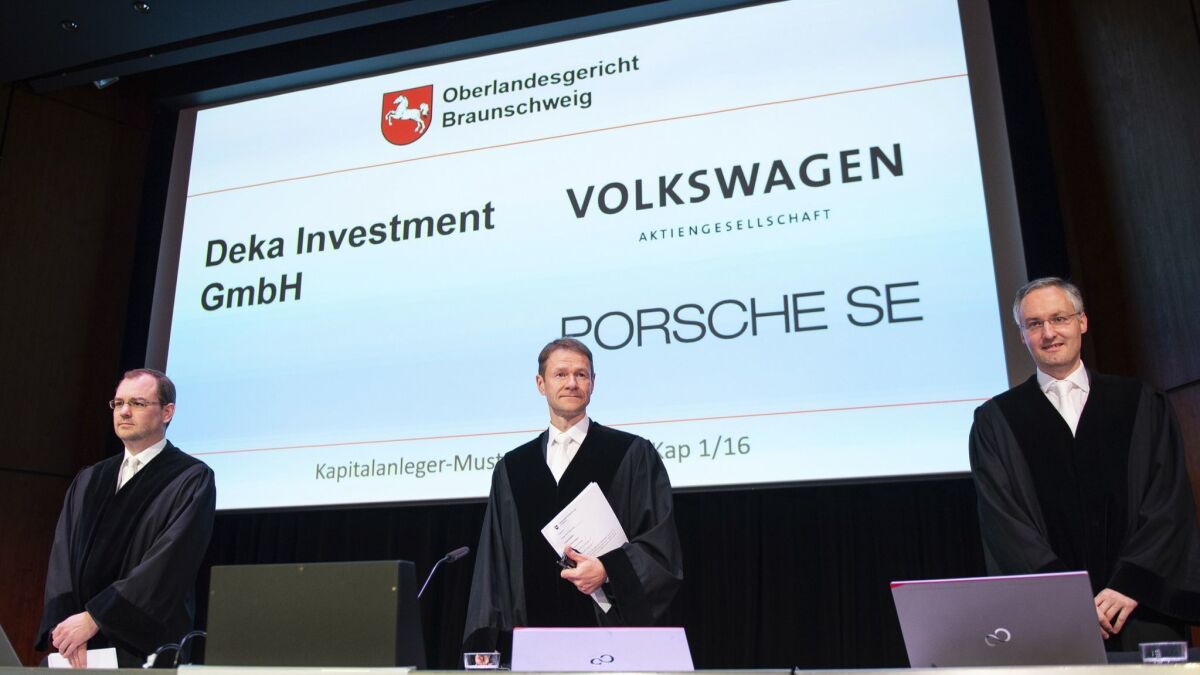 The California Public Employees' Retirement System and other shareholders squared off against Volkswagen in a German court Monday, seeking $10.4 billion in damages over the automaker's emissions-cheating scandal.
The first day of the trial, held in a large convention hall in Braunschweig, gave indications that the proceedings may end up not satisfying anyone.
The court indicated that some claims may be too old to be considered, but the judges also said they would review whether VW should have disclosed the problems with its diesel emissions as early as May 2014 or even the second half of 2012 — which could leave the giant automaker more open to claims of gross negligence.
"We have to look at a lot of crucial issues on this case and we can't give you a conclusive answer to all of them today," said Presiding Judge Christian Jaede. "It's also not clear at this point whether and when we will hear witnesses."
Volkswagen admitted in late 2015 that it rigged diesel vehicles to cheat emissions tests in the U.S. and that about 11 million vehicles worldwide could be affected. The vehicles passed certification tests but spewed up to 40 times the U.S. limit of harmful nitrous oxides during everyday driving.
The company pleaded guilty and agreed to pay $4.3 billion in fines and penalties. Two executives were jailed in the U.S., and the company's former CEO, Martin Winterkorn, was charged with wire fraud and conspiring to violate the Clean Air Act but cannot be extradited from Germany. A criminal investigation is ongoing in Germany.
In all, the company has set aside 27.4 billion euros ($31.7 billion) for fines, settlements, recalls and buybacks.
The shareholders filed the first cases in October 2015, and a year later a wave of institutional investors followed, including BlackRock Inc., Allianz Global Investors and Calpers. The U.S. is also a plaintiff in the case. The proceedings were moved to the northern German city's civic center to make space for the hordes of lawyers as well as investors who want to attend, but more than two-thirds of seats weren't taken.
The investors are claiming that VW failed to give an early warning about its failure to comply with U.S. emission standards and the resulting American regulators' probe, which triggered a collapse in VW's stock after it was disclosed three years ago.
VW and Porsche Automobil Holding SE, which is also a defendant in the case, both said they informed investors correctly at each stage.
Investors argue that VW should have released information about its use of a so-called defeat device as early as 2007 or in the years up to July 2012. But they may not have a case because of how far back the allegations go and because they may not be able to prove the required recklessness, Jaede said after opening the hearing.
But the court may conclude that VW should have told markets in May 2014 about an American probe based on a study showing that its cars emitted far too much pollution, the judge said. The study was done by the International Council on Clean Transportation.
VW would then have the burden to prove that its executives hadn't acted in a "grossly negligent" way by not disclosing it at the time, he said. The judges will look at whether VW was allowed to hold the information back to avoiding hurting talks with authorities.
The judges also will review whether VW had to disclose that it used rigged diesel engines between July 2012 and May 2014 before the probe started, said Jaede, calling this point "a not so unimportant issue."
For that period, VW couldn't argue that it needed to hold back the release of information because of talks with regulators, which only started after the International Council on Clean Transportation study was published, Jaede said.
One of the key issues of the dispute is whether any payouts require that VW's board members knew about the cheating or whether it's enough that managers ranking right below them were aware, the judge said.
When settling with U.S. regulators, VW admitted that some nonboard executives were aware of the cheating, but said that board members didn't learn about it before well into 2015.
"This is one of the major contested issue of the case," Jaede said, who added that the burden of proof will be on the automaker to show that the board was not aware of what was going on.
The court will resume hearings Tuesday.
Los Angeles Times staff writer Laurence Darmiento contributed to this article.