Wet Seal workers protest store closings with angry posters, hashtag #ForgetWetSeal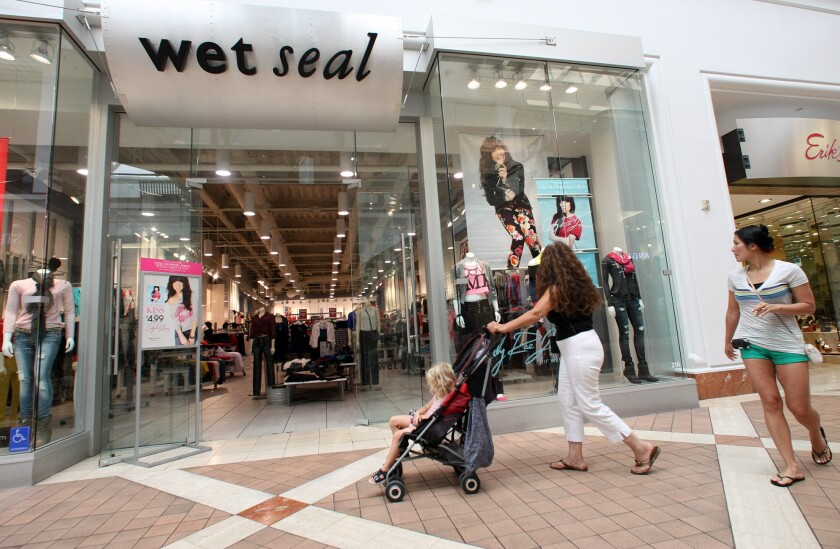 Beleaguered teen retailer Wet Seal sparked a social-media firestorm among its workers after some learned that their stores were closing down with apparently little warning.
Photos of handwritten signs taped up at some Wet Seal storefronts with hashtags such as #ForgetWetSeal and #BoycottWetSeal have gone viral online as employees flock to the Web to vent over abruptly losing their jobs.
"Told us NOT to look for other jobs. Said we were re-modeling and getting in new product," complains one poster at a Wet Seal location in Dayton Mall in Ohio. "Took away all of our benefits including sick time and vacation which we worked for, and were told we would receive. Btw, NO SEVERANCE PAY!"
Calls and emails to Wet Seal were not returned. The retailer has not said how many stores are closing and which employees would be affected.
A sales clerk at a store in Ballston Mall in Virginia, who declined to give her name, said the staff there was informed Saturday that the store was closing in three days. A protest sign was put up the same day, but employees were quickly ordered to take it down, she said.
Managers are "planning to put more signs up," she said.
The Foothill Ranch retailer said last month that there was "substantial doubt" it could continue operating. Wet Seal said last week that it had received a default notice on $27 million in debt. The company's creditor has given Wet Seal until Jan. 12 to pay what it owes.
The last few years for Wet Seal has been marked by boardroom drama, a revolving door of top level management and allegations of racial bias in its hiring process.
Its current chief executive, Edmond Thomas, replaced John Goodman, who stepped down in September. Goodman had taken the CEO job from Susan McGalla in 2012. Thomas was previously CEO of Wet Seal before leaving in 2011.
Wet Seal was once a favorite among fashion-conscious teenagers but has fallen out of favor as its target customers flock to fast-fashion rivals such as H&M and Forever 21. The company has lost more than $150 million in the last two years. In its third quarter, Wet Seal reported a loss of $36 million, compared with a loss of $12.5 million in the same quarter a year earlier.
In recent years, activist shareholder Clinton Group has pressed the clothing chain to sell itself and take the company private.
In 2012, the New York investment firm succeeded in ousting most of the board members -- including the chairman -- and replacing them with directors it approved. Greg Taxin, who led that proxy fight as managing director of the Clinton Group before leaving in October, was appointed to the Wet Seal board last year. Reached by phone, he declined to comment.
Wet Seal also became mired in a racial-discrimination lawsuit that accused the retailer of firing black employees in favor of hiring white workers.
An investigation by the U.S. Equal Employment Opportunity Commission found evidence that Wet Seal corporate managers openly stated that to be profitable the stores had to retain workers with "the Armani look" -- meaning thin, blond and blue-eyed. Wet Seal agreed to pay $7.5 million to settle the lawsuit.
For more retail news, follow @ByShanLi on Twitter.
---
Your guide to our new economic reality.
Get our free business newsletter for insights and tips for getting by.
You may occasionally receive promotional content from the Los Angeles Times.