Downtown L.A. 'Metropolis' deal under negotiation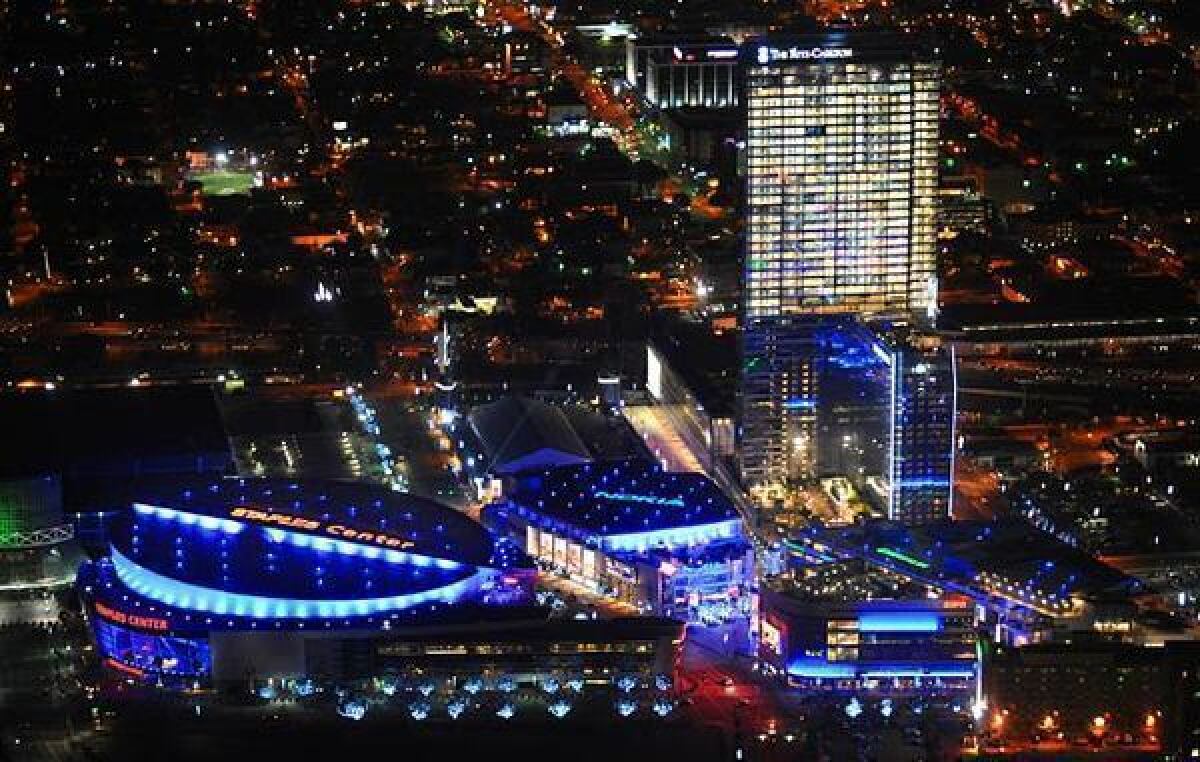 Negotiations are underway for the sale of a prime 6.3-acre slab of empty land in downtown Los Angeles near the Staples Center and the L.A. Live entertainment complex.
A Shanghai-based real estate company called Greenland Holdings Group announced late last week that it had signed a "corporation agreement" to buy the development project, known as Metropolis.
But the current owners -- a joint venture between IDS Real Estate Group and the California State Teachers' Retirement System -- caution that there has not been an official deal completed, despite media reports.
PHOTOS: 5 tallest buildings in L.A.
Reports that the property sold for $1 billion are completely untrue, said Patrick Spillane, the senior vice president at IDS Real Estate Group. "There's a lot of erroneous information."
The vast parcel of land that is currently used as a parking lot went on the market in March and comes with city-approved plans for the construction of 1.65 million square feet of hotels, multifamily housing, offices and stores within five separate buildings, he said.
Spillane would not comment on whether the owners were discussing selling all or part of the development, nor would he speculate on when a deal might be reached.
According to Greenland's July 26 statement, construction could start within six to nine months and would cost about $1 billion to finish.
The actual price of the land, however, would be nowhere near that amount, Spillane said, and no price for the property has been set. But downtown land recently traded for nearly $500 a square foot, which could amount to as much as $140 million for the Metropolis land.
Michael Soto, a Southern California research manager at real estate firm Transwestern, estimated the asking price is between $100 million and $125 million, but he "wouldn't be surprised if the final price came in above the asking price," he said.
Regardless of the price, Soto said it would be great to see construction begin on the project that has been in the works for quite some time. It was intended for one of the biggest, most dramatic proposed developments of the 1980s commercial real estate boom.
The parcel was assembled in the late 1980s by developers who promised a "city within a city" on the block bordered by the 110 Freeway and Francisco Street, 8th and 9th streets.
"You have to think the new buyers have a long-term kind of plan for the site," Soto said. "They're not looking to develop this in a year or two, even though they do want to start construction soon."
Nicole Liu in the Times' Beijing bureau contributed to this report.
ALSO:
Home flipping frenzy returns to Southland real estate market
West L.A. office building sells for $54 million
Thomas Properties angling to buy out CalSTRS in joint venture
---
Sign up for the California Politics newsletter to get exclusive analysis from our reporters.
You may occasionally receive promotional content from the Los Angeles Times.