60% of world's population still won't have Internet by the end of 2014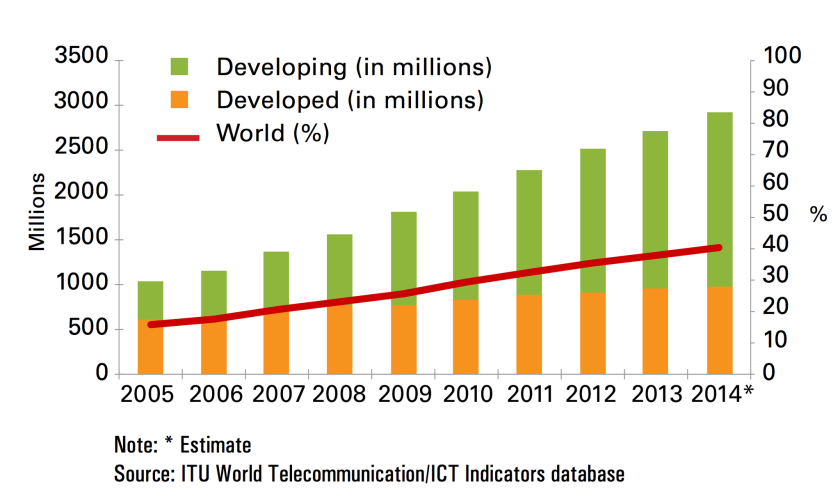 The United Nations this week released a report that says nearly 3 billion people will have access to the Internet by the end of 2014.
That means 60% of the world's population -- about 4.2 billion -- will remain unconnected.
The report says 78% of people in developed countries are expected to have access to the Internet, but in countries that are still developing, the percentage of connected users drops dramatically. In those countries, only 32% of the population is expected to have access to the Internet by the end of the year.
Separated by regions, Africa has the lowest percentage of connected people, with only 20% of the population expected to have Internet access by the end of the year. However, Africa is also the region that is seeing the most rapid growth.
When it comes to mobile access to the Internet, the number of Africa's mobile-broadband subscribers has a growth rate of more than 40%. By the end of 2014, 20% of Africa's population will have access to the Internet through their phones, up from 2% in 2010.
By contrast, 75% of Europe's population has access to the Internet, followed by 65% access from those in North and South America.
To get more people connected, Facebook and Google have both begun efforts to increase access.
Last year, Facebook formed Internet.org, which is a coalition of companies whose mission is to bring cheap Internet access to everyone in the world. To do this, Facebook spent $20 million this year to acquire Ascenta, a U.K. aerospace company. The hope is to build drones capable of flying for extended periods of time that can beam Internet access to those below.
Similarly, Google has been working on Project Loon for some time. That effort uses giant balloons to deliver Internet access to users below. Earlier this year, Google also acquired Titan Aerospace, and said the startup, which builds drones, will work closely with Project Loon.
---
Get our weekly Business newsletter
Tips for how you and your finances can get through the pandemic.
You may occasionally receive promotional content from the Los Angeles Times.