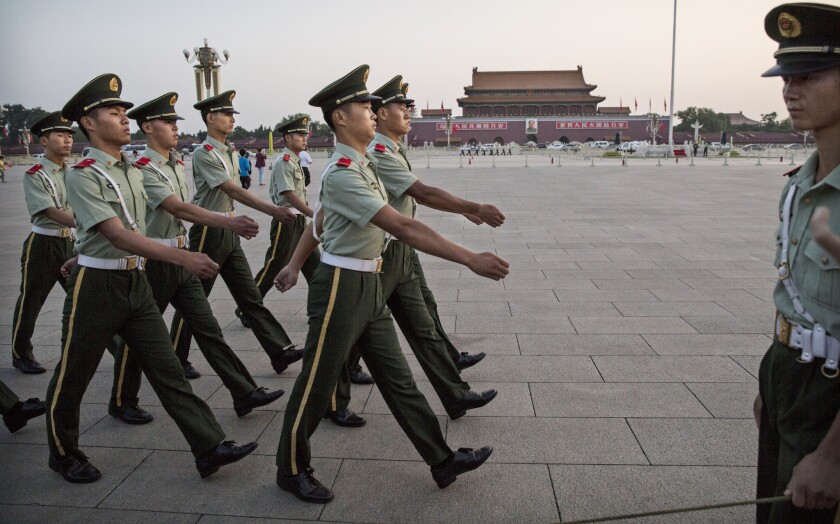 Two prominent Chinese artists are believed to have been detained in China in recent weeks after creating works of art to commemorate the 25th anniversary of the Tiananmen Square massacre.
Guo Jian, who lives in Bejiing, was taken into custody earlier this week by Chinese authorities after giving interviews with the Financial Times and other foreign media outlets in which he discussed a Tiananmen-themed sculpture that he was creating.
Separately, artist Chen Guang was reportedly detained by authorities after presenting a performance-art piece about the 1989 Tiananmen protests.
Guo, 52, was detained by Chinese authorities on Sunday and his whereabouts are currently unknown, according to reports. The artist, who was a protester during the 1989 massacre, holds dual Chinese and Australian citizenship and lives in Songzhuang, an artist's colony on the outskirts of Beijing.
The Australian government has expressed concern over the reports, with a spokesman for its embassy in Beijing telling the Australian Broadcasting Corp. that the embassy "has contacted Chinese authorities to seek further information on the reported detention of Mr. Guo Jian and to underline our strong interest in the matter."
In interviews with the Financial Times and the ABC, Guo discussed a diorama-like sculpture he was creating that depicts Tiananmen Square using ground pork and other items. He recounted the 1989 protests to the Financial Times, saying that "when the Chinese government says you are a counter-revolutionary, you are in really big trouble."
Chen, also from Beijing, was taken into custody in early May, according to reports from the New York Times and National Public Radio. The reports said his performance-art piece addressed the Tiananmen Square incident and was a private performance attended by a group of invitees.
Chen's whereabouts remain unknown after nearly a month since his detention.
The Tiananmen Square crackdown took place on June 4, 1989. Thousands of student protesters had occupied the Beijing square demanding democratic reform in China's communist leadership. Government leaders ultimately condemned the protests as counter-revolutionary and the military took action against the demonstrators, resulting in several hundred deaths.
---