Jeffrey Deitch teaming up with 'The Wolfpack' documentary brothers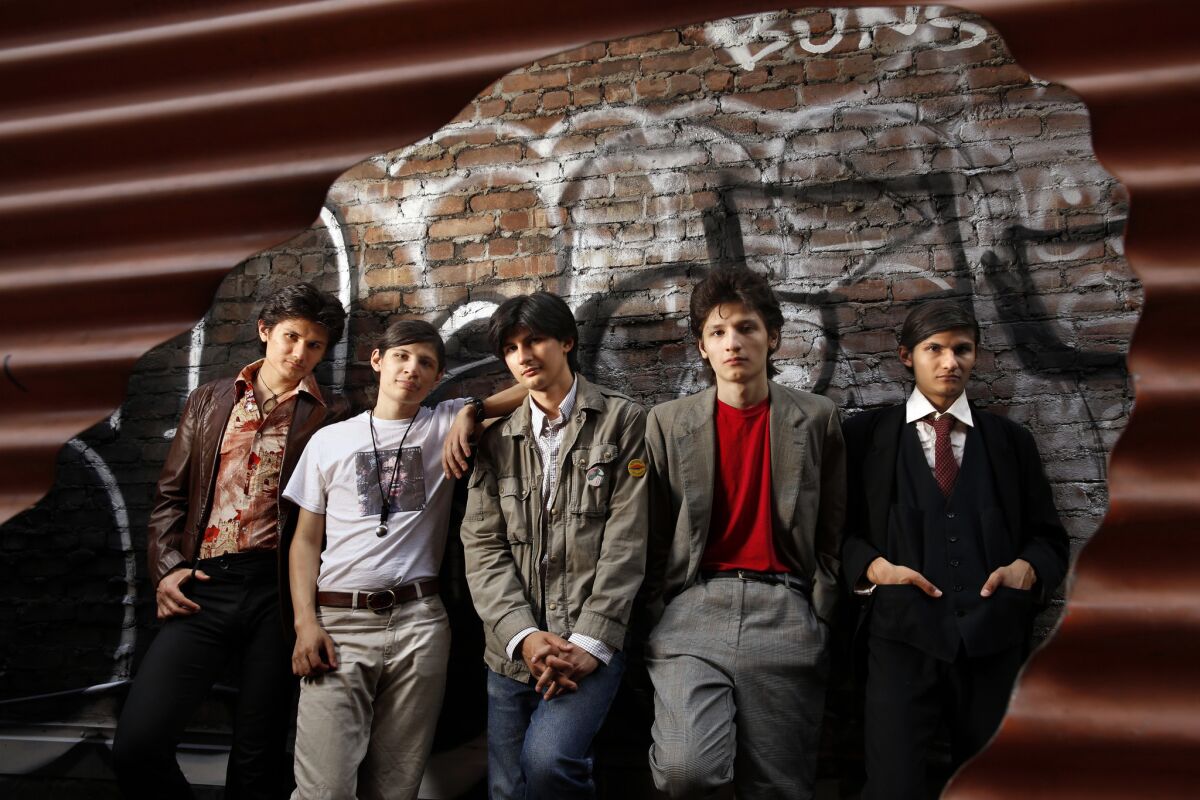 Jeffrey Deitch, the former director of the Museum of Contemporary Art, is teaming up with the Angulo brothers, the young film buffs featured in the recent documentary "The Wolfpack," to create a gallery show based on the movie-related costumes, scripts and props that the Angulos created in their years of isolation.
"The Wolfpack Show," set to open Oct. 21 at Deitch's New York gallery, also will feature the premiere of a short movie titled "Window Feel" created by one of the Angulo brothers. The gallery show coincides with the launch of a book, "Wolves Like Us: Portraits of the Angulo Brothers," and the DVD release of the documentary.
The six brothers were raised in seclusion in New York's Lower East Side. Along with their sister, they were home-schooled by their parents and largely forbidden to have contact with others outside their small apartment.
SIGN UP for the free Essential Arts & Culture newsletter >>
As recounted in the documentary, the brothers' sole contact with popular culture was through DVDs, allowing them to become film buffs at an early age. Together, they created costumes and rudimentary props to enact scenes from their favorite movies, including Quentin Tarantino's "Reservoir Dogs" and "Pulp Fiction."
"The Wolfpack," directed by Crystal Moselle, debuted this year at the Sundance Film Festival, where it won the top documentary prize, and was released commercially to acclaim this summer. The movie follows the brothers as they rebel against their isolation and gradually enter society.
Deitch's Soho gallery show is expected to feature objects made by the brothers from 2010 to 2015, as well as photographs of the brothers by Dan Martensen.
"Window Feel" is written and directed by Mukunda Angulo and features members of his immediate family. The six brothers are Mukunda, Govinda, Narayana, Jagadisa (who goes by Eddie), Bhagavan and Krisna (who goes by Glenn).
Deitch resigned as the director of MOCA in Los Angeles in 2013, following a rocky tenure.
"The Wolfpack Show" is scheduled to run Oct. 21 to Nov. 1.
Twitter: @DavidNgLAT
MORE:
Echo Theater's feud with playwright takes some strange twists
Alibaba founder Jack Ma sells his own painting for $5.4 million
Deaf West's 'Spring Awakening' struggling at Broadway box office
---
Get our daily Entertainment newsletter
Get the day's top stories on Hollywood, film, television, music, arts, culture and more.
You may occasionally receive promotional content from the Los Angeles Times.