Column: Datebook: Suspended color field canvases, California landscapes, a new space debuts
The innovative works of a color field painter. Art that explores questions of labor. And isolated desert homesteads as rendered by a California painter. Plus: California landscapes that play with the texture of air and a new space in Boyle Heights opens its doors. Here are five shows to see this week:
Sam Gilliam, "Green April," at David Kordansky Gallery. A new exhibition of large-scale works by the Washington, D.C.-based painter focuses on works from the late 1960s and early '70s — many of which have never been exhibited. This includes his so-called slice paintings (in which he folds a canvas with wet acrylic paint in half to create an abstracted imprint) as well as his drape paintings, stretcher-less canvases that he suspends from the walls and ceilings of an exhibition space. Opens Saturday and runs through July 9. 5130 Edgewood Place, Mid-Wilshire, Los Angeles, davidkordanksygallery.com.
Andrea Bowers, "Triumph of Labor," at Susanne Vielmetter Los Angeles Projects. Bowers is an artist who has long been interested in questions of politics and labor. In this, her fourth solo exhibition at Vielmetter, she looks into different types of labor activism. This includes a series of drawings inspired by historic political graphics of women, photographs she has taken at labor rallies and her photo-realistic drawings of activists. A final gallery displays two sculptures that explore the dilemma of low wages and high tuition in higher education. Opens Saturday and runs through July 9. 6006 Washington Blvd., Culver City, vielmetter.com.
"Edges of Chaos: Promoting Madness and Dissent in the '90s," at PSSST. The new Boyle Heights art space is opening its doors with a series of programs organized by artist-in-residence Guadalupe Rosales, who manages the veteranas_and_rucas archive on Instagram, and independent curator Adrian Rivas. This includes video screenings, a dance party, a daytime DJ session and a sound performance. Check the websites for more listings. 1329 E. Third St., Boyle Heights, Los Angeles, pssst.xyz.
Deanna Thompson, at Kayne Griffin Corcoran. The California painter has a posthumous exhibition (she died last year) that brings together images of isolated desert homesteads and paintings of cars. They are simple works that emanate a vibrating intensity. Opens at 3 p.m. Saturday and runs through July 30. 1201 S. La Brea Ave., Mid-Wilshire, Los Angeles, kaynegriffincorcoran.com.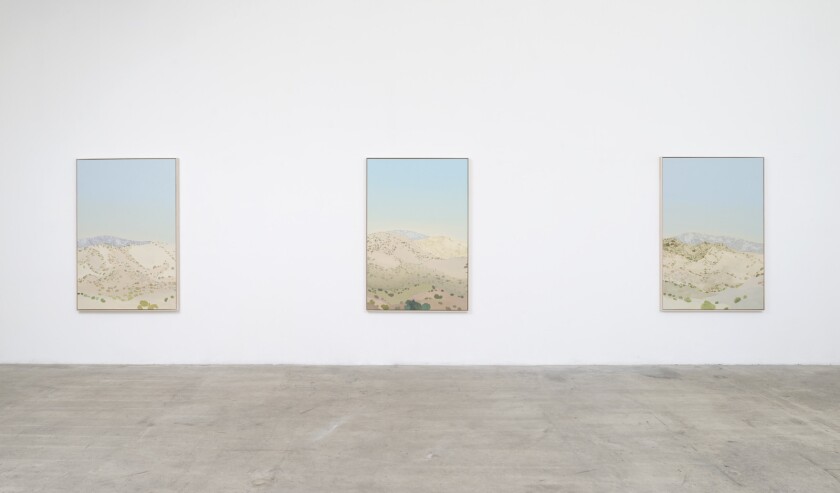 Jake Longstreth, "Carbon Canyon," at Ltd. Los Angeles. In his first solo exhibition at the gallery, the Los Angeles-based artist is presenting a series of paintings that capture that space where landscape meets sky (especially when seen through hazy California air). Seven new large-scale works riff on the nature of land and air and that nebulous particulate layer in between. Through June 30. 7561 W. Sunset Blvd., #103, Hollywood, ltdlosangeles.com.
FINAL WEEK
DO NOT MISS: Amy Park, "Ed Ruscha's Every Building on the Sunset Strip" at Kopeikin Gallery.Park takes Ruscha's iconic 1966 photo book, which documented every building on West Hollywood's Sunset Strip, and re-creates it as a series of exquisitely rendered watercolor paintings — a 97-foot immersive environment that wraps the gallery and therefore the viewer. It's a new way of seeing a familiar Los Angeles work. Through Saturday. 2766 S. La Cienega Blvd., Culver City, kopeikingallery.com.
ONGOING EXHIBITIONS
Joan Snyder, "Womansong," at Parrasch-Heijnen. The prominent abstract painter has seven new canvases on view at this new Boyle Heights space, which explore aspects of landscape and the female figure, as well as one of the early "stroke" paintings for which she is well known. These are canvases composed of bold strokes of paint on gridded backgrounds — works that ride the divide between abstraction and conceptualism. Through June 10. 1326 S. Boyle Ave., Los Angeles, parrasch-heijnen.com.
"43: From Ayotzinapa to Ferguson," at Self Help Graphics & Art. In partnership with the Social Public Art Resource Center (SPARC), the venerable Eastside print workshop and gallery is bringing together a panoply of L.A. artists — including David Botello, Sandy Rodriguez and Eye.One — to take on the issue of abuses of the state around the Americas. Through June 10. 1300 E. 1st St., Boyle Heights, Los Angeles, selfhelpgraphics.com.
"A Shape That Stands Up," at Art + Practice. A group show that treads the line between abstraction and figuration features works by Amy Sillman, Henry Taylor, Sadie Benning and a host of other interesting names. Through June 18. 4339 Leimert Blvd., Leimert Park, Los Angeles, artandpractice.org.
Elliott Hundley "There is No More Firmament," at Regen Projects. The Los Angeles-based artist is known for his wild fusions of collage, assemblage, photography and painting — producing wall objects that come off as totally painterly, yet providing endless layers for the viewer to get lost in. For his fourth show at Regen, he has created a series of works inspired by the work of 20th century French dramatist Antonin Artaud. Expect a riotous, engrossing, obsessive tour examining different states of anxiety. Through June 18. 6750 Santa Monica Blvd., Hollywood, regenprojects.com.
Ivar Wigan, "The Gods," at Little Big Man Gallery. In recent years, the Scottish photographer has devoted himself to capturing the street culture associated with the urban music scene of the American South in cities as varied as Miami, Atlanta and New Orleans — capturing fall-of-Rome revelry but also social marginalization. Through June 21. 1427 E. 4th St., downtown Los Angeles, littlebigmangallery.com.
Morgan Fisher and Karina Nimmerfall, "Past Future Housing," at the MAK Center. This exhibition brings together two artists — one German, one from Los Angeles — who look at the question of mass-produced housing in the United States. This includes the creation of a fictional prototype for a new utopian city inspired by historic development plans for Los Angeles. Through June 25. Mackey Garage Top, 1137 S. Cochran Ave., Mid-Wilshire, Los Angeles, makcenter.org.
"Peter Opheim: Fables of the Eleven Rooms and Six Houses," at Zevitas Marcus. Opheim paints clay renderings of bulbous Venus of Willendorf-ish figurines that are charmingly grotesque. The show includes 11 paintings, as well as a series of sculptures made from the discarded clothing of friends and family members. Through June 25. 2754 S. La Cienega Blvd., Culver City, zevitasmarcus.com.
Wallace Berman, "American Aleph," at Kohn Gallery. This is the first comprehensive Los Angeles retrospective for the pioneering Southern California assemblage artist in roughly four decades. The artist, who was also the publisher of the influential arts and literary magazine Semina, had an international influence. The exhibition gathers works from the 1940s to his death in 1976, including numerous examples of his Verifax collages, photocopied and painted assemblages that play with the tropes of popular culture. This is one not to miss. Through June 25. 1227 N. Highland Ave., Hollywood, kohngallery.com.
Ed Moses, "Moses@90," at William Turner Gallery. To celebrate the prominent L.A. painter's 90th birthday, this survey exhibition gathers works from throughout his career. This includes drawings from the 1950s to the 1970s, his more gestural paintings from the 1990s, as well as a slew of recent works. Through June 25. Bergamot Station, 2525 Michigan Ave., E-1, Santa Monica, williamturnergallery.com.
"Making Waves: Japanese American Photography, 1920-1940," at the Japanese American National Museum. In the early 20th century, groups of Japanese American photographers all along the Pacific coastline launched photography clubs, through which they published and exhibited their work. Their striking imagery — ranging from abstract compositions to scenes of everyday life — drew the attention of artists such as Edward Weston and László Moholy-Nagy. Unfortunately, much of their work was destroyed or lost when Japanese Americans were sent to internment camps by the U.S. government during World War II. But examples remain and JANM has gathered more than 100 of these prints for a show that explores the history and legacy of the clubs. Through June 26. 100 N. Central Ave., Los Angeles, janm.org.
Olayami Dabls, "Flags Erotic Rights," at Henry Taylor's. An artist, historian and curator from Detroit, Dabls is known for his extensive collection of African beads, textiles and other cultural objects. But he is also an artist, and for his Los Angeles exhibition, he is showing three bodies of work created over three decades. This includes his flag paintings from the mid-1980s, a series devoted to civil rights from that same era and an African erotica series from the mid-2000s. Through June 30. 810 E. 3rd St., downtown Los Angeles, facebook.com.
"Salomón Huerta," at Christopher Grimes Gallery. A new series of works by the Los Angeles artist features his watercolor portraits of celebrated boxers, including Muhammad Ali, Rocky Marciano and Mike Tyson — an intimate look at the hyper-masculine figures of one of the world's most brutal sports. Opens at 6 p.m. Saturday and runs through July 1. 916 Colorado Ave., Santa Monica, cgrimes.com.
John Humble, "DTLA," at Craig Krull Gallery. Humble has been shooting Los Angeles since 1979, capturing its asphalt, signage and its buffed graffiti. His show at Craig Krull explores downtown Los Angeles, with a focus on the neighborhood's wild contrasts in architecture and its overlapping cultures. There will also be a show of paintings by Dan McCleary, as well as prints by Javier Carrillo, Roberto Ortiz and Jairo Perez of the Art Division Print Collective. Through July 2. Bergamot Station, 2525 Michigan Ave., Santa Monica, craigkrullgallery.com.
Helen Rae, at Good Luck Gallery. Rae produces drawings that take fashion magazines as a point of inspiration for bright scenarios that channel the otherworldly. In each piece, something familiar remains, but coupled by elements that feel inventively sci-fi. Through July 2. 945 Chung King Road, thegoodluckgallery.com.
"Refenestration," at Tif Sigfrids. A group exhibition inspired by the window, from the opening on a wall to the computer program of the same name, features works by key photographers such as John Divola, Uta Barth and Jeff Welling, who have used the object — or the idea of the object — in wildly experimental ways. Through July 2. 1507 Wilcox Ave., Hollywood, tifsigfrids.com.
"Urbanature," at the Alyce de Roulette Williamson Gallery at ArtCenter College of Design. A group exhibition looks at the increasingly fraught ways in which the urban intrudes on natural world — and the ways in which nature has adapted to this new human-centric reality. Through July 3. 1700 Lida St., Pasadena, artcenter.edu.
"C.O.L.A. 2016," at the L.A. Municipal Art Gallery. Every year, the Municipal Art Gallery features work by the winners of the City of Los Angeles (C.O.L.A.) Artist Fellowships, which honor a dozen mid-career artists from around the city — one of the rare municipal programs to directly fund artists in the United States. This year, the visual arts winners include Paolo Davanzo, Marsian De Lellis, Keiko Fukazawa, Megan Geckler, Won Ju Lim, Sarah Maclay, Blue McRight, Sandeep Mukherjee and Christine Nguyen. A separate public event in Grand Park will honor C.O.L.A.'s three literary winners: Sarah Maclay, Claudia Rodriguez and Lynne Thompson. The art exhibition runs through July 3; 4800 Hollywood Blvd., Hollywood. A reading with the literary winners will take place at Grand Performances at 7 p.m. June 11 at California Plaza, 350 S. Grand Ave, in downtown Los Angeles, lamag.org.
"Marilyn Minter: Pretty/Dirty," at the Orange County Museum of Art. The New York-based painter and photographer has long played with the tropes of feminine beauty in works that seamlessly stir the alluring with the mildly grotesque. Through July 10. 850 San Clemente Drive, Newport Beach, ocma.net.
Alex Israel, at the Huntington. In 2012, the San Marino library and museum unveiled the first of its contemporary interventions with low-key works by Ricky Swallow and Lesley Vance. Now the museum is getting bolder, with a series of installations by painter Alex Israel, whose pop-inspired canvases and objects touch on topics such as celebrity, glamour and power. Through July 11. 1151 Oxford Road, San Marino, huntington.org.
Fred Reichman and Eleanor Ray, at the Landing. Artists from opposing coasts (he from postwar San Francisco, she from contemporary New York) produce paintings that ruminate on mundane settings. Reichman depicts spare backgrounds and quiet scenes: A sleeping figure, a brooding cat, an open window. Ray, in the meantime, depicts quiet studios and fragments of urban settings. Through July 16. 5118 W. Jefferson Blvd., West Adams, Los Angeles, thelandinggallery.com.
José Montoya, "Abundant Harvest: Works on Paper / Works on Life," at the Fowler Museum. Throughout his life, activist, poet and painter Jose Montoya drew — on whatever was at hand: napkins, hotel stationery and notebooks. And in those drawings he recorded the quotidian aspects of Mexican American life in the United States: dogs and children, women and sailors, pachucos and pachucas, the architecture of low-lying Central Valley neighborhoods, industrial warehouses and agricultural settings, as well as the glamorous profile of lowrider cars. It is the first comprehensive look at this vital Chicano artist's drawing practice. Through July 17. UCLA, 308 Charles E. Young Drive N., Westwood, fowler.ucla.edu.
Robert Mapplethorpe, "The Perfect Medium," at the L.A. County Museum of Art and the Getty Museum. A two-part exhibition spread over a pair of L.A. museums explores the photographic legacy of an artist who brought as much grace to images of flowers as he did to S&M. The LACMA portion features early drawings, collages, sculptures, Polaroids, still lifes and archival material. The Getty will present his more formal portraits, along with the infamous "X Portfolio," with its elegant S&M imagery. The LACMA runs through July 31. 5905 Wilshire Blvd., Miracle Mile, Los Angeles, lacma.org. The Getty exhibit also runs through July 31. 1200 Getty Center Drive, Brentwood, Los Angeles, getty.edu.
"Royal Hawaiian Featherwork: Na Hulu Ali'l," at the Los Angeles County Museum of Art. For centuries, long cloaks, capes, and other attire were painstakingly layered with the bright plumage of birds. Today, fewer than 300 examples of these exquisite garments exist — which makes this show of feather works, once donned by Hawaiian royals as far back as the late 18th century, a rare treat. Through Aug. 7. 5905 Wilshire Blvd., Mid-Wilshire, Los Angeles, lacma.org.
"Routine Pleasures," at the MAK Center. Michael Ned Holte, who served as curator on the last Made in L.A. biennial at the Hammer, has put together a group show that focuses on artists who value focus and process over producing shiny objets — "termite" art as opposed to "white elephant" art. This includes works from L.A. artists such as Harry Dodge, ceramists Magdalena Suarez Frimkess and Michael Frimkess, sound artist Steve Roden and others. Just the antidote to overheated art market shows. Through Aug. 14. Schindler House, 835 N. Kings Road, West Hollywood, makcenter.org.
"Sam Maloof Woodworker: Life/Art/Legacy," at the Maloof Foundation. The foundation is celebrating the centennial of the birth of the renowned Southern California woodworker, whose elegant objects and furnishings are in the collections of the Metropolitan Museum of Art, the L.A. County Museum of Art and the Smithsonian. The exhibition will feature more than 60 objects from throughout the artist's life, including furnishings, drawings, photographs and other ephemera. The show is part of a year's worth of events that will celebrate Maloof's life and work. Through Aug. 27. 5131 Carnelian St., Alta Loma, malooffoundation.org
"In Focus: Electric!" at the Getty Museum. Electricity: It powers your home, it powers your work and it powers the phone on which you are likely reading this post. This photographic exhibition at the Getty gathers historic images that showcase the allure of light and power. Through Aug. 28. 1200 Getty Center Drive, Brentwood, Los Angeles, getty.edu.
"Art of the Austronesians: The Legacy of Indo-Pacific Voyaging," at Fowler Museum. A look at the legacy of Austronesian-speaking peoples gathers art and artifacts from the Philippines, Indonesia and other points in the South Pacific. This includes nearly 200 works, from wood sculptures to ceremonial textiles to canoe prow ornaments. Through Aug. 28. 308 Charles E. Young Drive N., Westwood, fowler.ucla.edu.
"Duchamp to Pop," at the Norton Simon Museum. Drawing mostly from the Norton Simon's permanent collection, this exhibition looks at the influence Duchamp likely had on generations of artists, from assemblagists to pop painters — figures who have appropriated elements of the everyday world and transformed them into art. Through Aug. 29. 411 W. Colorado Blvd., Pasadena, nortonsimon.org.
"Revolution in the Making: Abstract Sculpture by Women, 1947-2016," at Hauser Wirth & Schimmel. The debut exhibition at the city's newest gallery tackles more than half a century of sculpture by women, featuring key works by important international figures (Louise Bourgeois, Lee Bontecou) and key California artists (Ruth Asawa, Clare Falkenstein). Pieces range from the ethereal (Lygia Pape's golden threads) to downright hilarious (Lara Schnitger's lacy/cat/fur assemblage sculptures). Altogether, the show offers an alternative to the narrative of the macho man postwar painting scene that has so dominated the story of 20th century art. Through Sept. 4. 901 E. Third St., Los Angeles, hauserwirthschimmel.com.
"Gronk's Theater of Paint," at the Craft and Folk Art Museum. The Los Angeles artist Gronk (born Glugio Nicandro) is widely known for his career as a painter, conceptual artist and for his work with the inventive 1970s collective Asco. He is also a longtime set designer, one who has built and painted elaborate sets for performances, plays and avant-garde operas, including works by the celebrated director Peter Sellars. This exhibition that tracks a long-running practice that melds art and architecture with the theatrical. Through Sept. 4. 5814 Wilshire Blvd., Mid-Wilshire, Los Angeles, cafam.org.
"Claire Falkenstein: Beyond Sculpture," at the Pasadena Museum of California Art. The 20th century California artist, whose name has is circulating once again after being included in the debut exhibition at Hauser Wirth & Schimmel, is now the subject of her own retrospective, tracking her entire career, from the 1930s to the '90s. (She passed away in 1997.) The artist, who worked in San Francisco and Los Angeles — as well as Paris — produced prints and murals, among other works, but she is best known for her sculpture: in particular, her often gritty assemblages made out of wire studded with chunks of glass. Through Sept. 11. 490 E. Union St., Pasadena, pmcaonline.org.
Hito Steyerl: Factory of the Sun, at the Museum of Contemporary Art. A video installation by the German artist takes the viewer into a dystopia where the movements of workers are harvested to create artificial sunshine. The piece, which debuted at the Venice Biennale in 2015, is a mash-up of contemporary communication, told as video game, news report documentary film and Internet video. Through Sept. 12. MOCA Grand Ave., 250 S. Grand Ave., Los Angeles, moca.org.
"Reflections on the Self," at the California African American Museum. Drawn from the museum's permanent collection, this wide-ranging exhibition looks at the representation of the self, examining the idealized and mythicized ways that artists have portrayed pop and cultural icons, from Malcolm X to Thelonious Monk to a New Orleans grand marshal. Also on view at the museum is "Oh Snap! West Coast Hip Hop Photography," which will feature an array of hip-hop artists who came up in the '90s, such as Ice Cube, Tupac Shakur and others. Through Sept. 18. 600 State Drive, Exposition Park, Los Angeles, caamuseum.org.
"MOLAA at Twenty: 1996-2016," at the Museum of Latin American Art. The Museum of Latin American Art in Long Beach is celebrating two decades in existence with a show that draws from the museum's permanent collection of more than 1,600 objects. These include works by renowned Modernists Joaquín Torres-García and Wifredo Lam, Argentine conceptualist León Ferrari as well as contemporary figures such as Alexandre Arrechea and Patssi Valdez. Through Jan. 1. 628 Alamitos Ave., Long Beach, molaa.org.
"Senses of Time: Video and Film-Based Works of Africa," at the Los Angeles County Museum of Art. For one of its long-term installations, the museum has gathered works of video or film by contemporary African artists that explore the body and the looping nature of time. This includes pieces by figures such as Yinka Shonibare, Sammy Baloji, Berni Searle, Moatax Nasr and Theo Eshetu. Through Jan. 2. 5905 Wilshire Blvd., Mid-Wilshire, lacma.org.
"Non Fiction" at the Underground Museum. An emotionally charged exhibition curated by the late Noah Davis, in collaboration with the Museum of Contemporary Art Los Angeles brings together works that explore issues of race and violence. This includes important works from MOCA's permanent collection by artists such as Robert Gober, Kara Walker, Henry Taylor and David Hammons. Through March 2017. 3508 W. Washington Blvd., Arlington Heights, Los Angeles, theunderground-museum.org.
"Geographically Indeterminate Fantasies," hosted by Providence College Galleries. Don't worry if you're nowhere near Providence College in Rhode Island. A new digitally-minded exhibition by the art writing team at Art F City features more than two dozen works by artists who use animated GIFs to create work — from Brenna Murphy's dizzying electronic architecture to Jacolby Satterwhite's pulsing alternate universe. It's the sort of thing that will encourage you to spend quality time online (and away from awful Facebook). pcgalleries.providence.edu.
"Islamic Art Now: Part 2" at the Los Angeles County Museum of Art. Contemporary works from LACMA's permanent collection by 20 artists who live in or have roots in the Middle East look at questions of society, gender and identity. Runs indefinitely. 5905 Wilshire Blvd., Mid-Wilshire, lacma.org.
Find me on Twitter @cmonstah.
---
Your essential guide to the arts in L.A.
Get Carolina A. Miranda's weekly newsletter for what's happening, plus openings, critics' picks and more.
You may occasionally receive promotional content from the Los Angeles Times.