Critic's Choice: 'The Absolute Brightness of Leonard Pelkey' shines with humanity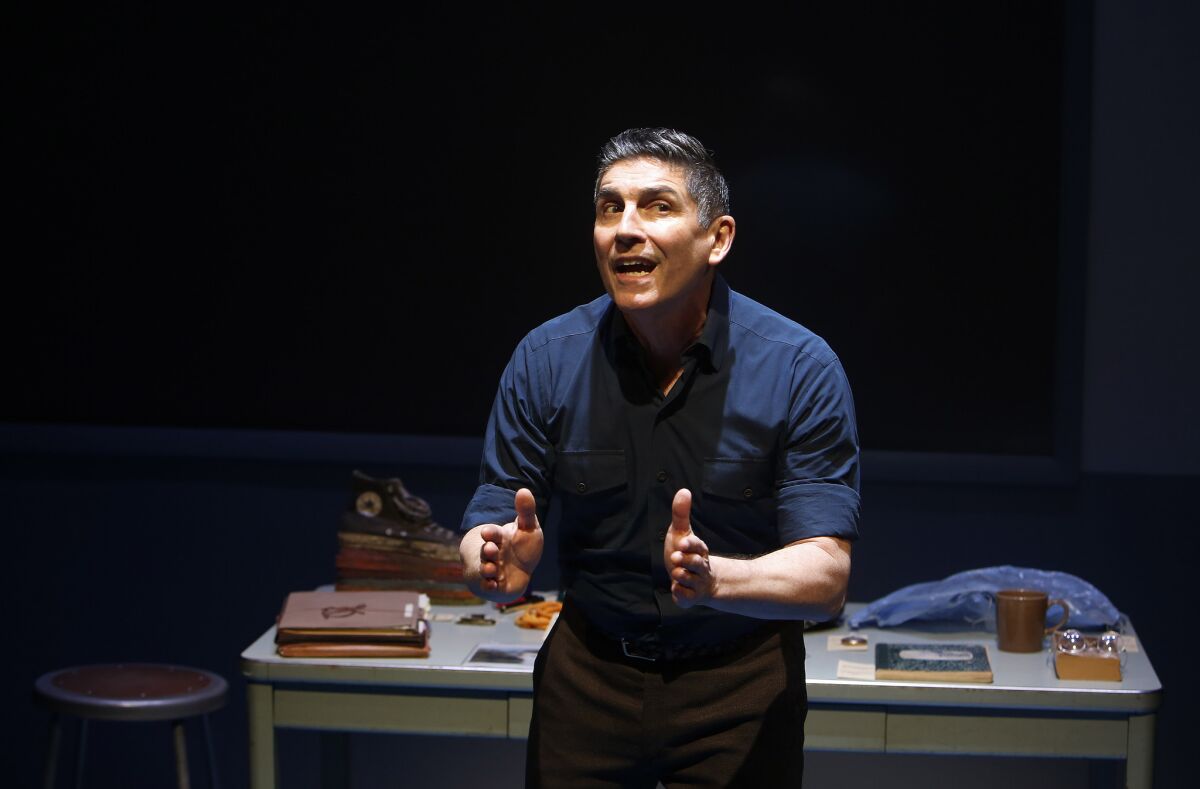 Los Angeles Times Theater Critic
There's nothing quite as gratifying as spending 90 minutes in the company of a gifted storyteller.
James Lecesne holds his audience rapt at the Kirk Douglas Theatre, where his solo show "The Absolute Brightness of Leonard Pelkey" is playing through the end of the month.
If you're the kind of person who enjoys human-centered stories, who can't resist a detective yarn no matter how basic and who enjoys watching an actor impersonate a town full of kooky yet hilariously recognizable characters, then click off the television and head to Culver City. This show, which was an off-Broadway sleeper, is what you've been waiting for.
The subject of this tale is the disappearance from a New Jersey town of a 14-year-old boy named Leonard Pelkey. Chuck DeSantis, a detective from a Godforsaken Jersey Shore precinct who gets a kick out of uttering famous lines from Shakespeare in his working-class accent, serves as our guide for a story that took place 10 years ago.
Lecesne begins with such guff, blue-collar masculinity that it's something of a shock when he morphs in a blink into Ellen Hertle, owner of a local beauty salon, who marches into his office with her 16-year-old disaffected daughter, Phoebe.
See more of our top stories on Facebook >>
Ellen reports the disappearance of Leonard, whom she has been raising after his mother (the ex-girlfriend of Ellen's useless brother) died. Phoebe tells the detective that Leonard is gay, but Ellen explains that he's just not like other boys.
What makes him so different? He enjoys giving Ellen's customers beauty tips, insisting that they update their hair color and buy smart black cocktail dresses. He tells his drama teacher that he must have wings to play Ariel, the fairy character from Shakespeare's "The Tempest." He cuts up flip-flops to make platform rainbow sneakers that only make him more of a target for neighborhood ruffians even though the shoes are pretty fabulous.
One of the sneakers, covered in mud, is recovered. But Leonard, whose image we have to imagine from a blurry photograph, remains missing. The production, staged with graceful economy by Tony Speciale, provides the perfect background for Lecesne's living narrative to shine.
Lecesne might not work out the details of this case with the shrewdness of Agatha Christie, but he manages to convey the meaning of this loss in a town that suddenly begins to feel the absence of such a creative, peacefully nonconforming spirit.
The author of the screenplay for "Trevor," the Oscar-winning short film that gave rise to the founding of the Trevor Project, an organization focused on suicide prevention among LGBT youth, Lecesne has a moral, but fortunately it's a darn good one. Chuck, musing in his Shakespearean way, asks when reflecting on the troubled yet inordinately bright life of Leonard: "Is there anything in this world more unexpected than a human being?"
"The Absolute Brightness of Leonard Pelkey" is an affecting and entertaining testament to the beauty of a world in which difference is celebrated rather than denigrated.
ALSO
'Timeshare' onstage: Good performances but still a bit of a fixer
Rainn Wilson finds the laughs in loneliness in 'Thom Pain (Based on Nothing)'
The theater world's loss of Myra Carter, Brian Bedford and Alan Rickman resounds
Get our L.A. Goes Out newsletter, with the week's best events, to help you explore and experience our city.
You may occasionally receive promotional content from the Los Angeles Times.