Review: A life told in tall tales; 'Big Fish' at the Chance Theater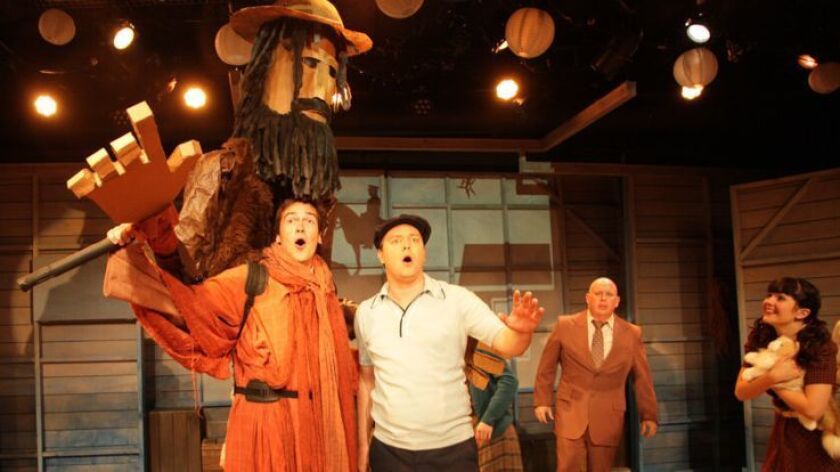 "Fish stories," we call them — those times when truth gets embellished in a bid to make the ordinary seem more important or exciting.
"Big Fish" — the 1998 novel, 2003 movie and 2013 stage musical — is built of such stories. The tale, you might recall, involves an Alabama traveling salesman who's remade his life into an elaborate mythology involving a witch, a giant, a werewolf and so forth. He's gregarious, a gifted storyteller; people love him. His adult son, however, is merely irritated. He longs to know the real man.
A mix of folk tale and highly charged drama, the story requires imaginative handling, and the Chance Theater is just the company to take it on. The Anaheim group has deftly handled that very mix in its productions of such musicals as "Dogfight," "Violet" and "West Side Story."
"Big Fish," however, proves a lot slipperier, partly due to problems with the story's construction and partly to weaknesses in the cast. These deflate a production that's otherwise quite wonderful.
Fantasy and reality, past and present mingle in what appears to be a family garage — repository of discarded memories — where the walls magically come alive with video projections that fuse the looks of shadow puppetry and fairy-tale-book illustrations.
When Edward Bloom (Jeff Lowe) regales his young son, Will (Jason Brewer), with the story of a fortunetelling witch, the stage fills with animate trees: dancers wearing limb-like headdresses and leafy capes. The shadow of a witch materializes on a wall, which parts to reveal a glamorous, raven-haired woman (Rachel Oliveros Catalano) in an iridescent green gown. Smirking at Edward and the boyhood pals who've dared to enter her woods, she "flies" — born aloft on the upraised arms of the dancer-trees — to confront them.
A needlessly feared giant named Karl, whom Edward befriends, is played by John Carroll, already plenty tall, with a gigantic puppet head and shoulders towering above his own. And the story's signature sequence, in which Edward woos his future wife by conjuring a field of daffodils, is throat-catchingly romantic, with flowers blooming on the walls while the cast carries in more. Then, whoosh: a cascade of petals.
This magic is the work of Nick Santiago, projections; Matthew Aldwin McGee, puppets; Bradley Kaye, set; and Bradley Lock, costumes. At the helm are a pair of Chance all-stars: director Oanh Nguyen and choreographer Kelly Todd.
A big, technologically flashy production of "Big Fish" got pummeled on Broadway in 2013 and closed after not quite four months. The Chance is presenting an alternate version developed in 2015. The cast is reduced (the Chance opts for 14 performers), with orchestrations for six players. Librettist John August, who also wrote the 2003 screenplay, based on Daniel Wallace's novel, and composer-lyricist Andrew Lippa, whose other main Broadway score is "The Addams Family," also retooled the story a bit, as well as the song lineup.
Much more than in the Tim Burton-directed movie, the action focuses on the drama of adult Will (Jared Price) resisting his father's fanciful tales while their wives (played, respectively, by Laura M. Hathaway and Monika Peña) try to convince Will: "If you understand the stories, you'll understand the man."
But this exacerbates a problem that has existed since the movie. Edward's tall tales feel truncated, underdeveloped, nor do they fully establish their roots in his everyday life.
Roof-raising music might make most everything else forgivable, but Robyn Manion's band isn't as tight as usual when she's music director at the Chance, nor are lead singers Lowe and Price capable of the vocal demands, however warm and empathetic they are as actors.
The women, though, deliver strong, sparkling performances, especially Hathaway as the wife and mother. And director Nguyen makes sure we see how much this family loves one another, despite misunderstandings.
Like rain showers in Alabama, tears are plentiful here, for in the end "Big Fish" shows us that every life is a succession of stories that we leave for others to remember us by.
SIGN UP for the free Essential Arts & Culture newsletter »
♦ ♦ ♦ ♦ ♦ ♦ ♦ ♦ ♦ ♦
'Big Fish'
Where: Chance Theater, 5522 E. La Palma Ave., Anaheim
When: 7:30 p.m. Thursdays, 8 p.m. Fridays, 3 and 8 p.m. Saturdays, 3 p.m. Sundays; ends July 29
Tickets: $36-$45
Info: (888) 455-4212, www.ChanceTheater.com
Running time: 2 hours, 30 minutes
Twitter: @darylhmiller
---
The complete guide to home viewing
Get Screen Gab for weekly recommendations, analysis, interviews and irreverent discussion of the TV and streaming movies everyone's talking about.
You may occasionally receive promotional content from the Los Angeles Times.