L.A.'s art world eagerly awaits 2017 opening of Marciano museum
Los Angeles' ever-expanding museum landscape spreads a little farther come spring with the opening of the Marciano Art Foundation.
The contemporary art museum from Guess co-founders Paul and Maurice Marciano will show painting, sculpture and photography along with installation, performance and multimedia works in a renovated former Scottish Rite Masonic Temple on Wilshire Boulevard near Koreatown.
The big question: Just how hungry is Los Angeles for contemporary art?
The Broad museum, which has been populating its Grand Avenue sidewalk with standby lines since opening a little more than a year ago, sits across the street from the Museum of Contemporary Art. And the former Santa Monica Museum of Art will reopen in the downtown Arts District this fall as the newly renamed Institute of Contemporary Art Los Angeles. It's not far from Hauser Wirth & Schimmel, the gallery with museum-quality exhibitions and events curated by former MOCA staffer Paul Schimmel. Meanwhile, the non-collecting Main Museum made a soft debut in downtown's Old Bank District in October.
"The way I see it, L.A. is probably the major contemporary art center in the world, not just in museums but also — and more importantly — because of all the artists living here and moving to L.A.," said Maurice, currently co-chair of the MOCA board. "I believe the more museums there will be, the more every museum will be successful in having a lot of visitors because more and more people will come to L.A. to visit them."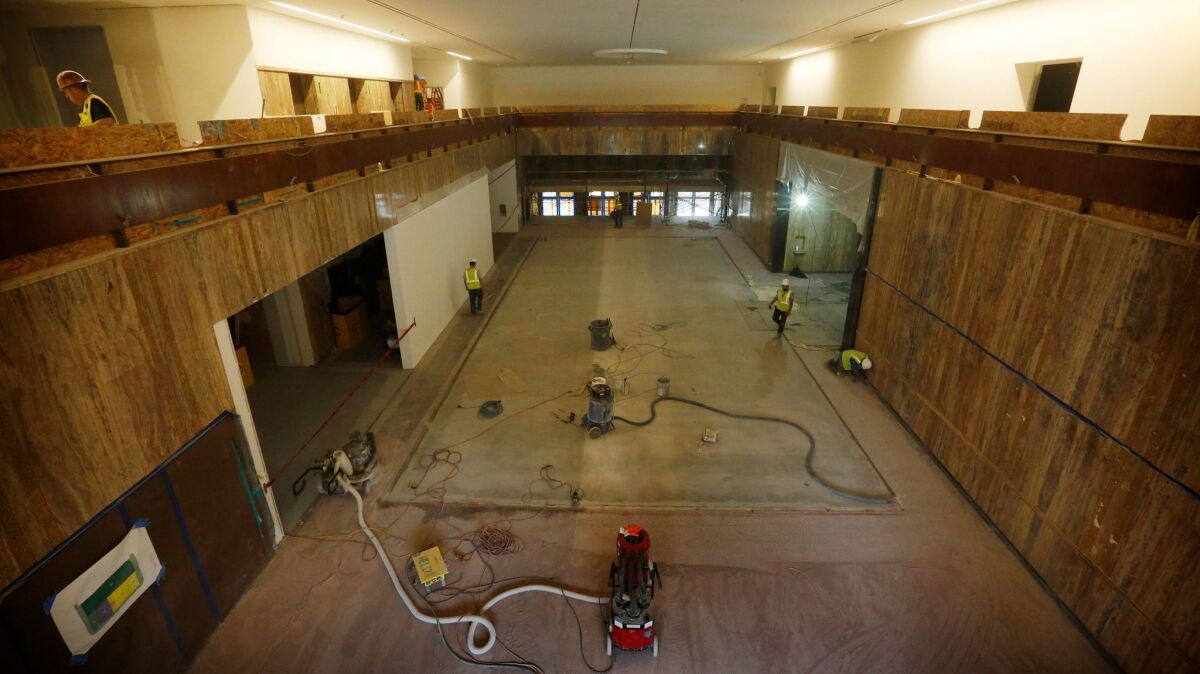 Maurice, who's been on MOCA's board since 2012, said his forthcoming institution is intended to function as a foundation, not a big museum. "It's gonna be much more groundbreaking, unconventional," he said. "You'll see artists that you already know, but a lot of really young artists who are not shown in museums yet."
The Marciano Art Foundation will be free, like the Broad and the Hammer in Westwood. It plans to distinguish itself with a collection of 1,500 objects, most created in the 1990s or later, that juxtapose established and mid-career artists such as Mark Grotjahn, Sterling Ruby, Paul McCarthy, Takashi Murakami and Mike Kelley with those aforementioned young or emerging artists, including Analia Saban, Oscar Tuazon and Danh Vō. "I like to show both because it shows the constant creativity in the contemporary art world," Maurice said.
Commissioning new work from artists, including pieces that respond to the Masonic temple, is also central to the Marciano Art Foundation's vision. Without a board of trustees — the venture is funded entirely by the Marciano brothers and doesn't yet have an endowment — the foundation can be nothing if not nimble in greenlighting new projects, said Jamie G. Manné, who will serve as the foundation's director.
"We can make things happen very quickly," she said.
Manné, an L.A. native who worked in galleries here and in New York before joining the foundation as collection manager seven years ago, has been steering art acquisitions. About 90% of the museum's collection, she said, has been amassed in the last seven years or so. The Marciano brothers began collecting art in the 1980s — Impressionist and post-Impressionist works at first, then postwar and contemporary art by the likes of Gerhard Richter, Morris Louis, Sam Francis, Donald Judd and Kenneth Noland. They stopped collecting in 1991 when the art market crashed and they sold off the majority of their works.
A 2007 Takashi Murakami retrospective at MOCA reignited Maurice's interest in collecting, and the brothers began buying art again. Their first purchase in 2009? A painting by Murakami.
The Marcianos established their art foundation in 2013, the same year they purchased the Wilshire building for $8 million from the Freemasons. L.A. artist Alex Israel, a childhood friend of Manné's, suggested the location to her. The Marcianos' painting-heavy collection is decidedly eclectic, Manné said, featuring mini-collections within it grouped by themes.
"Mediated abstraction is something we focus on," Manné said. "Some of it looks at Arte Povera and found materials, we have a lot of photography, we have work that looks at appropriation and institutional critiques, we have works that we consider under the contemporary sublime, this idea of nature and vastness and the unknown and being human. And we also have many works that look at televisuality and technology and entertainment and reality. And another that looks at identity politics."
The foundation aims "to go in deep" with certain artists, Manné said, such as Rudolf Stingel, Glenn Ligon, Christopher Wool, Ruby and Albert Oehlen.
The 110,000-square-foot building, designed by Millard Sheets in 1961 and left without a permanent tenant since 1994, is undergoing renovations steered by wHY Architecture's Kulapat Yantrasast, who's also designing ICA LA. The Marciano site will include two storage facilities to accommodate about half of the collection. A 2,000-plus-seat theater with balcony has been leveled to create the main gallery, and new interior walls were added throughout, so the exhibition space totals 65,000 square feet. Much of the original architectural detail is being preserved, the foundation said, including three Sheets murals and the building's exterior Italian marble statues of Egyptian and Roman gods, U.S. presidents and other historical figures.
A 5,000-square-foot sculpture garden by the entrance will feature works by Tuazon, Vō and Thomas Houseago, among others.
The mystery and allure of the original building factors heavily into the museum's identity, Manné said. Artists will be invited to respond to the space. Ryan Trecartin and Lizzie Fitch created a 49-minute, six-screen film, "Ledge," of the building interior prior to renovations. It will play inside a sculptural tent as part of the museum's inaugural exhibition.
Israel re-created a mural of local flora and fauna that he showed at the Consortium in Dijon, France, in 2013. It will span three walls on the mezzanine level.
The foundation is also working with Bard College professor Susan L. Aberth, who's an expert on secret societies. She's helping them curate a relic room featuring objects the Masons left behind, such as wigs, ritualistic hats and yellowed paper records.
"I think people are as excited about the building as the collections," Manné said. "There's just this great curiosity about it."
The inaugural installation of the museum's permanent collection, "Unpacking: The Marciano Collection," will be curated by former MOCA staffer Philipp Kaiser. It explores themes including the post-Pop movement and the idea of "artists as archaeologists," Manné said.
Also on view will be the exhibition "Jim Shaw: The Wig Museum," the artist's first West Coast solo show of old and new works. It will include site-specific pieces incorporating theatrical backdrops used by the Freemasons in ritual performances. The Marcianos found the signed pieces, created by Hollywood set designers for the Freemasons, in the rafters of the building.
Future shows will be organized by freelance curators — the museum will have no in-house curatorial staff — "to keep the collection fresh and bring different viewpoints," Manné said.
"We just wanted to share our collection and passion for art with the public," Maurice said. "But the main, main reason and the inspiration to do this is coming from all the artists who are living here in Los Angeles. We have such a vibrant community of artists living here. We wanted to give them a forum to express themselves by having exhibitions."
Follow me on Twitter: @debvankin
The arts buzzword of 2016: 'immersive'
Review: Frank Gohlke photographs vernacular truths in 'Texas Memories'
CalArts names Ravi Rajan president, the first Asian American to be named to the post
Painter Jonas Wood turns Arata Isozaki's MOCA exterior into building-sized art canvas
Get our L.A. Goes Out newsletter, with the week's best events, to help you explore and experience our city.
You may occasionally receive promotional content from the Los Angeles Times.