Brother rescues 400 lost works from storage unit by late Spanish artist Gil Cuatrecasas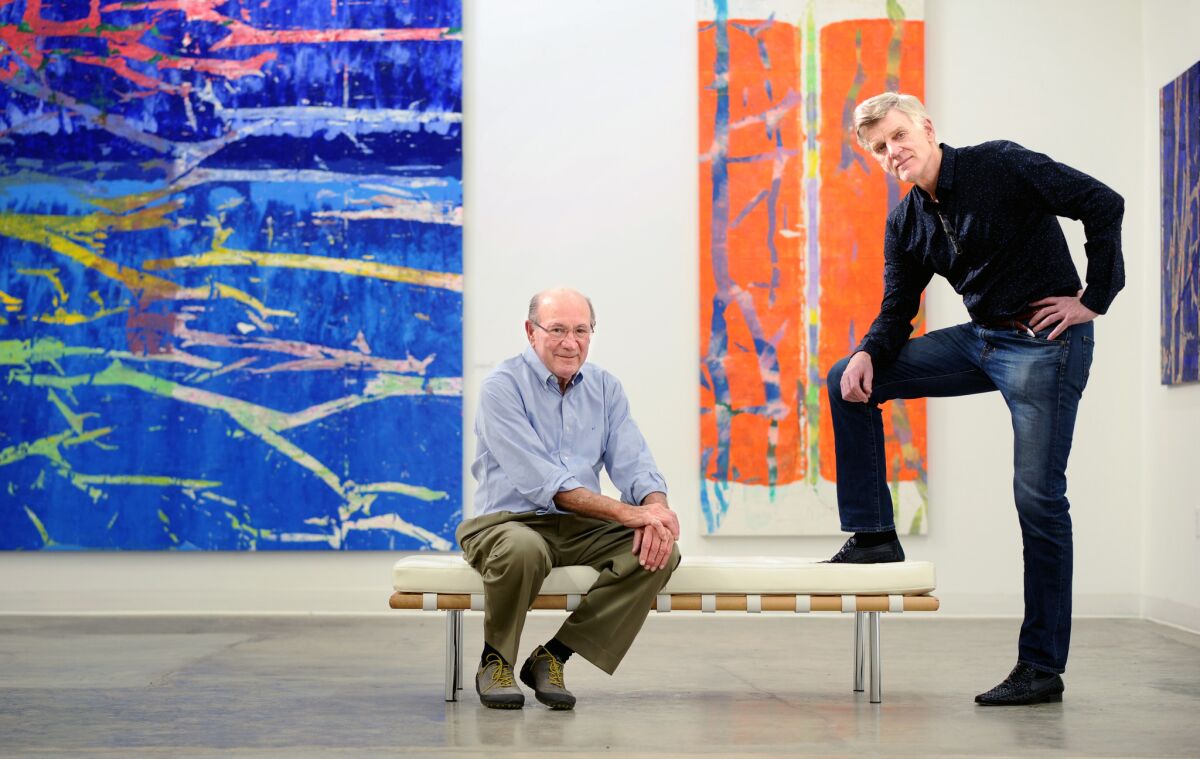 Artists disappear for riveting, often tragic reasons.
Alcoholism, drugs, psychotic breaks, agoraphobia or simply being irascible characters at odds with the world, have all caused up-and-coming artists of great promise to fall through the cracks of art history, says Peter Hastings Falk, founder of Rediscovered Masters, which specializes in resurfacing these talents for modern posterity.
Falk's most recent rediscovery is the late Spanish artist Gil Cuatrecasas, who was a leading light of the Washington Color School in the mid-1960s before moving back to Spain and all but disappearing after his first solo show at the Corcoran Gallery of Art in Washington, D.C. After Cuatrecasas' death in 2004, his brother, Pedro Cuatrecasas, discovered 400 of the prolific painter's massive canvases languishing in a D.C. storage unit.
See more of Entertainment's top stories on Facebook >>
Pedro spent the next decade trying to persuade museum curators of Gil's worth and had all but given up when he ran across a 2013 newspaper article about Falk championing the overlooked work of Armenian American artist Arthur Pinajian. Pinajian's canvases, which some compare to those of Gaugin and Cézanne, were almost deposited in a town dump. Falk was intrigued by Gil's work, and after having his opinion reaffirmed by his advisory team of more than a dozen art experts from around the country, including UC Berkeley professor emeritus of art history Peter Selz, Falk took on Gil's case.
Two years and much research later, the exhibit "Rediscovered Masters: The Cuatrecasas Discovery" is on display at the CB1-G gallery in downtown Los Angeles through Feb. 27. The show consists of canvases Gil created between 1970 and 1976 while living in his aunt's villa in Turin, Italy. The brightly colored abstract paintings shimmer with layers of paint applied using a variety of complex techniques including decalcomania, in which organic patterns are transferred from paper to canvas.
Their existence, as well as the art world's resistance to recognizing their importance, raises compelling questions about how value is determined. Rediscovered Masters director Janna Avner refers to this phenomenon as the "pathological myopia" of the art world. If an artist can't be Googled, does he matter? If an artist creates in a void, can he be considered a genius?
Early in Pedro's quest he summoned five appraisers from D.C. to look at Gil's work. They all said they couldn't find information on Gil. He wasn't in the biographical dictionaries, or in art auction records, so they deemed him a nobody, Falk says. In the end, the appraisers decided Gil's work was of decorative value, only about $300 per canvas.
"If they don't have the security of seeing it registered in print from different sources, they shy away from it because suddenly they lack vision," Falk says. "They can't see the value if they haven't already seen it listed."
Part of Rediscovered Masters' mission is to raise the value of an artist's work along with his or her profile. Gil's canvases — in a gallery but not a major museum — currently sell for $50,000 to $100,000. Rediscovered Masters takes an undisclosed cut of that in exchange for its role as curator and manager. If the artist gains recognition and an institutional show follows, that value is expected to rise.
I want to shake up museum curators to think outside the box -- to hold something up to the world and say, 'Look what you've missed all this time!'
— Peter Hastings Falk, founder of Rediscovered Masters
Falk is the founding editor of the art market website ArtNet.com and author of "Who Was Who in American Art." He officially branded Rediscovered Masters in 2013, but since 1976 he has been passionate about the discovery and management of artist estate collections and the collections of late-career artists. He says he often feels like the hot-tempered newsman played by Peter Finch in the Sidney Lumet film "Network."
"I'm mad as hell and I'm not going to take it anymore," he says, sitting with Pedro, Pedro's wife, Carol, and Avner inside CB1-G gallery. "I want to shake up museum curators to think outside the box — to hold something up to the world and say, 'Look what you've missed all this time!'"
Like most details of Gil's reclusive life, the existence of the Turin paintings was a total surprise. But there they were — rolled up in batches of two to six canvases that weighed up to 100 pounds per roll. Some canvases measured 18 feet long, and none had been displayed in the United States. Most exciting of all, they featured a style and technique that is unusual, Falk says.
"I'm a scientist who has made discoveries and I know the flush of epinephrine," recalls Pedro in his thick Spanish accent. "You turn red and you shake a little bit. We were just floored — flabbergasted. By the third roll, we were breathing hard because every painting was different than what he had done before."
The work that got Gil noticed in the '60s after being a graduate student of famed color theorist Josef Albers at Yale University School of Art, was good but not necessarily better aesthetically from his peers including Gene Davis, Thomas Downing, Sam Gilliam, Kenneth Noland and Morris Louis. Not until Gil retreated to Spain and eventually to Turin did he uncover his true gifts, Falk says.
"No one has ever painted like this," he says. "I challenge any art historian to come in here and actually describe how these paintings were done."
Gil cared only about painting, however, Pedro says, recalling that his older brother couldn't be bothered with self-promotion, financial details or the socializing that went with those pursuits.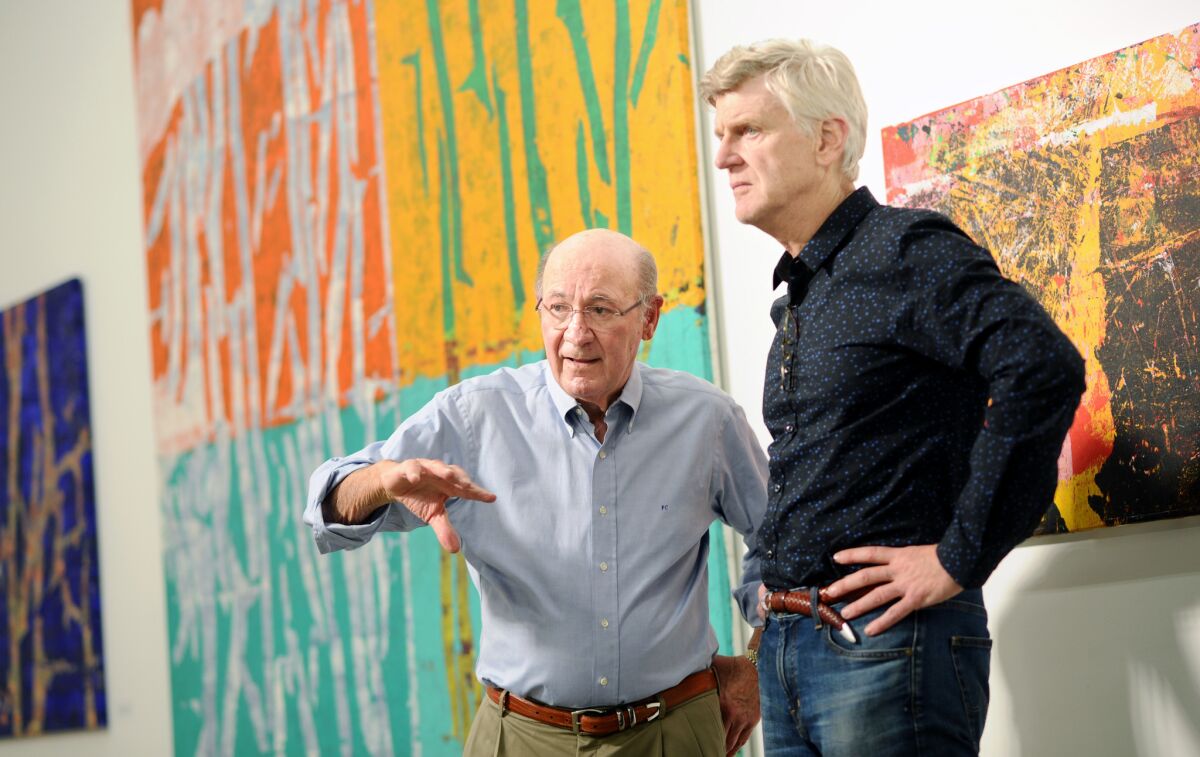 Falk and Avner had pictures from Gil's studio enlarged so they could glean the titles of the books on his shelf in order to get a better grasp on what made him tick. He was reading a lot of Eastern and German philosophers and psychology books. His older sister said he was best suited for life in a monastery, and Pedro pointed out that he had a problem with dependency.
"He painted well as long as he had someone to take care of him. He didn't want to bother with jobs or making money," Pedro says. "Someone was always taking care of him. First our parents and later our aunt."
A lifelong smoker, Gil also developed a dependency on alcohol, which he kicked only to contract tuberculosis. A pamphlet that Pedro discovered among Gil's possessions cataloged 15 solo shows between 1965 and 1978; the artist was part of nine group shows, including one in 1965 at the Museum of Modern Art in Buenos Aires.
Gil had strong ties to South America. After his family escaped Franco's Spain in 1939, they settled in Colombia, where his botanist father studied a rare species of plant that exists only at about 15,000 feet high in the northern end of Andes mountain range. The family relocated to the United States when Gil was 12, and in the '60s Gil created a series of pen-and-ink botanical illustrations for his father's publications. At least 500 of those drawings are housed by the Smithsonian Institution.
But it was the show-that-wasn't that finally crushed Gil's spirit enough to make him give up his life's passion, Falk and Pedro say.
In 1975, James Harithas, the director of Contemporary Arts Museum Houston, invited Gil to stage a solo exhibition. He was deeply moved by the paintings Gil had completed in Turin. It was to be Gil's triumphant return to the United States, and Harithas had grand plans for the show to tour.
Then, two weeks before the exhibition was scheduled to open, Houston was hit with a tropical storm that caused one of the worst floods in the city's history. Eight people were killed and as many feet of water rushed into the museum's basement, destroying 200 of Gil's canvases and 400 of his drawings. Other artists who lost work included Albers, Max Ernst and Norman Bluhm.
"It was the show of a lifetime, and I'm certain it would have catapulted his name into today," says Falk. Instead a despondent Gil retreated to Spain. Encouraged by his aunt, he staged one final solo show in 1979 at the Galería Syra in Antoni Gaudí's famed Casa Batlló in Barcelona. He left the opening before it was over, and despite a glowing critical reception, returned only to retrieve the work when it was taken down.
Gil's remaining vitality was spent in 1996 sitting vigil at his beloved aunt's bedside while she slowly died of bladder cancer. In 2004 prostate cancer would claim his life, and Pedro would take up the flag of his artistic resurrection.
Pedro still laments how he missed discovering the impressive scope of his brother's talent. It was 1972 and Pedro was part of the medical faculty at Johns Hopkins University. Gil wrote to him to say that he was shipping some paintings to Baltimore and asked if Pedro would arrange to have them sent to D.C. Pedro said sure, and then had his secretary take care of the rest.
He was at the peak of career, doing important research, and he couldn't be bothered with the details.
Twitter: @jessicagelt
------------
'Rediscovered Masters: The Cuatrecasas Discovery'
Where: CB1-G gallery, 1923 S. Santa Fe Ave., L.A.
When: 10 a.m. to 5 p.m. Tuesday to Friday, 10 a.m. to 5:30 p.m. Saturdays or by appointment. Ends March 5
Info: (213) 806-7889, www.cb1gallery.com
---
Get our L.A. Goes Out newsletter, with the week's best events, to help you explore and experience our city.
You may occasionally receive promotional content from the Los Angeles Times.