De Niro denounces Trump, Stoneman Douglas students bring everyone to tears and 'SpongeBob SquarePants' proves it really is a musical — this year's Tonys had it all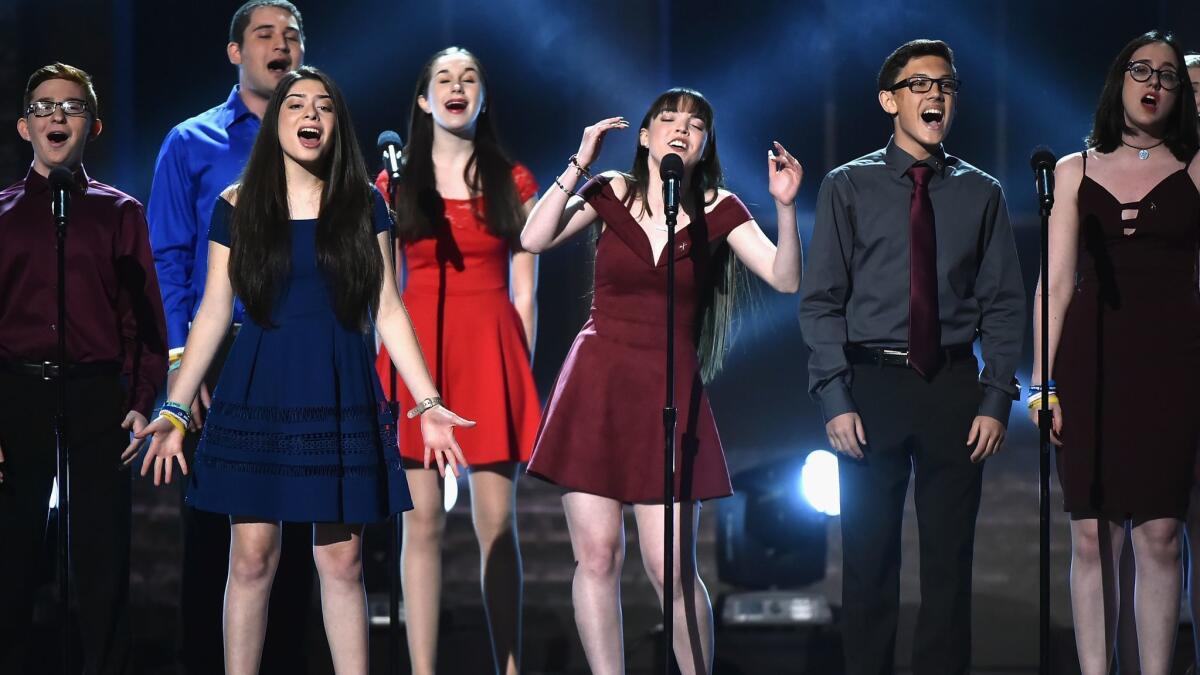 The most powerful presence onstage Sunday at the 72nd Tony Awards at Radio City Music Hall in New York City was absence. A performance of "Seasons of Love" by the drama department from Marjory Stoneman Douglas High School left the star-studded audience drenched in tears and the viewing public silently wondering about the lost potential of the 14 students shot dead on Valentine's Day at the school in Parkland, Fla.
Despite the aching national wound the performance opened, its underlying message was one of unity and humanism, both themes that provided the foundation for a night in which winners made bold, heartfelt statements in support of LGBTQ rights, diversity, feminism, immigration, the perils of depression and the healing merit of art itself.
Although the show's political overtones were many and obvious, the president was not mentioned until the eleventh hour when, before introducing a performance by Bruce Springsteen, Robert De Niro denounced Donald Trump by name and a bleeped epithet beginning in "F." He received a rousing standing ovation for his efforts.
Anticipating some heavy and emotional moments, hosts Josh Groban and Sara Bareilles leavened the evening with well-measured comedy, beginning with a self-effacing opening number devoted to the night's losers.
"We are your hosts and we're perfectly suited to be because — did you know — neither one of us has ever won anything," the pair quipped in a duet, which was capped by the boisterous arrival of ensemble dancers from all the nominated shows, including the evening's biggest winner, "The Band's Visit," which capped off the telecast by nabbing its 10th Tony, for best musical.
Andrew Garfield set the inclusive, at times defiant, tone. Upon winning the night's first award for lead actor in a play for his work in the revival of Tony Kushner's 1991 Pulitzer Prize-winning drama about gay life in the late 20th century, "Angels in America," he dedicated his award to the LGBTQ community.
"We are all sacred and we all belong … So let's just bake a cake for everyone who wants a cake to be baked," an emotional Garfield said during his acceptance speech, referring to the high-profile Supreme Court case of a Colorado baker who refused to bake a cake for a gay wedding.
The Tonys are the only awards show that must introduce much of the TV audience to the material being celebrated. This presents the telecast with both a handicap and an opportunity, the latter of which was easily seized this year by the wealth of material culled from wildly popular television and film franchises, including "SpongeBob SquarePants," "Frozen," "Harry Potter" and "Mean Girls."
One of the evening's most creative performances came from a four-legged Gavin Lee gleefully tapping his way through "I'm Not a Loser," from SpongeBob SquarePants, backed by sea anemones in buoyant fuchsia wigs. It also answered the question on many people's minds: How on earth could a cultish cartoon about a sea sponge living in a fictional underwater town called Bikini Bottom become one of the night's most-nominated musicals?
Less impressive was the evening's most anticipated performance. Bruce Springsteen, won a special Tony for "Springsteen on Broadway," but the Boss' seated piano rendition of "My Hometown" was lackluster in comparison to the numbers from the night's nominated shows. These performers, less accustomed to the spotlight, seemed far more enthusiastic about a chance at being broadcast live into millions of American homes.
The importance of diversity and representation was underlined repeatedly throughout the night. Lindsay Mendez, who won a featured actress Tony for "Carousel," said: "When I moved to New York, I was told to change my name from Mendez to Matthews or I wouldn't work … to all you artists out there, just be yourselves and the world will take note." John Leguizamo, who won a special Tony Award for "Latin History for Morons," told of a rocky early career in which no one could pronounced his name; Tony Shalhoub dedicated his award for lead actor in a musical for "The Band's Visit" to his father, who arrived at Ellis Island as a boy from Lebanon, and Ari'el Stachel, who took the award for featured actor in a musical for the same production, said: "I am part of a cast of actors who never believed they would be able to portray their own races, and we are doing it."
Along with the politics and pathos, threads of whimsy, humor and hope wove through the proceedings on the heels of the hashtag #TonyDreaming. At the invitation of Groban and Bareilles, fans tweeted images of themselves engaged in theater, often at very young ages — looking earnest and hopeful. The results were projected here and there throughout the night, reminding viewers at home, and the famous faces in the room, of the power of theater to unite, even as it celebrates difference.
ALSO:
Get our L.A. Goes Out newsletter, with the week's best events, to help you explore and experience our city.
You may occasionally receive promotional content from the Los Angeles Times.