Review: Yo-Yo Ma does the impossible at the Hollywood Bowl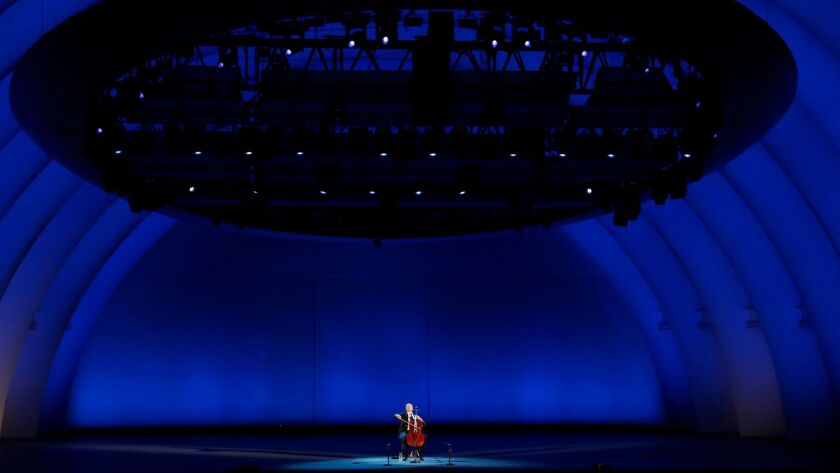 Music Critic
He was a very small figure seated on a wide expanse, a large stage empty but for a cellist on a chair. The Hollywood Bowl shell was lighted midnight blue. The amphitheater was probably kept as dark as the fire marshal would allow. Few of the more than 17,000 seats were empty.
Then for two hours and 40 minutes Tuesday night, Yo-Yo Ma played all six of Bach's solo cello suites straight though, with just a 10-minute pause in the middle.
The master cellist had never played these suites for a crowd so large, he later confirmed through a spokeswoman for the Los Angeles Philharmonic, sponsor of the concert. We need Guinness World Records to determine whether, as I suspect, that this was a record, a larger crowd than any before to hear a performance of all six suites. But whether it was or not, the concert proved an unquestionably great, memorable Bowl occasion.
A large Bowl crowd, attracted by the presence of a superstar, might be presumed to want merely a picnic and a nice late-summer night out. This audience sat in nearly unbelievable rapt attention focused on Ma as each musically complex and austere six-movement suite followed suite.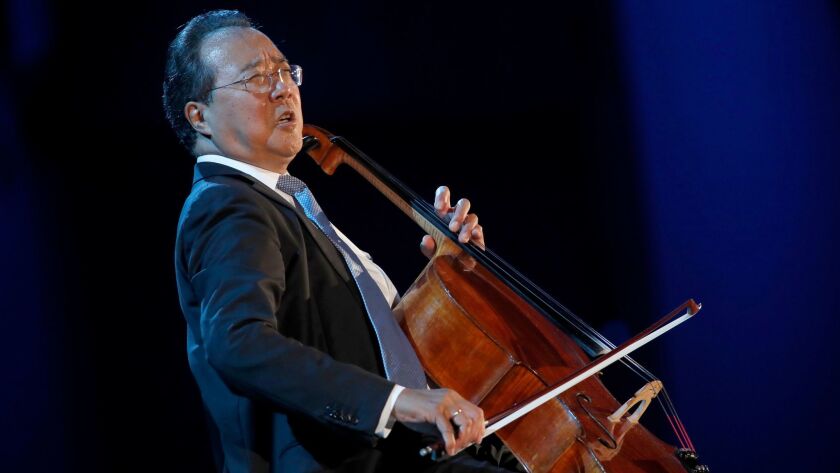 I once had a music professor, a noted musicologist, who insisted that the very playing of the suites, and especially in public, was an offense. Their function, he maintained, is as spiritual and mental exercise, echoing what one cellist has said about playing these suites: It's like playing chess with someone 10 times better than you.
The physical and psychic consequence these suites have on cellists is incomparable. The instrument is body size, and this is music cellists begin learning at an early age and in nearly all cases never stop playing. They grow to Bach, and they come to use these suites as forms of devotion, meditation and therapy. They pore over them like Talmudic scholars. The suites become not only the center of cello instruction but life studies.
Yet the extraordinary thing about Bach's suites is that they are, in fact, public in that each consists of a prelude followed by five dance movements and were originally written for court musicians. Today cellists regularly try to find novel ways to make the suites newly dance. They commission works to be played alongside Bach. They adapt the suites for other instruments, including guitar, percussion and baritone sax. Belgian choreographer Anne Teresa de Keersmaeker has built a major new dance piece around them.
Two decades ago, Ma collaborated with the likes of director Atom Egoyan, choreographer Mark Morris and ice dancers Torvill and Dean to make video realizations of the suites, which might have seemed the perfect thing for showing at the Bowl. But, no, it was just Ma on Tuesday night on the Bowl's giant video screens, his cello amplified to sound as though it were 20 feet high.
Extraordinarily, this had the effect of a kind of visual and aural intimacy you could never reproduce in a concert hall while at the same time producing a sense of awe being in a large outdoor arena where attention-deficit is normally taken for granted. With the Bowl doing everything right — the lighting, the mood, the outstanding sound system — Ma made the astonishing an argument against dumbing down.
Ma, of course, has his own long history with the suites. His fresh, vibrant, immaculately played first recording of them in 1983, while he was still in his 20s, helped to propel him into stardom. Over the years he has become far more theatrical, and at the Bowl he created a dramatic progression of the suites, treating them as a kind of double cycle. Each cycle began with a suite that gave the impression of a bright birthing of something new, a darker second suite that entered into a veil of tears and a third that emerged as a recapturing of joy, his feet slightly above the ground. The first cycle seemed to encompass it all. The second, brilliantly intensified everything in the first.
Dance was sometimes visceral and sometimes not. Ma's playing could be very graceful, with a beautiful tone, but also gruff. The slow sarabande movements are the emotional heart of each of suite, and Ma made them sing like the most penetrating arias in Bach's cantatas and passions, sorrow so excruciating that it becomes oddly liberating.
He handled the preludes freely, almost like singing the blues, except with the prelude of the Fourth Suite, where he started stomping the blues. In brief remarks to the audience, Ma noted what nature has been doing to us lately, and us to nature, dedicating the profound Fifth Suite to all the people newly in need. It was too dark to see if, in his absorbed, interior performance, people were tearing up, but you could hear that they were.
Ma played slow, but in some dances, particularly courantes and the concluding gigues, he played fast, blurring details, going straight for the jugular. In the final suite, the most joyously upbeat of the bunch, the cellist became a silk roadster, bending pitches, going for effects that resembled the kind of world music pursuits that have been a big part of his career.
He ended with a Catalan encore in memory of the cellist Pablo Casals, who as a 13-year-old in 1890 discovered an old copy of the Bach suites in a secondhand music store, bringing them to modern attention. Ma's memorable last words were to any 13-year-olds in the audience: "Don't throw anything away."
MORE MUSIC:
L.A. Opera opens its new season with 'Carmen,' again
---
From the Oscars to the Emmys.
Get the Envelope newsletter for exclusive awards season coverage, behind-the-scenes stories from the Envelope podcast and columnist Glenn Whipp's must-read analysis.
You may occasionally receive promotional content from the Los Angeles Times.