UCLA prepares to move forward with new graduate art studios funded by Margo Leavin
When famed Los Angeles gallerist Margo Leavin announced in May that she would make a $20-million donation to UCLA to remake the school's grungy graduate art studios, the move was celebrated for the investment it brought to an important public educational institution. Now the project is moving forward, as the UC Board of Regents gathers Tuesday to approve the plan.
"We've had these plans, but it sat fallow there for the longest time," says Lari Pittman, a painter who has taught in the UCLA art department for two decades. "But Margo drove it. She asked questions. She wanted to know things. She wanted to meet the dean. That's how it slowly got its legs."
"It's crucial," says Levin. "I don't think public universities — or any university — has a problem raising funds for medicine, stem cell research, health, etc. But the arts do not have as wide of an audience. And UCLA is a jewel of a school."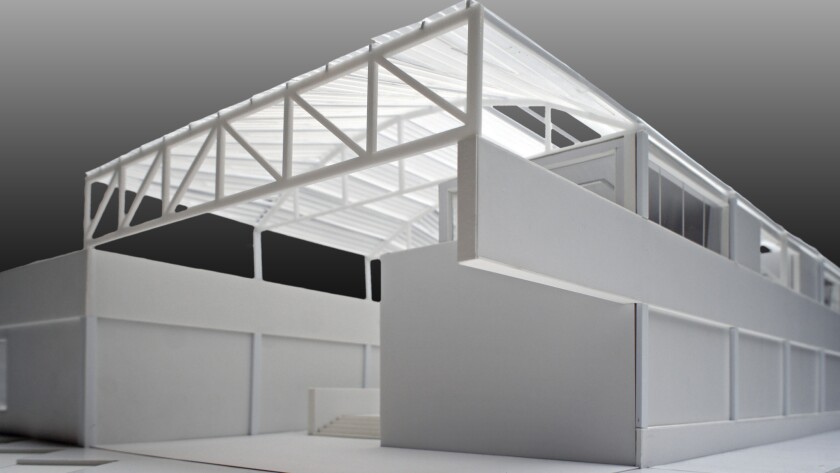 The plan to remake UCLA's graduate art studios first emerged in 2011, when feasibility studies were conducted to explore upgrading the existing facilities. The studios are located on land owned by UCLA in Culver City — inside a central warehouse, with various additions, that has grown increasingly dilapidated over time.
"There is not proper ventilation, clean air, light — it's not a healthy building," says Pittman. "If you turn off the electricity while you're in there, the building becomes completely dark."
In summer it is broiling. In the rain, it leaks.
"It's in terrible condition," says Leavin — and not in keeping with the art school's status as the No. 2 ranked graduate fine arts program in the country.
As part of the feasibility studies, L.A. architectural firm Johnston Marklee was enlisted to produce a design that would reconfigure the 55,000-square-foot parcel of land that sits near the intersection of Warner Drive and Hayden Avenue just west of Ballona Creek.
In their proposed design, the architects keep the World War II-era bow-and-truss warehouse building at the heart of the property but dispose of the ad hoc additions that have been made over the decades.
They wrap the warehouse in a new, two-story structure with a translucent roof that would create a protected, light-filled, open-air courtyard. The new 38,000-square-foot building would increase usable space by 40%, as well as add an exhibition area and an artist-in-residence studio.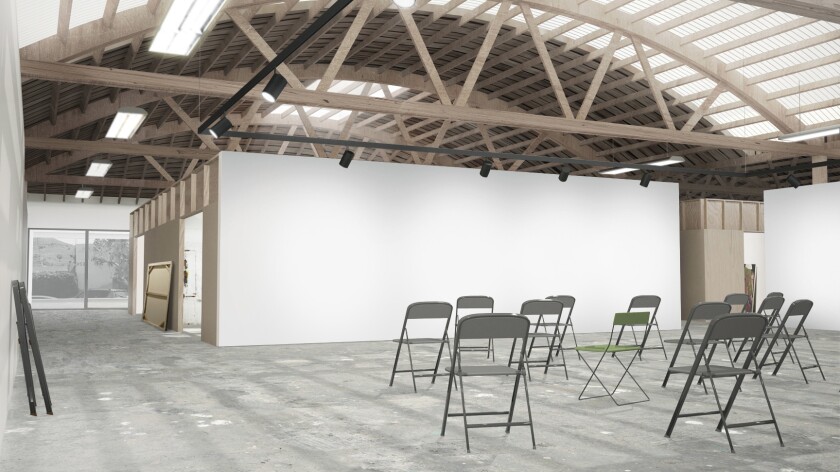 But the project, expected to run an estimated $31 million, stalled at the gate five years ago due to a lack of funding. Leavin's donation, which covers almost two-thirds of the building costs, changed that.
The university can now move forward with additional fundraising. The anticipated completion date is 2019 — which also happens to mark UCLA's centennial.
Leavin, the L.A. art dealer who operated an eponymous gallery from 1970 to 2012 — known for showcasing work by a who's who of important artists, including Donald Judd, Martin Puryear, Lynda Benglis and John Baldessari — is thrilled that the project is moving forward.
"Instead of giving just small amounts in different places," says Leavin, "I thought it'd be better to have an impact on the community."
The remodel of the studios is also an opportunity for the art department to re-conceive its art-making spaces at a time when the visual arts have embraced ideas-based practices such as social practice, as well as performance and digital culture.
"We have a new genres area and we have an interdisciplinary area, and those particular focuses can require a different idea of spatial use," says Pittman. "The model we had of studios was based on the making of physical works. Part of this is to upgrade to the practices that we have."
Sharon Johnston, who has led the design process for Johnston Marklee, says the new design has "a really informal and functional quality."
"They didn't want to have, 'This is where the photographers are and this is where the painters are,'" she explains. "They wanted fluidity, because people cross over and they want to have exchange."
The idea, she says, is to have a "variety of conditioned spaces where people could do performances, they could make film — not just be in their studios."
Pittman says what is most heartening about Leavin's donation is that it represents an important investment in public educational infrastructure.
"So much of philanthropy now is wealthy people giving money to congratulate themselves — by naming something after themselves," he explains. "This is real philanthropy. It's an investment in the systemic."
Leavin says it's merely an attempt to support something that she cares about deeply. "What's more important than the artists?" she asks. "Without them, there is no art world."
Find me on Twitter @cmonstah.
ALSO
UCLA's art school plans to build a $31-million expansion in Culver City with major donation
New Main Museum in downtown Los Angeles reveals 'Beta' plans — and focus on art in L.A.
Behind the plummeting rankings and defections of faculty and MFA students at USC's Roski art school
How to remake the L.A. freeway for a new era? A daring proposal from architect Michael Maltzan
---
Inside the business of entertainment
The Wide Shot brings you news, analysis and insights on everything from streaming wars to production — and what it all means for the future.
You may occasionally receive promotional content from the Los Angeles Times.