Behind the plummeting rankings and defections of faculty and MFA students at USC's Roski art school
A single student's decision to leave an MFA program wouldn't normally cause a ripple in the art world. But HaeAnn Kwon was the lone MFA candidate enrolled in USC's Roski School of Art and Design.
Her exit, a year after an entire class of seven studio art MFA students withdrew from Roski to protest curriculum changes and staff defections, is prompting new questions about USC's commitment to the fine arts and renewed accusations that the university cares more about buzzy programs such as the business, design and programming degree funded by music impresario Jimmy Iovine and rapper-entrepreneur Dr. Dre.
For the record:
9:15 a.m. June 28, 2016An earlier version of this article stated that Barbara Drucker oversaw the visual arts program at UCLA. That position is occupied by Hirsch Perlman.
"I was participating in a sham." Kwon said in a searing public letter about her experience in USC's art program. As one of USC's International Artist Fellows, Kwon had her tuition and expenses fully covered. She walked away from what was essentially a free graduate degree.
See the most-read stories in Entertainment this hour »
USC Associate Vice Provost Robin Romans, who along with Provost Michael Quick was addressed in the letter, defended the Roski MFA program. "We are fully committed," he said in a telephone interview. "The art schools are very important at the university. Roski has a long, rich history. The provost is clear in his commitment and the president is also." Erica Muhl, dean of the Roski School of Art and Design, was not made available to comment.
Kwon has kept largely silent since sending the public letter, preferring to let her detailed, 1,300-word statement speak for itself. But in a telephone conversation with The Times, she reaffirmed her critiques: "I want to say that this situation was bound to happen. Until the school looks at its past and recognizes its trajectory, it's impossible to imagine it improving or even recovering."
Last year's highly publicized student and staff defections have already halted the rise for Roski's MFA program in U.S. News & World Report's rankings, which had gone from No. 54 in 2003 to No. 36 in 2012 among fine arts graduate programs, with up to 600 students applying for one of eight MFA openings. In the fall, only Kwon accepted admission to the MFA program. (Eight incoming students will form a new MFA class in August.) And in spring, Roski's U.S. News & World Report ranking for the MFA program plummeted to No. 69.
Kwon, who hails from South Korea, turned down offers from UC Irvine and the School of the Art Institute of Chicago because of the financial benefits of attending USC. She came to regret her decision. Her open letter describes a program lacking in art school basics, such as group critiques and studio reviews. She also alleges that USC awarded her an "incomplete" then a "B" for a class that barely met over the course of the semester. "How is it that a student could even pass a class that was held on no more than one day?" she wrote.
Romans says that Kwon misunderstood the mark on her transcript and that the course had never been marked "incomplete" — only "MG" (Missing Grade), which happens when a faculty member doesn't submit grades on time. Moreover, he stated that she did have multiple meetings for the purpose of her critiques.
"We had put together groups for her, we had curatorial students, we had several faculty, and [Associate Vice Dean] Nao [Bustamante] set up artists from around Los Angeles to meet with HaeAhn," Romans explained. "We tried to set up a group critique culture. But she didn't have a cohort."
At least one USC educator, however, says that Kwon was justified in her complaints. Jud Fine, a sculptor who has long served as a tenured professor at Roski, issued a brief statement to The Times in her defense: "I agree, to the extent of my knowledge, with everything HaeAhn said in her letter to the provost."
David Bunn, an artist and educator who helped build up USC's MFA program in the 1990s and the early 2000s, said, "I don't think the university was ever interested in the MFA program that much. They were interested in the numbers.… Anyone who didn't have good rankings risked being closed as a school."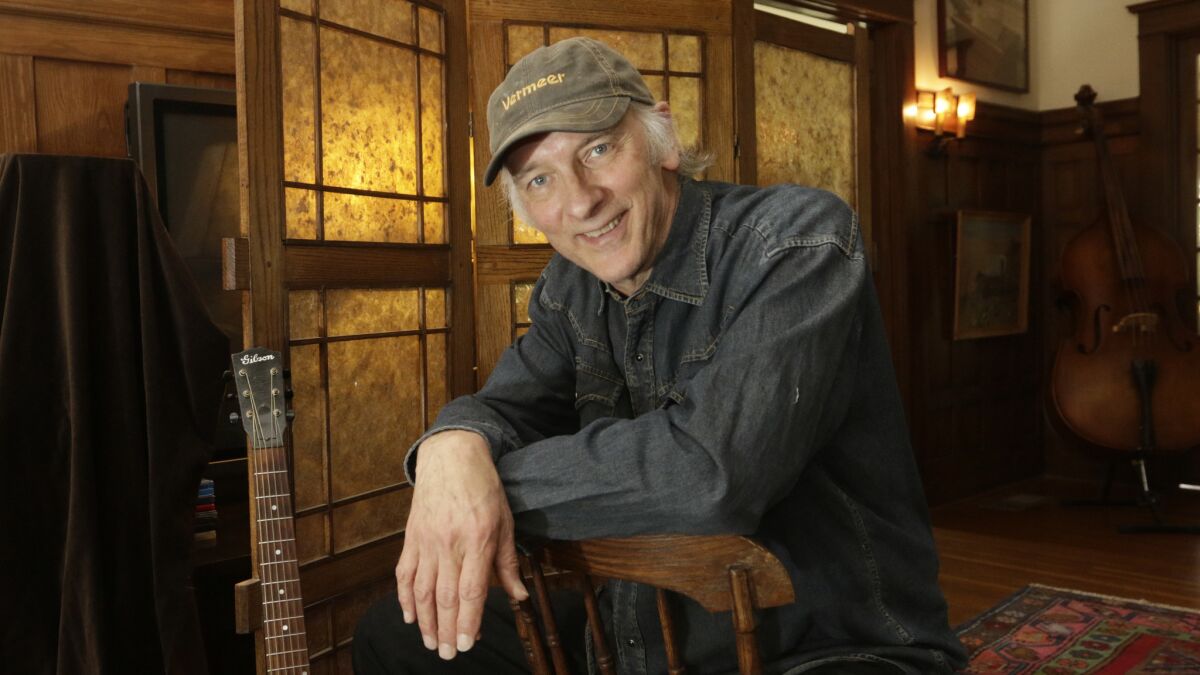 Some of the turmoil has been attributed to the 2013 arrival of Muhl as dean. Unlike the heads of many other similar programs, she has no visual arts background. Muhl is a composer who had previously taught at USC's Thornton School of Music, and who, for a time, had served as Roski's interim director. (Both UCLA and CalArts' art programs are overseen by artists — Hirsch Perlman and Thomas Lawson, respectively — two figures with extensive exhibition histories.)
Moreover, Muhl has other things on her plate. She oversees the Iovine/Dr. Dre academy (formally known as the Jimmy Iovine and Andre Young Academy). She also helped launch an online master's degree program with Wired magazine that kicks off in December. Her focus, say critics, is not with the MFA program, but with more industry-friendly courses that echo Silicon Valley agendas.
"It's a separate entity," Muhl insisted in an L.A. Times interview last year. "It's one that we're very proud of and we feel is very important. But the philosophy behind Iovine and Young has nothing to do with the philosophy behind the Roski school."
Romans, who oversees the university's arts and humanities initiative, agrees: "We had a splash with the Iovine-Young academy," he said. "But it's important to recognize that something like that doesn't do anything to the original curriculum. I think it would be a mistake to see the admission of the academy at the expense of Roski. They complement each other well."
Even so, Frances Stark, an artist who served as a professor at Roski for roughly a decade, resigned from her tenured position in 2014, in part because of what she saw as the university's disregard for intellectual rigor. "The administration is primarily concerned with revenue," she said. "They see the students as customers purchasing degrees, never as scholars or practitioners within an evolving field."
Less than a year after Stark's 2014 resignation, artist and professor Sharon Lockhart decamped to CalArts, blaming "the dismantling" of the MFA program for her decision to seek another job. And last month, Charlie White left to go run the Carnegie Mellon School of Art in Pittsburgh.
Dwayne Moser, who served as Roski's assistant dean and graduate coordinator from 2010 to 2015, sees these exits as a talent drain triggered by changes made after Muhl came aboard.
"Muhl's tenure as dean," he said, "has been an unmitigated disaster."
Stark believes a change of leadership at Roski is essential. "I think that a dean with a deep historical knowledge of the field of art and its complex intersection with design would be ideal," she said. "A good dean would understand the role and potential of the faculty and be able to literally design a school that understands, supports and applies the vast expertise of the full faculty, and match that to an actual pedagogical vision for the role of art within the university, within the city, within the culture at large."
Romans, though, said Muhl brings other important qualities to the table. "She's someone that I think has amazing academic and artistic credentials," he said. "She's a composer and that is related artistically — and some of the new work that is being done now is done across the arts. She's been at USC for a while, she understands the culture at USC. When she came in as dean a few years ago, I've never seen someone come in with such an understanding of the university and of her colleagues as well."
While Muhl wasn't able to respond to the fallout from Kwon's withdrawal, in her 2015 L.A. Times interview, she passionately defended her tenure. "I'm a classically trained artist," she said. "I deeply believe in traditions and depth and what we have created here at Roski. And I am committed to maintain that core."
Roski's rocky rise
Bunn, who is now retired from teaching, says that some of the issues facing Roski are bigger than any one dean — and predate Muhl's arrival by at least half a dozen years.
The two-year Roski MFA program was never as high-profile as the graduate programs at UCLA or CalArts (which rank among the nation's top 10, according to U.S. News & World Report), but over the last couple of decades, its reputation had slowly grown. It had become well regarded for its intimate artist-centric approach — and for generous graduate fellowships that left MFA candidates virtually debt-free at a time when many other students are forced to take out loans to complete their educations.
Bunn said that when he arrived as a professor in the late 1980s, the program was on auto-pilot. "There were students, but there was little funding," he says. "And it was not considered important."
Bunn took over as director in 1992 and over time was able to attract students and faculty to the studio arts MFA — including internationally recognized artists such as Andrea Zittel, Lockhart, White and Stark, who recently headlined a critically acclaimed exhibition at the Hammer Museum.
But the administration, he says, had trouble supporting working artists.
"It's one thing to want the numbers and the prestige," he said of USC. "But you have to protect the faculty. They never understood how to handle artists with careers. When I went to CalArts it was like a dream. They expected you to be a practicing artist and travel and do shows. At USC it was never easy."
But it wasn't until last year's defection of the entire MFA class of 2016 that things came to a head. "We are a group of seven artists who made the decision to attend USC Roski School of Art and Design's MFA program based on faculty, curriculum, program structure and funding packages," they wrote in a letter posted to an arts education website. "We are a group of seven artists who have been forced by the school's dismantling of each of these elements, to dissolve our MFA candidacies."
At issue were changes in the curriculum and the general quality of the coursework. One of the students who withdrew said the program had lost its "tone of rigor."
That withdrawal was followed by the publication of an open letter signed by 72 Roski alumni — including prominent artists such as Amanda Ross-Ho (2006) and Elad Lassry (2007).
"This was an extraordinary and painful action for these graduate students to have taken," stated the letter, "and presents evidence of serious wrongdoing and extensive problems in the school."
Alli Miller, who graduated in 2015 (one year ahead of the so-called "USC Seven"), echoes some of the concerns raised by the withdrawing students. "The program I entered in 2013 was radically different from the one I departed in 2015," she stated via email. "Without an official program director, my cohort became responsible for negotiating curricular, programming and funding changes directly with the administration — on top of existing academic and studio obligations."
Kwon, in her letter, describes a fractured, disorganized department. "The fall term entirely lacked the studio component of the program," she wrote. "In short, it did not exist — there was no midterm, no finals, nor any review of any kind for my studio practice."
In April, Kwon gave an interview to the Daily Trojan in which she described the MFA program as "diminished" and stated that "any improvements to the program will take a long time, much longer than I will ever be able to witness."
Certainly, there are signs that the university is trying to rebuild. In January, performance artist Bustamante joined Roski as vice dean of art, a position from which she oversees the MFA program. Conceptual artist Edgar Arceneaux has joined the university as visiting professor.
Moreover, other hires are in the works. "We are bringing eight recognizable artists — eight new hires," Romans said. "We will end up with more faculty than we had."
Bustamante, who has the benefit of coming to Roski fresh this year, is optimistic about the future of the MFA program and this fall's incoming class. "They're coming from really diverse traditional and non-traditional backgrounds," she said, adding that they were chosen through "a highly competitive process."
"I can only say that I am bringing my experience to bear, my artistry to bear, and my goodwill and my complete sincerity in wanting to create a program for these students," she said, "I'm really excited to be in this environment. It's an art school among strong art schools. I mean, we are the art school."
But even the most committed individual faculty members will not be able to single-handedly erase the impression that the university's broader culture may not be conducive to a contemplative liberal arts program.
"I believed in that place," Bunn said. "I worked very hard for it, and I'm very saddened to see what has happened. But I am not surprised."
MORE:
'I was participating in a sham': Lone MFA student at USC Roski art school withdraws via searing statement
Behind the impasse that led USC's 2016 MFA students to withdraw in protest
In quest to raise $6 billion, USC runs a massive fundraising machine
Holocaust play causes friction between Santa Monica's City Garage and local Polish officials
Find me on Twitter @cmonstah.
---
Get our L.A. Goes Out newsletter, with the week's best events, to help you explore and experience our city.
You may occasionally receive promotional content from the Los Angeles Times.